Haddon Township High School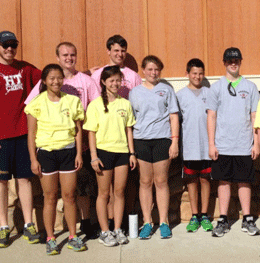 Haddon Township High School is a four-year comprehensive public high school in Haddon Township. The school was the 50th-ranked public high school in New Jersey out of 328 schools statewide, in New Jersey Monthly magazine's September 2012 cover story on the state's Top Public High Schools. Offered to students are classes in Math, English, History, Physical Education and Health, and other areas.
The Science Department offers a variety of courses for students including Biology, Human Biology, Physiology, Chemistry, Advanced Chemistry Techniques and Physics. There are also AP courses available where students earn college course credit.
Foreign Language courses at the school include Latin, Spanish, French and German. Students taking the third and fourth year of a language have the opportunity to earn college course credit through Camden County College. Year 5 in a language, considered an AP course, is also possible when a student begins the language study at Rohrer Middle School.
According to the school's website, there are also vocational and art courses such as Auto Shop, Wood Shop, Graphics Design, Information Systems, Drafting and Architecture, Business, Arts and crafts, Home Economics, Cinema, Pottery, Culinary Arts, Studio art, Television productions and communications, and Creative writing. In addition to taking required courses, students have an opportunity to take some of these courses in which they have a particular interest.
The Haddon Township performing arts and music course offerings include Band, Chorus, Concert Choir, Guitar, music theory, MIDI electronic composition and Digital Audio.
Many performing arts students were selected for groups outside of school this past year, including Samantha Scalia, Nora Shaughnessy, Maggie Smart-McCabe and Dan Woods for All-South Jersey Chorus, Kellyn Madden, Hailey Mozzachio, Samantha Scalia, Nora Shaughnessy and Maggie Smart-McCabe for All-State Choir, Tess Gregory for All-State Orchestra, and Nate Constans for All-State Jazz Band.
This high school offers many clubs and organizations including Student Council, Bowling Club, Guitar Club, Math Club, Philosophy Club, Drama Club, Mock Trial, Environmental Club, Art Club, Spanish Club, The Anvil (yearbook), American Technological Honor Society, Future Business Leaders of America, National Honor Society, S.A.D.D. (Students Against Destructive Decisions), National Language Honor Society, National Art Honor Society, the Fellowship of Christian Athletes and others.
Haddon Township plans to perform their fall play, A Midsummer Night's Dream: The Summer of Love on November 13-15, 2014 at 7:30pm. Auditions will be held when school is back in session.
Haddon Township High School is one of eleven member schools in the Colonial Conference, which is composed of small schools whose enrollments are between 750-800 students for grades 9-12. Sports offered at the school include Basketball, Baseball, Soccer, Softball, Golf, Hockey, Track-Field, Wrestling, Swimming, Tennis, Cross Country and Football.
The school's crew club has a website that is updated regularly with photos and information on the group. This year's Learn to Row program had to be moved from mid-July to early-June because of the proposed dredging project for the Cooper River. A group of dedicated rowers turned out and the coaches look forward to seeing them back in the fall, according to their website. Haddon Township crew rowers Joey Weber, Ron Woods and Noa Boonin helped at the program along with coaches Gregg Francis and Anthony Fittipaldi.
Haddon Township's Alumni Association updates their website regularly to inform members on current news and events. About four times a year, the association meets at a local restaurant to catch up and relax. They also have a facebook page which is updated regularly.
Haddon Township is hosting seven summer camps this summer. Boys Soccer summer conditioning, Strength, Speed & Conditioning, Tennis Camp, Field Hockey, Track, Field and X-C, and Youth Soccer camps have already been held, but there is still time to sign up for Co-Ed Basketball. Hoop Dreams will be held for students entering grades 1-8 from 8:30am-11:30am on July 28-31 at the Haddon Township Lower Gym.
Haddon Township High School is located at 406 Memorial Avenue in Westmont, NJ. For more information, call 856-869-7750 or visit hths.haddontwpschools.com
© SouthJersey.com 2014. All rights reserved. This article or parts thereof may not be reprinted or reproduced by any other party without the express written consent of SouthJersey.com. For more information, please call 856-797-9910.
For more information about what's going on in our local schools and what today's students are up to, visit our South Jersey Schools page.
Article continues below
---
advertisement


---
Author:
Meghan Shott
Archives
---
Advertise with SouthJersey.com
Shawnee High School
Acting Natural
Middle Township High School
Audubon High School
Cumberland Regional High School
African American Heritage Museum
Apple Pie Hill
Attractions: N. Pemberton RR Station
Johnson's Corner Farm
Lumberton's Air Victory Museum
Lucy the Margate Elephant
Tuckerton Seaport & Baymen's Museum
Emlen Physick Estate
Cape May's Washington Street Mall
More...