Close of Biz: Keeping it Cool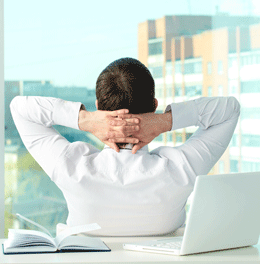 …From the pages of South Jersey Biz…
How local executives help their employees relax in and out of the workplace
Along with the hot, humid weather and sporadic thunderstorms, the summer months can bring long beach days, relaxing family vacations and spontaneous trips to get ice cream. But when you're stuck at work, forced to watch summer roll by from the confines of your desk, stress at the workplace can keep you from enjoying the season the way you'd like. Fortunately, some local executives are finding ways to bring the summer spirit into the workplace and help their employees unwind and de-stress.
Brian Radwell, president and CEO of Radwell International, Inc., is one of many employers emphasizing the need for incentives and workplace events that keep employees relaxed. Radwell's Lumberton-based company has free arcade games in the cafeteria, trivia questions of the day and a variety of awards with cash prizes included. The company also holds a "Social 5" each day at 3 p.m., allowing employees to socialize and meet one another, building what Radwell refers to as his "professional family."
"Stress in a rapidly growing company is unavoidable," he says. "But how we recognize the effort and pressure is extremely important."
In addition to creating an enjoyable atmosphere for his professional family, Radwell has prioritized employees' families, creating a special program for "Bring Your Child to Work Day." All children who go to work with their parents at Radwell International receive their own paycheck for the day, creating an incentive for employees and their children alike.
And Radwell is not alone. At AnnieMac Home Mortgage, headquartered in Mount Laurel, employees take part in monthly company-paid breakfasts or lunches, annual Operations and Support Appreciation Days, and annual sales rallies, complete with guest speakers, team building exercises and an outdoor cocktail reception. "It's a win-win proposition when you execute this well. The employees feel more positive, which translates into higher productivity and less turnover," says Joseph Panebianco, the company's president and CEO.
Adinolfi & Lieberman, P.A., a law firm in Haddonfield, hosts two major annual events to show appreciation for their employees, one in the summer and one during the winter holidays. From Memorial Day through Labor Day, the law firm holds an "early Friday" program, where employees are allowed to leave early and be paid for one additional hour. There are two options in place—employees may leave at 3 p.m. and be paid until 4 p.m., or they may leave at 4 p.m. and be paid until 5 p.m.
"More than being able to show appreciation, which is of course very important, these events help us to get to know each other outside of the workplace setting," says Cheryl Betten, the firm administrator. "Having good relationships and understanding among our staff helps make us more productive, creative and is a team-building experience."
One Voorhees resident not only values team-building within the workplace but has made a career out of promoting positive workplace experiences for others. Jeffrey Backal, CEO of Team Builders Plus, worked with a graduate school classmate 20 years ago to launch a business specifically designed to bring team-building exercises to companies looking to strengthen their sense of community.
From treasure hunts to cake-building competitions, Team Builders Plus works through personality and communication conflicts to help employees enjoy their workplace. "One of the main reasons people leave organizations is because of the people they work with," Backal says. "With team building and team development, those are the kind of things we're working on."
When working with other companies and his own company, Backal throws the Golden Rule of "treating others the way you want to be treated" out the window, instead using the Platinum Rule: Treat others the way they need to be treated. With a focus on strengthening communication between employees, Backal practices what he preaches by planning staff trips and programs within his own office.
"Team building has a tremendous impact," he says. "It actually teaches people to learn how to adapt their style to the people they're working with. When you're out doing fun things with the people you work with, it's building those relationships."
Published (and copyrighted) in South Jersey Biz, Volume 4, Issue 7 (July, 2014).
For more info on South Jersey Biz, click here.
To subscribe to South Jersey Biz, click here.
To advertise in South Jersey Biz, click here.
Article continues below
---
advertisement


---
Author:
Felicia Gans
Archives
---
Family Fun
Live from the White House
Collingswood
Stepping Up to the Plate
Local Story
Lingering Questions
Still Fresh
Under the South Jersey Sun
Riverside Retreat
Against All Odds
Like a Girl
Going Her Own Way
Fall In
Aiming to Please
Walk of Fame: Natalie Hope Sommermann
More...