Pennsauken High School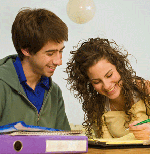 Pennsauken High School offers a complete range of courses to meet the academic needs of its students. The 2014-2015 school year gets underway on Thursday, September 4. According to the school's website, the curriculum is engineered to accommodate all students, from those with special needs to those who are academically gifted. Advanced placement, dual credit, and technical preparation courses facilitate their mission, "to provide exceptional educational opportunities that empower students to excel academically, emotionally, physically, and socially in a safe, nurturing environment."
The school's college bound population benefits from many course offerings, including 20 courses designated for academically gifted or advanced placement students. The curriculum also includes opportunities to study four different foreign languages and advanced programs for the science oriented students.
Spirit week will be held later this fall at Pennsauken. This week leading up to Homecoming will include dress-up days, community service and after school activities for the freshman, sophomore, junior and senior classes.
Pennsauken High School has numerous academic extracurricular activities available to students. These activities include the National Honor Society, an honor society for each foreign language and various science organizations. The co-curricular programs of the school give every student many opportunities to get involved. An expansive array of other activities including Future Teachers of America, Impact Club, Leo Club, Library Council, Psychology Club, Student Government, Student Newspaper, and others are available as well.
All of the music programs in the high school are legendary throughout the region. The Apache Marching Band, the "Touch of Class" Indoor Guard, the Pennsauken Jazz Ensemble, and the "Double Dozen" chorus all have many championships and accolades to their credit. You can keep track of the marching band's latest news and events on their website, pennsaukenmarchingband.webs.com.
Pennsauken also offers many athletic organizations in which students may participate, including baseball, basketball, bowling, cheerleading, cross country, field hockey, football, lacrosse, soccer, softball, tennis, track, volleyball, winter track and wrestling. Check out the athletic department's website for current events and information.
Congratulations to recent Pennsauken graduates Jeff Augustus and Olivia Jamison who were named Athletes of the Year. Jeff was honored as an all-star in both football and wrestling. Olivia can run a quarter mile in 56.61 seconds. She worked hard throughout the year and placed 4th in the 400 meter at the state championships in May, breaking the 400 meter school record.
Coach Chad Pierce was named Coach of the Year in the June 2014 Athletic Newsletter at Pennsauken. Coach Pierce coaches year round, assisting with high school football and girls basketball and serving as head coach of the Phifer Middle School track team, while teaching Social Studies at Phifer.
Other athletes highlighted in the newsletter include Kazi Robinson, Michael Alfano, Megan Hilbert, Larenz Brown, Alyssa Frisby, Kristen Roberts, N'Dea Irvin-Choy, Emily Shukdinas, Edwin Guillermo, Tyler Diaz, Aleyah Dupree, Meghan Guagenti, Samantha Thach, Lorraine Velez, Aiyana Ware, Tiarra McDuffie, Briana Roberts, Marquan Jones, Dakota Ganassi, Edward Holmes, Joshua Hawkins, Indigo Pascall, Martin Booker, Anthony Dadson, Peter Tran, Kyree Parker Thomas, Jason Goldstein, Richard Stukey, Khalil Rhett and Michael Alfano.
Are you the parent of a Pennsauken High School student? Come meet your student's teachers and become familiar with their schedules on Tuesday, September 16 from 6:30-9pm.
The Pennsauken High School Counseling Department will sponsor its annual College/Career Fair on Thursday, September 18 from 7-9pm in the school cafeteria. Representatives from over 70 colleges and career schools will provide admission information, catalogs, and applications.
Save the date for the Hall of Fame football game on Saturday, October 4 when the football team plays Williamstown at home.
Are you a graduate of Pennsauken High School? Keep up with the latest alumni news on their website: pennsaukenalumni.org.
Pennsauken High School is located at 800 Hylton Road in Pennsauken. For more information on the school, call 856-662-8500 or visit Pennsauken.oncoursesystems.com/websites/11222210.
© SouthJersey.com 2014. All rights reserved. This article or parts thereof may not be reprinted or reproduced by any other party without the express written consent of SouthJersey.com. For more information, please call 856-797-9910.
For more information about what's going on in our local schools and what today's students are up to, visit our South Jersey Schools page.
Article continues below
---
advertisement


---
Author:
Meghan Shott
Archives
---
Advertise with SouthJersey.com
Shawnee High School
Acting Natural
Middle Township High School
Audubon High School
Cumberland Regional High School
African American Heritage Museum
Apple Pie Hill
Attractions: N. Pemberton RR Station
Johnson's Corner Farm
Lumberton's Air Victory Museum
Lucy the Margate Elephant
Tuckerton Seaport & Baymen's Museum
Emlen Physick Estate
Cape May's Washington Street Mall
More...