Times of Transition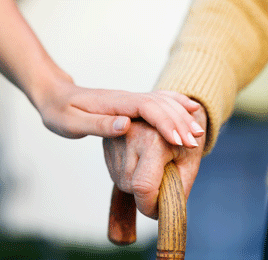 …From the pages of South Jersey Magazine…
Helpful tips for seniors and their families on changes that come with aging.
With aging comes change—and often a lot of it. But besides dealing with the obvious physical changes, there can be quite a few other adjustments to get used to as well—transitioning from home to assisted living, from the hospital back to home, or even transitioning into hospice care are some of the changes that seniors may face. While these changes can be both physically and mentally taxing, there are some ways to make that transition process easier on everyone.
For the Senior
Moving can be an exciting new adventure in one's younger years, but for an older adult, moving may not only be stressful, but it may feel like a loss, says Melissa Repkoe, CALA, director of community relations for Brandywine Senior Living at Voorhees. Whether they initiated the idea to move or not, seniors often feel that by moving to a long-term living community—even if it's independent living—that they are taking a step toward losing their independence, their freedom, or even their decision-making ability. Although moving to a community may feel like a loss of freedom, Repkoe says it's actually the opposite, and would offer seniors this key piece of advice: "You are moving because your current environment has stopped facilitating a successful, independent life."
The move itself can also be stressful. Repkoe advises simplifying the process. "Don't try to take everything with you," she says. "Take only the items or belongings that will contribute to a more independent life in your new surroundings. This might mean parting with things you care about. I recently met a couple who had a house full of beautiful furniture and they were struggling to decide what to bring. My suggestion was to bring the furniture that was easy for them to sit in and to get out of. The husband made a shocking confession—not a single chair in his entire house was easy for him to stand up from. Although it is hard to part with belongings, embrace the fact that you are making a change in order to make your life easier. You deserve that."
While moving out of one's home and into a new community is a common change for seniors, the reverse is also a transition. After a hospital stay, some seniors need help returning home. Acute rehab is all about reaching this goal. "Our goal is to get everyone home as quickly and safely as possible," says Donna Sobel, MHA, director of business development for Marlton Rehabilitation Hospital. "We do this through medical rehabilitation, which is the most comprehensive form of rehab, and it's only provided in licensed rehab hospitals. What makes the difference is a medical management approach. For instance, if the patient has a cardiac issue, they will see a cardiologist. It's a blend of both medical and therapeutic rehab intervention."
Sobel says that seniors should know it can be hard to make progress in rehab if there are other medical conditions holding them back. That's why this model makes sense. "Getting the highest level of care you're eligible for before going home is going to make that transition easier," she says. "We're staffed just like a hospital and we take a team approach with each patient. It's a specialized approach that is not the same program for every patient."
For some, the idea of change is scarier than actually moving to a new community or transitioning out of rehab. For some seniors, the change may be moving into hospice care. With that transition comes a difficult period of acceptance, says Marianne Holler, MSW, DO, FACOI, a full-time, board-certified hospice and palliative physician with Samaritan Healthcare & Hospice. "Admitting that curative treatments are not curing disease is a difficult reality for patients and families to accept," Holler says. "It is so important that each senior have an open conversation and ongoing communication with and between family members about his or her goals of care. These conversations can help define how the senior defines quality of life and what interventions he or she wants—or doesn't want—going forward as illness progresses."
Holler says that having these conversations in advance is so critical. While it can be hard to accept this change and even harder to talk about it, making decisions now can assist with the difficulties that will come down the road.
For the Family
There's no doubt that these changes can also be trying for family members and caregivers.
Jonell Marasco, an R.N./C.H.P.N. at the Hospice of New Jersey, stresses that having those hard conversations about what's next are important, however difficult they may be.
"I know the importance of discussions as to your goals on hospice, [such as] 'What are your goals while you are under hospice care?' [As well as] such questions as pain control," she says. "But as a family member, the questions might be, 'Where do you want to be at this time in your life, at home or with family?' Many times, members of the family do not know what to ask. … You can ask a hospice representative to come to your home or where your loved one is and ask the questions directly. When this type of information is provided, the family can be better informed."
Having a plan in place will make things easier for everyone, Marasco says. "When questions arise and are answered, this will make a smoother transition in the patient journey," she says. "For example, funeral plans may be established, when there were none before. Now the family members understand your wishes, and do not have to make plans in an emergent, emotional time. There are other times when family members do not agree on a path, such as medications used. But if this was planned out by the person on hospice, the family can be reminded that this is what they wanted. This takes the burden off the loved ones."
Repkoe also recommends trying to see things through the eyes of your loved one. "In doing so, it is important to not try to rationalize emotions," she says. "Emotions aren't always rational."
Since this is certainly an emotional time, it's not uncommon for adult children to help make decisions for their aging parents. That can be stressful for both parties. "It's important to help them make good, sound decisions because your loved one may not be able to during this emotional time," Repkoe says. "All too often I meet family members who say, 'I can't force mom to make a decision.' While that may be true, you have to realize that mom might be fearful of how her life will change when she moves. Her emotions may be standing in the way of recognizing how much easier life would be if she were to relocate."
If your loved one is transitioning home from rehabilitation, you can also offer assistance by helping ensure the home is ready for their return. "The environment that your loved one is returning to also needs to be safe and conducive to their continued progress," says Sobel. "Our therapists can go to the home and check on how it is set up and also provide necessary adaptive equipment in order to make the transition successful. The therapist will make recommendations to make the home safer such as moving furniture. It's all about transitioning, and the sooner a person can safely return home, the sooner they will be able to get back to living."
Holler says that it's not uncommon for patients to try to shield their family members from the truth about their illness or even their true wishes just as families try to shield the patient from bad news that is reported to them. But openness and honesty are so important in this difficult time. Hiding the truth leads to a delay in getting the help and support they need "because everyone is afraid to utter the word 'hospice,'" she says.
"The truth is that every one of us will die," Holler adds. "That cannot be changed. But hospice is not about giving up. It's a conscious choice about how you want the end of life to be for yourself and your loved ones. Having ongoing conversations and choosing timely help and support ensures that the senior's goals and wishes are honored. And knowing that wishes are being honored brings great peace of mind to both the patient and the family."
Published (and copyrighted) in South Jersey Magazine, Volume 11, Issue 5 August, 2014).
For more info on South Jersey Magazine, click here.
To subscribe to South Jersey Magazine, click here.
To advertise in South Jersey Magazine, click here.
Article continues below
---
advertisement


---
Author:
Lindsey Getz
Archives
---
A Looming Healthcare Crisis
Getting Your Life Back
Aging Graciously
A Show of Support
Fighting the Good Fight
Building a Community All Year Long
Under the Winter Weather
Innovations in Health Care
A Growing Presence
A Rewarding Journey
Relief is on the Way
Changing the Narrative
What's New in Neurology
Top Physicians 2022
No Pain, All Gain
More Articles