The Battle of Camden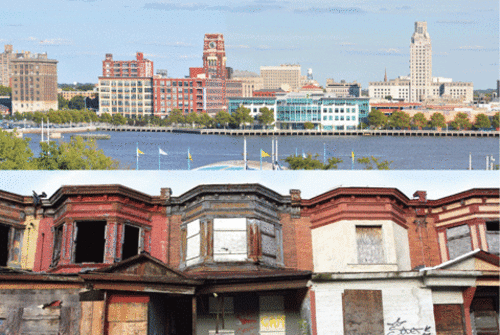 …From the pages of South Jersey Magazine…
Hope. Despair. Uncertainty. Those are words often used to describe Camden. As a homegrown mayor and other officials look to restore the city to glory, will a dedicated approach to education, medicine and development produce significant results or just more of the same?
Marijuana, cocaine and crack. Those were the drugs of choice for Ricky as a young man, and coming from an affluent, mostly white South Jersey suburb, he knew exactly where to get them. Camden may have once been a booming urban center in the early-to-mid-20th-century, but for Ricky and generations of other area residents, it has only ever been known as a violent wasteland that was best to steer clear from—unless you were looking to score.
"I started going to Camden to buy drugs as soon as I got my driver's license," says Ricky, who did not want to use his real name. "Friends told me where to go, and once you got in the general vicinity of where you had to go, [guys on the street] would usually wave you in. If you were white, they knew what you were there for, and if they didn't have anything on them, they knew somebody who did."
Today, at age 39 and with his wild side long since retired, Ricky only comes into Camden for the occasional concert at Susquehanna Bank Center or ballgame at Campbell's Field. "You drive down 676, get off the exit and go right to your location. Other than that, there's nothing to do there. There's no reason to stay," he says.
Whether or not they participated in Camden's notorious drug trade, many South Jerseyans feel the same way about the city as Ricky, who calls it "the most desolate area I've ever seen in my life." But in Camden, proud political and community leaders, including charismatic Mayor Dana Redd, are determined to change that perception of their city, which persists both nationally and locally. They believe there is much more to a city labeled the poorest in America, to an area that annually finds itself on the top 10 lists of the most violent cities in the nation, to the subject of a recent Rolling Stone article titled: "Apocalypse, New Jersey: A Dispatch From America's Most Desperate Town."
"I do take it personally when I hear negative talk about the city of Camden, because we're working so hard to transform Camden into an urban anchor that we can all be proud of throughout the state," says Redd, a Camden native who took office in 2010. "I couldn't be more honored or humbled to serve as the mayor of my childhood home and to hopefully leave Camden in a better position than when I found it."
Redd, a graduate of Rutgers University-Camden who served in the state senate and the Camden City Council before being elected mayor, has certainly had chances to make her home and her living elsewhere. But she has always wanted to play a role in Camden's comeback, going back to advice her father gave her at a young age. She was only 8 when he and her mother were found dead in a hotel room in what police called a murder-suicide. Redd and her younger brother were raised by their grandparents.
"The seed that my father planted very early on with my family and myself was not to leave Camden, because it was going to come back," Redd says. "That really has stayed with me. Like many in my peer group, I could've moved out after I got my education and my college degree. But something just kept me tied to the city, not knowing that one day I was going to run to be the mayor and lead the city and be a part of this transformational change. That's why for me, it's a humbling experience to ... try and change the trajectory from where we've been and where we're going."
A business major at Rutgers who has a love for finance, Redd is focused on economic revitalization in Camden. But in order to bring back big business and convince people to invest in the city, she must be able to offer public safety. That simply wasn't possible early in her tenure.
The struggling economy, a massive state deficit and New Jersey Gov. Chris Christie's decision to cut state aid to Camden led the city to lay off 168 police officers in 2011. With the decimated police force, a violent city became even worse, culminating in a record-setting 67 homicides in 2012. But hope arrived last year, when the 184-year-old Camden Police Department was disbanded and replaced by the Camden County Metropolitan Police Department, the state's first regional police force. The county force has been able to maintain costs while beefing the force up to close to 400 officers, with 155 of the laid off city officers rehired.
Under Chief John Scott Thomson, the new police force has already started to show results, as violent crime fell by 38 percent last year with an increased focus on foot patrols and surveillance techniques in Camden's neighborhoods.
"There's a big difference in momentum and the level of service, in civic and community engagement, and the interaction [between] our law enforcement officials and our police officers with our youth," Redd says. "Whether it's in Fairview, Parkside or East Camden, we're getting a lot of positive feedback, even from some of the folks who were early critics. We understood that this was untested and there would be some critics, but now even the critics have to praise the police department."
Drug dealers and buyers have also taken notice, with one former heroin addict from Washington Township claiming that a lot of the drug trade from North Camden has been forced into other neighborhoods because of the increased police presence in that notoriously rough part of town. "If you're white and moving, or black and standing still, the police are hassling you," he says.
Meanwhile, along the Camden Waterfront and on the campus of Rutgers—the areas of Camden that South Jersey suburbanites most often frequent—business leaders couldn't be happier with public safety. "We were a supporter from the beginning of the Camden County Police Force," says Kevin Keppel, executive director of Adventure Aquarium. "They're a more proactive organization than they used to be. They regularly communicate with us and ask us what they can do to help and tell us what we can do to help them. They're more active, they're more visible and they're more positive in their approach.
"We've never had one violent crime here ... and we've never had any major situations here, nothing more than Philadelphia or any other major city would have," Keppel continues. "So we need to go out and make sure people understand that being on the Camden waterfront is more of a benefit than not."
Dr. Kriste Lindenmeyer, Dean of the Faculty of Arts and Sciences and the Graduate School at Rutgers-Camden, echoes that sentiment. "I think every urban university has concerns about keeping students safe, but frankly, if you look at the statistics, our campus is the safest campus in New Jersey," she says. "Camden is like Philadelphia; it's a large urban area. There are parts where you don't want to go alone or at night because you're exposed to danger, but that's true in every big urban area. We do a really good job of safety on campus and in the surrounding neighborhoods. The whole university and waterfront area is a very safe area."
Kara Bannon, a Woolwich Township resident who teaches in Burlington County, has reason to disagree with that assessment, however. On two occasions in recent years, she and her friends were victims of theft during concerts at the Susquehanna Bank Center, once inside the venue and once from inside her locked car in the parking lot. The latter time, Bannon had about $50 in cash, a Pandora bracelet and her debit card stolen from her purse.
"They used my debit card and got cash back," she says. "There were all of these withdrawals from a food court in Camden, and they were doing the maximum amount of cash back at this place, which was $80. They did that four times, and my bank eventually reimbursed me because I called it in right away and they never had me on record for buying anything in Camden before."
But it took about two months for Bannon to get reimbursed, she says, and the whole experience has soured her on heading to the Camden waterfront.
"Camden has always been awful," she says. "I don't see what they're doing to try and improve it. I think the aquarium is safe because they have their own parking lot right there. So I would take [my kids] there, but that's about it. I wouldn't even go for a Riversharks game, and at this point, I'm going to be choosier about what concerts I go to."
Those incidents aside, there's no question that the waterfront has been successful in bringing visitors to Camden. The Susquehanna Bank Center regularly books the hottest music acts each summer, and Keppel says that by the time Adventure Aquarium hits its 10-year anniversary next May—the current ownership group took over for the state-run aquarium in 2005—8 million guests will have passed through.
"I believe that the waterfront, in conjunction with Rutgers and Cooper Hospital, is creating a reason for people to come to Camden," says Adam Lorber, general manager of the Camden Riversharks, an independent minor-league baseball team that plays its home games at scenic Campbell's Field. "As more people come to Camden for these events, they're getting in the habit of coming here, and that's only going to be good for our attendance and the city."
But what happens after your afternoon at the aquarium or ballpark? Where do you go after your favorite band plays its final encore? The problem at the waterfront hasn't been bringing people in, but getting them to stick around.
"Camden did the whole waterfront thing, and that's great, but you go there for one thing and then you leave," Audubon native Patrick Gorman says. "What makes you want to stay at the waterfront? There's nothing much there to actually do. You can go to the aquarium or a museum, but there are no restaurants to keep you around. I think they did a great job of building up the Camden waterfront, but I think they did a lousy job of marketing it for people to actually stay."
Medford resident Jack Bowman visits the waterfront area often, but if the entertainment district were located in a different, safer city, he'd be much happier. "During daylight hours, I am comfortable taking my family there, but I'd sure prefer if these attractions were somewhere else," Bowman says. "I try to avoid Camden if at all possible. It's a really scary place to be at night and to drive through. I go to a lot of concerts, but I only go to the ones in Camden if it's someone I really want to see badly. It's a nightmare to drive in and out and the police seem to always direct you to a different route."
Gorman, who has a degree in urban studies from Rutgers-New Brunswick, has studied Camden's history closely. Now a zoning inspector in Howell, he previously worked at Rutgers-Camden as well as Fairview Main Street, Inc., a nonprofit organization devoted to the revitalization of Fairview's downtown district. While he stresses that there are a number of factors that go into improving the city, for him it starts with creating employment opportunities, not only for current residents, but for young professionals who could possibly want to call Camden home.
"For Camden to come back, you need jobs," Gorman says. "And they need to be good jobs so people might actually say, 'Hey, I want to live here instead of driving 40 minutes a day from Washington Township to go to work in Camden.'
"It has to be a multi-pronged approach. You can't just say, 'We'll rebuild the waterfront. People will come for that and everything else will build off of that.' It's been 15 or 20 years, and nothing has really stemmed from it."
That may finally be changing thanks to the New Jersey Economic Opportunity Act of 2013, signed into law last September. Campbell Soup Company, one of the few major corporations to keep its headquarters in Camden, will no longer be alone, as economic incentives are enticing companies to set up shop in South Jersey towns such as Camden. In a deal announced earlier this summer, the Philadelphia 76ers received $82 million in tax breaks over 10 years to build their new practice facility and team headquarters on the waterfront near the Susquehanna Bank Center. As part of the agreement, the team will create 50 new jobs for the site, not including construction jobs.
"That was major for Camden," Redd says. "I think it sent such a strong message, and I mentioned to [Sixers CEO] Scott O'Neil that they would be a catalyst for other big business announcements to come. The fact that they took a risk … to believe in Camden and to come during this transformation stage of Camden's life, really was overwhelming and I can't wait for us to put a shovel in the ground later this year."
As with the entertainment attractions, Gorman cautions that projects like the Sixers practice facility are a nice start, but need to be built upon. Restaurants, a shopping district, and other small businesses are also necessary, he says. At the moment, Camden doesn't even have a grocery store, although a new ShopRite is currently being built along Admiral Wilson Boulevard.
"[The addition of the Sixers] is a shot in the arm because it's going to bring construction jobs, it's going to provide another place to go for people in the area," Gorman says. "But the thing is, it's a practice facility. That's great, but what are you going to build out from that? There have to be other small businesses around that, like some delis or a pizza place. If you look at it, there's not even a supermarket in Camden right now. There's no movie theater, you can't even find a Wawa in Camden. So a lot more has to be done."
While developers and political leaders are encouraged about Camden's future because of the Economic Opportunity Act, Redd has always talked about "Eds and Meds" as the foundation for the city. That includes campuses of Rutgers, Rowan and Camden County College on the education side, along with Cooper Medical School of Rowan University, which opened in 2012. In health care, Camden's facilities include Cooper University Hospital, Our Lady of Lourdes, Virtua Camden and the MD Anderson Cancer Center at Cooper.
"Of course I'm in the business, but I'm a big believer that access to higher education is key to helping an area develop," Rutgers' Lindenmeyer says. "I also taught in rural Tennessee for 10 years, and many of the same kind of economic challenges in Camden were [also] in rural Tennessee. I think the universities play an important role. … We not only see it as the students on our campus having access to education, but we also think that there is a civic engagement that the university can provide in helping economic development and individual development in the community. It's very important for a university to be here."
Redd agrees that the hospitals and universities play a huge role in transforming the neighborhoods where they are situated. "Eds and Meds has really given us a platform for our comeback, in my opinion," she says. "They are now the driving economic engine in the city of Camden, but they also recognize the importance of adopting the neighborhood in which they are anchored. Using Cooper University Hospital as a prime example, it has helped us to leverage and facilitate housing development, infrastructure improvement and park improvement. It really is an up-and-coming neighborhood. … With the quality of housing, the three-story houses that are there and selling, that's a neighborhood to come and invest in and buy a home."
That's the next phase for Camden, as Redd sees it: to not only keep the minimal middle class that is already there, but to expand that middle class and get young families to consider the city as a place to buy their starter home. Improving Camden's crumbling public school system—which is now being run by the state—and continuing the gains made in reducing violence are of course crucial to establishing that middle class.
"Camden has always said that they want to figure out ways to have a middle class there," Gorman says. "But another thing that has affected Camden is that, back 30 or 40 years ago, everything was around Camden or the inner suburbs. But now places like Washington Township have been developed, places like Gloucester Township have been developed. Everything sprawled out. So trying to get people into the city is a tougher thing. I've got my three-bedroom house and fenced-in yard. Why should I come to Camden and have a smaller house that possibly gets broken into?"
But Gorman, like many South Jersey natives from outside the city, doesn't hold out a lot of hope for Camden's recovery. He just thinks there are too many elements that need fixing, and calls it a 40-year project.
"It's a shame what it's become, because in my parents' day, that was the place to go," he says. "With the factors of unemployment, suburban sprawl, no job opportunities and a horrible infrastructure, this is what it is now.
"There have been a few bright spots and Camden still has some really good people there, don't get me wrong. But I break it down like this: Out of every 10 people, five are good people, three are looking to get you and two just got out of jail. So it's hard to be optimistic."
"There are a few small pockets of areas that aren't bad, but overall it's still horrible," Bowman says. "Really, other than being forced in—for a doctor's appointment, your job, a concert, college classes, the aquarium—does anyone really want to go to Camden, or do they go because they have to? Until that changes, they have no shot [at rebuilding the city]. I don't see it happening in my lifetime or my children's."
Whether or not you believe that the city can be saved, the people trying to rescue it don't want those good, hard-working citizens that call Camden home to be forgotten, as they often get overlooked in the stories that focus on the murder rate, the drug trade and the unemployment issues.
"We do have hard-working, upstanding, law-abiding citizens that are here by choice, that go to work, come home and try to provide for their families," Redd says. "Camden really is a wonderful place, a unique place. While they may label us as the most impoverished in America, we're not poor in spirit."
Published (and copyrighted) in South Jersey Magazine, Volume 11, Issue 5 August, 2014).
For more info on South Jersey Magazine, click here.
To subscribe to South Jersey Magazine, click here.
To advertise in South Jersey Magazine, click here.
Article continues below
---
advertisement


---
Author:
Matt Cosentino
Archives
---
Who's Who in Health Care
Former Shawnee star Doolittle Calls It A Career
Camden County College welcomes Baseball Hall of Fame
South Jersey Football Games of the Week
Out & About
QB Ronnie Borden is Back in the Game
Should fans be worried for the Phillies bullpen?
South Jersey Football Games of the Week
A look at South Jersey's Top H.S. Girls' Soccer Teams
Out & About
Eagles will be fine after close call in opener
High School Football Games of the Week
Is it Super Bowl or bust for the Eagles?
What's New in South Jersey?
From New Jersey to Nashville
More...