Moorestown High School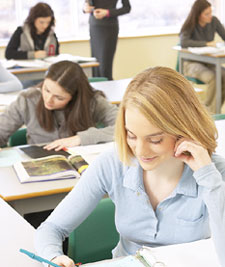 Moorestown High School is a four-year comprehensive high school with a long-standing history of academic excellence since its founding in 1904. According to the school's website, "the vision for Moorestown High School is for the continued development and maintenance of a program which effectively balances academics, aesthetic, and athletic elements. A critical component of this program is the maintenance of an environment which responds to the students' personal and academic needs."
Approximately 1000 students attend the school, and there are nearly 90 certified faculty members. There are more than 170 courses and programs of study for students to choose from, in areas such as Business & Info Technology, English/Language Arts, Family Consumer Science, Fine Arts, Industrial Technology, Mathematics, Performing Arts, Physical Education/Health, Science, Social Studies and World Language. More than 56 percent of students participate in Advanced Placement courses as well, and 95 percent of students continue their education after graduation.
Many Moorestown High School students participate in activities and sports at the school. Student Government has many participants, in addition to clubs such as Art Club, Debate Team, FBLA, Interact Club, Latin Club, Multi-Cultural Club, Photography Club, Robotics Club, Vegetarian Club and many others.
Moorestown's Music Department offers course work in instrumental music, vocal music and musical theater. The school's 2014 fall play, Much Ado About Nothing, will be performed on October 23-25. Their 2015 spring musical will be Monty Python's Spamalot which will be performed February 27, 28, March 1, 6 and 7. For more information about Moorestown Theater, visit their Facebook page.
Sports offered at the school include baseball, basketball, bowling, cheerleading, cross country, dance squad, field hockey, football, golf, lacrosse, soccer, softball, swimming, tennis, track, volleyball and wrestling.
Congratulations to Moorestown swimmers Alex Martin and Zac Fong, named Swimmers of the Year in south Jersey while Coach Jeff DeNick was named Coach of the Year. The Boys' Swim team also won the Group B State Championship earlier this year.
The Moorestown Rowing Club begins their fall season in just a few weeks. Check out their website to learn more about Moorestown Crew.
The football team's first game will be against Winslow Township on September 12. Other opponents this season include Burlington Township, Seneca, Shawnee, Triton, Hammonton, Cherry Hill West, Timber Creek and Paul VI. Players this season include Austin Haynes, Brandon Moreland, Calvin Wasdyke, Christian Snodgrass, Dante Figueroa, Dom Caprarola, Hugh Malesh, Jake Rodier, Jared Payne, Joe Salera, John Cedano, John Polich, John Ramos, Kenneth Bonett, Kyle Austin, Kyle Blaskovich, Luke Dickey, Mike DiMarino, Patrick Broker, Patrick Sheridan, Ryan Loftus, Ryan Penner, Steven Arroyo, Tommy Bolte, Tyreek Smith, Westin Bobadilla, Quinton Law, Brandon Outlaw, John Michael Warrington, Skyler Clark, Matt Warrington, Greg Gamble, Joe Egan, Will Emerson, Niles Turner, Anthony Williamson, Erik Witkowski, Elijah Etienne, Aaron Cataline and Jimmy McHugh.
The MHS Home and School Association has a Facebook page. Check out https://www.facebook.com/MoorestownHomeSchool to stay up-to-date with what's happening with this parent/teacher organization and in the Moorestown schools.
Moorestown's Back to School Obstacle Run benefitting Moorestown Township Public Schools will be on Sunday, September 7 starting at 8:30am. The cost is $20 for the 1 mile run or $25 for the 5k run. Both races are filled with age appropriate obstacles. Participants are invited to go to the football stadium after the race for a mini festival area with music, food and games. For more information contact Elyse Brown at gbea94@aol.com or Caryn Shaw at mtpsfunding@mtps.com.
The MHS Class of 1989 25 Year Reunion will be held on Saturday, November 29 at 7pm at Ramblewood Country Club. Tickets are $40 each and can be purchased online. Moorestown High School graduates interested in organizing a class reunion should contact Inger Begley at 856-235-3231 or ibegley@mtps.com. She can assist with class lists and other suggestions.
Moorestown High School is located on 350 Bridgeboro Road in Moorestown. For more information, call (856-778-6610 or visit them on the web at mtps.com.
© SouthJersey.com 2014. All rights reserved. This article or parts thereof may not be reprinted or reproduced by any other party without the express written consent of SouthJersey.com. For more information, please call 856-797-9910.
For more information about what's going on in our local schools and what today's students are up to, visit our South Jersey Schools page.
Article continues below
---
advertisement


---
Author:
Meghan Shott
Archives
---
Advertise with SouthJersey.com
Shawnee High School
Acting Natural
Middle Township High School
Audubon High School
Cumberland Regional High School
African American Heritage Museum
Apple Pie Hill
Attractions: N. Pemberton RR Station
Johnson's Corner Farm
Lumberton's Air Victory Museum
Lucy the Margate Elephant
Tuckerton Seaport & Baymen's Museum
Emlen Physick Estate
Cape May's Washington Street Mall
More...