Scarpinato's Cucina & Catering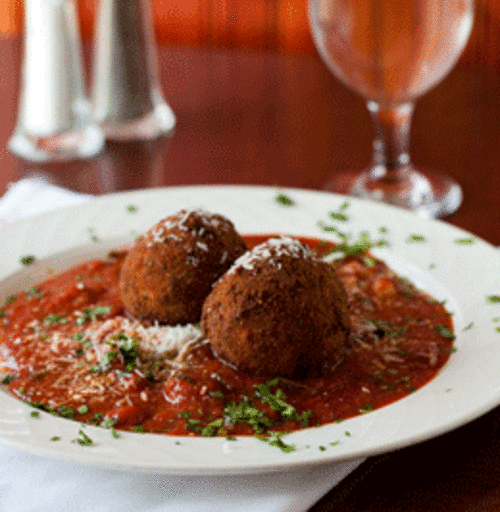 …A Dining Review from the pages of South Jersey Magazine…
A Full House: Scarpinato's Cucina & Catering
127 Greentree Road
Turnersville
(856) 352-2010
3 forks
Strip malls are a fairly popular site off the Black Horse Pike in Gloucester County, so much so that the unfocused eye might miss the strip holding Scarpinato's Cucina. But it's not hard to miss the restaurant's parking lot, so packed to the brim that it's difficult to find a spot for yourself. A packed lot? That's usually a pretty good sign in terms of South Jersey dining.
It's a tiny dining room, and it's fully-loaded—some might consider it overcrowded—with tables. Waitresses buzzed about all night, squeezing through cracks and gaps to get to their guests as a partially-open kitchen slung dishes non-stop from the minute we walked in. A chalkboard sat above a row of booths, listing specials and their soup selections for the day, all of which coincide with a fairly traditional Italian menu, featuring lots of pasta, plenty of seafood and familiar plates like Chicken Parmesan and Veal Saltimbocca.
A traditional appetizer of scallops wrapped in bacon looked enticing enough to try, and did not disappoint. The scallops were tender and perfectly cooked, as was the bacon which managed to crisp up nicely without drying out the shellfish. And the scallops still held onto their own flavor alongside the salty, crispy bacon that covered them. They were served alongside an unnecessary horseradish barbecue sauce, which was way too harsh to benefit the dish.
Then came the suppli, or riceballs. The risotto was well-seasoned and had a lot of flavor, but the mozzarella and meatball that was promised in the center was so small that it was hard to taste. Still, the rice and crispy exterior was tasty on its own, and tasted even better when dipped in the house-made marinara sauce on which it was served.
In true Italian fashion, there's no such thing as too much food. First came a loaf of bread with sliced sharp Provolone, roasted peppers and house-made roasted garlic in olive oil. When that was done, the homemade soups —which come complimentary with every entrée—arrived. The Escarole and white bean came with a light, flavorful broth and shredded roast pork. Meanwhile, the sausage and gnocchi, which had hand-made pasta in a thick red broth, was like a pasta dish on its own.
By the time the starters were cleared away I felt just about ready to throw in the towel, but for the sake of South Jersey Magazine, I pushed on. Cavatelli Scarpinato came with a nice punch of heat from hot peppers and a house-made skinless pork sausage, tossed with tomatoes and black olives and sautéed in a buttery garlic and olive oil sauce. The cavatelli noodles, served perfectly al dente, were the perfect choice, as their texture and folds captured the light sauce, giving flavor to each bite.
Among the seafood options was the tilapia Francaise, a French entrée that I've seen become a popular option at Italian restaurants all over the area. A large cut of tilapia was very lightly battered and fried, then sautéed in a rich and lemony scampi sauce and topped with jumbo lump crabmeat. Both the fish and the crab definitely could have used more seasoning and care before they hit the plate, but the scampi sauce itself was buttery, but not too heavy, and helped mask any bland flavors.
I opted for a slice of cappuccino cheesecake instead of the traditional coffees to end the meal. What arrived was a decadent slice of creamy cheesecake, flecked with ground bits of espresso that popped with each bite. It was sandwiched between a thick layer of ganache, rich but not too heavy or sweet, and crunchy chocolate graham cracker crust.
The attention to detail makes all the difference in this Italian eatery. Sure, I may have felt a bit like a sardine sharing such close quarters with other diners, but it was easy to get distracted by the quality pasta and accompanying sauces that made this a truly memorable meal.
Published (and copyrighted) in South Jersey Magazine, Volume 11, Issue 6 September, 2014).
For more info on South Jersey Magazine, click here.
To subscribe to South Jersey Magazine, click here.
To advertise in South Jersey Magazine, click here.
Article continues below
---
advertisement


---
Author:
Nancy Donovan
Archives
---
A TALE OF THREE WEDDINGS
Timber Creek's Leary heads to Illinois
One of Us
The Weekender
Hometown Flavor
Hoop Dreams
Symon Says
Food & Drink: Raise a Glass
Off the Ice
Rewarding Work
Dig This
The Berlin Cemetery
A Southern Mansion
Fire on the Morro Castle
Pine Barrens Fire of 1936
More...