Holy Cross High School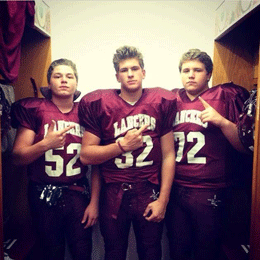 Holy Cross is a coeducational Catholic High School founded in 1957 serving the Diocese of Trenton, the Catholic Parishes of Burlington County, and the surrounding areas of South Jersey. According to the school's website, the school is on a beautiful 78-acre campus located on U.S. Route 130 in Delran, approximately 25 minutes from downtown Philadelphia.
Holy Cross has high academic standards for their students. Each course of study incorporates the religious beliefs of the Roman Catholic Church and challenges them to develop their skills and abilities. Of the school's graduating seniors, 76% go on to four-year colleges and universities and another 23% continue their education at junior colleges or trade schools. Every student receives a Tablet PC and there is campus-wide Wi-Fi.
College prep courses are offered to all sophomore, junior and senior students, and Holy Cross also offers Advanced Placement courses. Students can study areas such as Arts, Business, Technology, English, Mathematics, Health & Physical Education, Social Studies, Religion, Science and World Languages.
Holy Cross High School offers 60 clubs and after-school activities for students. They include Student Council, Yearbook, Newspaper, Chess Club, Dance Team, Art Club, Spanish Club, Ski Club, Mock Trial, National Honor Society and Music Appreciation Club, just to name a few.
Congratulations to the National Honor Society inductees as members for the 2014-2015 school year: Aimee Buck, Megan Byham, Kelly Campbell, Savannah Cantera, Kevin Carroll, Brendan Dockery, Caitlin Donnelly, Megan Dooney, Carolyn Eckerle, Caroline Foglia, Molly Foglia, Zoe Foglia, Mariela Jimenez, Megan Kelly, AnneMarie Leddy, Kenneth Long, Brendan McDonough, Kaitlin McKeaney, Sara Nichterlein, Kalynn Nirolda, Matthew Paradise, Nikita Patiolla, Kimberly Ravold, Madison Robertson, Mary Schmid, Jacqueline Shaeffer, Zachary Shontz, Timothy Wagner and Sarah Wedge.
The 2014-2015 Student Council Executive Board Officers are president Matthew Paradise, vice president Collin Timken, 2nd vice president Hannah Duffy, recording secretary Madison Robertson and corresponding secretary Nikita Patlolla.
The school's 26 sports teams provide training, camaraderie, good health and exercise habits, as well as discipline to nearly half of the student body. Spirit Clubs and Mission Ministries promote school and community involvement. The members of the Student Leadership Team attend conferences bringing new leadership skills to the school community. All are sources of school pride, involvement and belonging to their members and fans, according to their website.
The Holy Cross football team is gearing up for games against Florence Township, Cinnaminson, Willingboro, Bordentown, Burlington Township and Robbinsville to finish out the season. The 2014 roster includes Ryan Gallagher, Omarr Jordan, Ryan Bergman, Brandon Simmons, Stanley Green, Tymere Deshield, Chris Liggio, Asa Daniels, Ryan Ridolfi, Matt Correnti, C.J. Degeorge, Brendan Warren, Wells Williamson, Robby Rodolico, Brandon Anderson, Dante Retzko, Alland Laguerre, Troy Longley, Kenny Long, Cam Wasson, John Werkheiser, Gary Whelan, Max Hibbs, Jalen Singleton, Brendan Wille, Ilie Nistor, Jason Anderson, James Chattin, Tim Wagner, Dan Moore and Raphael Jackson.
Holy Cross has a Facebook page. Visit http://facebook.com/holycross.institutionaladvancement for information about the school.
Holy Cross High School's Class of 1979 will be having their 35th reunion on October 17 at 7pm at The Madison in Riverside. Tickets are $30 each and include light butlered fare and a cash bar.
The 4th Annual Alumni Oktoberfest Tailgate is scheduled for Saturday, October 18 from 2-7pm. Advance tickets are $10/person or $20/family and include food from local eateries, beer, wine and micro-brewery tasting, live music, and antique cars and trucks. For more information, visit www.holycrosshighschool.org/support-hchs/alumni.
The Class of 1984's 30th reunion will also be held October 18. Join classmates at PJ Whelihan's in Cherry Hill from 7-10pm for appetizers and light fare for $20 per person. Contact Karen Coyle Myers (myers229@comcast.net) for more information and to buy tickets.
HCHS Class of 1994's 20th reunion is Friday, November 7 at Deerwood Country Club from 7-11pm. Tickets are $75 per person and include two drink tickets and dinner.
The Class of 2004 will gather to celebrate 10 years since graduation at PJ Whelihan's in Cherry Hill on Saturday, November 29 at 7pm.
Holy Cross High School is located at 5035 Route 130 South in Delran. For more information about the school, call 856-461-5400 or visit their website at holycrosshighschool.org.
© SouthJersey.com 2014. All rights reserved. This article or parts thereof may not be reprinted or reproduced by any other party without the express written consent of SouthJersey.com. For more information, please call 856-797-9910.
For more information about what's going on in our local schools and what today's students are up to, visit our South Jersey Schools page.
Article continues below
---
advertisement


---
Author:
Meghan Shott
Archives
---
Advertise with SouthJersey.com
Shawnee High School
Acting Natural
Middle Township High School
Audubon High School
Cumberland Regional High School
African American Heritage Museum
Apple Pie Hill
Attractions: N. Pemberton RR Station
Johnson's Corner Farm
Lumberton's Air Victory Museum
Lucy the Margate Elephant
Tuckerton Seaport & Baymen's Museum
Emlen Physick Estate
Cape May's Washington Street Mall
More...