Lower Cape May Regional High School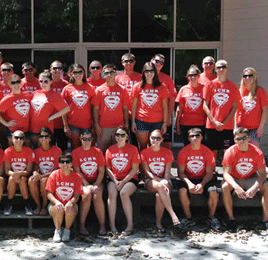 The Lower Cape May Regional High School is located in Lower Township and serves students from Lower Township, Cape May, West Cape May, and Cape May Point. Students at this school have the opportunity to participate in a vast array of courses that prepare them for life after graduation, while participating in exciting after-school activities or challenging sports.
Recent additions to the course options at Lower Cape May Regional High School include Future Educators, Digital Photography, Law Enforcement, Spanish Literature, Advanced Computer Applications/MOUS, and Project Lead the Way/Engineering. Lower Cape May also offers Advanced Placement courses, including English Literature and Composition, English Language and Composition, Physics and Biology.
Lower Cape May Regional High School offers many after school activities and clubs to students, including Peer Leadership, Sailing Club, Spanish Club, Student Littoral Society, National Honor Society, Tri-M Music Honor Society, Key Club, Fall Play, Spring Musical, Renaissance, Mock Trial, Student Council, Photography Club, Newspaper, and many others.
Congratulations to elected Key Club Officers: co-presidents Paige Adams and Thomas Beeby, co-editors Caitlin Joyce and Julianne Weber, vice-president Caleigh Manyak, secretary Marti Panczner, treasurer Destiny West, historian Kaitlin Poling and webmaster Ryan Hastings.
According to the school's website, the Lower Cape May Regional Renaissance program was designed to increase attendance, improve academic performance and increase student graduation. The students working in Renaissance are dedicated to providing a positive and safe school environment. The Renaissance Club runs many fun activities for the school throughout the school year. They include Quarterly Rallies, Spotlight Student of the Month, Breakfast Thursday, Faculty Focus, and their annual Winter Wonderland Dance.
Renaissance also sponsored the People's Choice Awards earlier this year. Winners for the night included Katrina Campo, Bethan Castellucci, Cody Lambert, Jake Gallego, Will Cagney, Taylor Mahon, Jamie Klecz, Katie Kurtz, Anna Osman, Katie O'Neill, Emily Georgia, David Cook, Brian Beck, Joe Flick, Tom Ridgeway, Justin Bitting, Destiny West, Veronica Holmes, Justin Daehling, Ashlie Campbell, David Schmitt, Jessica Nagel, Morgan Hart, Michael Downes, Aaron Shea, Emily Swartz, Destiny Bobb, Brittany Middleton, Bela Lotozo, Emily Levin, Jay Shah, Christopher Vassar, Jeff Smith, Cory Damiana, Nicole Montijo, Alek Soriano, Allison Onofriette-Cox, Brad Fournier, Kevin Gould, Ben Isenhart, Kelsie Lloyd, Will Flosdorf, Lauren Holden, Ariel Magee, Madie Gibson, Rian Young, Carrie Wunder, Katrina Wiltshire, Bobby Acheson, Kyra Adams, Kyle Hood, Kevin Flad, Gab McKeown, Carley Mendyk, Christopher DiGennaro, Stephanie Betata, Nicole Hornbeck, Jack VonSavage, Alyssa Hansberry and Samantha Lizak.
The Lower Cape May Regional High School Caper Tigers compete in the Atlantic Division of the Cape-Atlantic League, an athletic conference consisting of both parochial and public high schools located in Atlantic County, Cape May County, Cumberland County, and Gloucester County, New Jersey.
Lower Cape May's girls soccer team is having a great season so far. As of early October they are unbeaten and have had nine wins including one against Atlantic County Institute of Technology on October 1. Lower Cape May's Madie Gibson scored all four of the games goals in the second half and teammates Ariel Magee, Amanda Durbin and Grace Suterra had assists.
The football season is underway and the LCMR team boasts many talented athletes including Isaac Whitmore, Chris Rivera, Tony Prats, Dylan Harrison, Alex Fazio, Brennan Ray, Anthony Wilson, Stephen Cooper, Zack Campbell, Ian Taylor, Shane Szubski, Sam Gellura, Andrew Robb, Khamar Matthews, Zach Hagan, Aaron Cottrell, Lorenzo Notch, Jair Perez, Will Sandman, Josh Colquhoun, Eric Augustine, Kevin Alexander, Carlo Accardi, Matthew Reilly and others.
The LCMR School District has a Facebook page. Visit it to learn more about current events, watch videos of the school's TV network, and view photo albums of events at the schools.
Lower Cape May Regional High School is located at 687 Route 9 in Cape May. For more information about the school, visit lcmrschooldistrict.com/lcmr/index.php or call 609-884-3475.
© SouthJersey.com 2014. All rights reserved. This article or parts thereof may not be reprinted or reproduced by any other party without the express written consent of SouthJersey.com. For more information, please call 856-797-9910.
For more information about what's going on in our local schools and what today's students are up to, visit our South Jersey Schools page.
Article continues below
---
advertisement


---
Author:
Meghan Shott
Archives
---
Advertise with SouthJersey.com
Shawnee High School
Acting Natural
Middle Township High School
Audubon High School
Cumberland Regional High School
African American Heritage Museum
Apple Pie Hill
Attractions: N. Pemberton RR Station
Johnson's Corner Farm
Lumberton's Air Victory Museum
Lucy the Margate Elephant
Tuckerton Seaport & Baymen's Museum
Emlen Physick Estate
Cape May's Washington Street Mall
More...