Distrito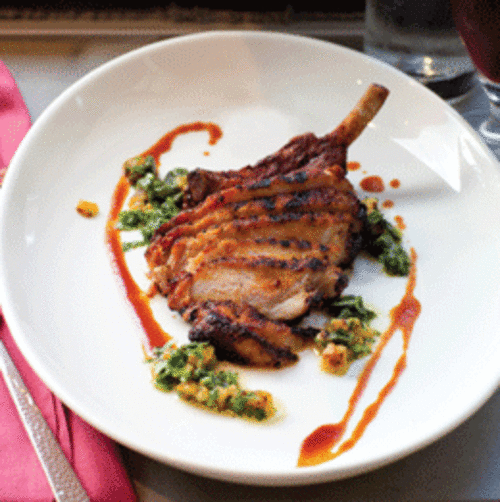 …A Dining Review from the pages of South Jersey Magazine…
Small Plates, Big Flavor: Distrito
400 Route 38 W.
Moorestown
(856) 252-0300
Four forks
Despite all the changes to the Moorestown Mall facade, you can't miss the new and noted Distrito. After closing its doors at the now shuttered Revel Casino Hotel in Atlantic City, Distrito Moorestown is the only New Jersey location for Iron Chef, James Beard award winner and culinary celeb Jose Garces. Located next to Marc Vetri's Osteria and opened at the start of July, the patterned pink front is just a start to the playful, bright and exciting glimpse of Mexico City that awaits you inside.
On nice nights, the front windows open up to outdoor seating, where an always-bustling crowd packs benches and the restaurant bar for stellar happy hour specials, including deals on tacos, cocktails—like their margarita, which packs a serious punch courtesy of quality tequila—beer and dips. Meanwhile, an accompanying dining room—which can get pretty loud when happy hour is in full swing—features more than enough space for the dinner crowd, with an upscale and modern feel that pays homage to the refined food coming out of the kitchen without appearing stuffy or over-dressed.
Garces has earned a reputation for his food, in particular the tapas style that he's embraced at several of his Philadelphia restaurants. It's a concept that's too often criticized, largely because most small plates seem too small for anyone to really enjoy with a price that's better suited for a larger dish. But that isn't the case at Distrito, where a tapas-sized plate of tacos comes with three fully-loaded shells, averaging at about $9.
And if you're coming to try Garces' food, you can't go wrong with the tacos, which picked up steam in South Jersey with the installation of the Distrito truck at Revel. They remain one of the most popular items on the Moorestown menu. That and the guacamole, hand-crafted with roasted jalapeno and served with crumbled cotija cheese which didn't seem to stay on a table for long.
Tacos come in five varieties, including classics like shredded chicken and carnitas, or pork. Then there's the pescado, or fish taco, featuring fried mahi-mahi. It came with a crisp red cabbage slaw that added some freshness and balances out the fried fish and creamy slices of avocado, along with a smear of a smoky chipotle remoulade. And the cordero taco, featuring lamb braised in spicy adobo, a mint pipián sauce with crumbled queso panela, is unlike any variety you'll find in the area. But be warned: It packs a ton of heat, so much that the cheese and mint sauce were lost entirely. For best results, try splitting a few varieties with friends, going for bolder flavors. But don't neglect the classics, like the JG steak supremo tacos, which pile on thin-sliced skirt steak, refried beans, sliced avocado, salsa and a bit of Mexican crema to create a cohesive balance of heat and cooler flavors.
Of course there is more to the menu than tacos, and small entrees and sharing plates add plenty of variety. There's the salsas and guacamoles, served in playful metallic spheres that seem to dot every table in the restaurant, which came with the option of adding crab or extra accompaniments for a small fee, and then there's entradas like gorditas. In traditional Mexican form, a masa cake is stuffed with ground beef and melted cheese and fried, but Distrito serves their piping hot cakes with a crunchy, acidic slaw that wakes the dish up.
The queso fundido—a traditional Mexican dish featuring lots of melted cheese and spicy chorizo, broiled and served with chips or bread for dipping—has the tendency to be very greasy, but this particular preparation, served with freshly grilled tortillas and featuring roasted duck instead of sausage, was salty and creamy with a nice bite of spice from the gamey protein. I could see the big downside to sharing plates: What do you do when you want to devour the whole thing yourself?
But if a full meal is still more your style there's a list of entrees designed to feed just one. The veneras, or diver scallops, arrived lightly pan-seared and look almost too pretty to eat. The delicate scallops sat on a bed of smoked corn puree, and were drizzled with bright green cilantro oil and a deep, black puree of black-truffle and huitlacoche jus, an ancient Aztec preparation that uses an actual fungus grown on corn to boost the corn's earthy and sweet flavor. Everything combined creates a very natural plate that plays with the balance of sweet and savory in all the right ways.
If you're not feeling adventurous enough to dive into some corn fungus, the pollo a la brasa is an equally pleasing entrée. A half-chicken rubbed in herbs and chili and roasted arrived with a "drunken salsa," similar to pico de gallo simmered in a rich adobo sauce.
The tomato and onion still had plenty of crunch to it, and the sauce was smoky and smooth, but the chicken was fairly dry and could have used more of the actual salsa to help add some much-needed moisture. It fell short alongside the star of the entrees, the Iberico secreto. A massive, grilled pork chop coated in an achiote paste and pineapple sauce came alongside pickled jalapenos with thinly sliced onions. The char from the grill, blended with a sweet and spicy sauce and the fresh pop from the pickled pairing, was hard to resist.
Desserts like churros with caramel and chocolate sauce and rotating flavors of snow cones add some finishing touches to the menu, along with tequila flights and of course more margaritas. This new addition to the mall seems like a perfect fit. Its sharing-sized options are great for diners-on-the-go or people looking for a mid-shopping snack; but its ambience and refined palate completely takes diners away from the mall. And most importantly, it's a fun place to eat, with options that can please most palates in a space that's all too easy to enjoy.
Photo: The iberico secreto (pork chop) at Distrito
Published (and copyrighted) in South Jersey Magazine, Volume 11, Issue 7 (October, 2014).
For more info on South Jersey Magazine, click here.
To subscribe to South Jersey Magazine, click here.
To advertise in South Jersey Magazine, click here.
Article continues below
---
advertisement


---
View directory information for Distrito
Author:
Nancy Donovan; Photo by Phil Gray
Archives
---
A TALE OF THREE WEDDINGS
Timber Creek's Leary heads to Illinois
One of Us
The Weekender
Hometown Flavor
Hoop Dreams
Symon Says
Food & Drink: Raise a Glass
Off the Ice
Rewarding Work
Dig This
The Berlin Cemetery
A Southern Mansion
Fire on the Morro Castle
Pine Barrens Fire of 1936
More...