A Strong Connection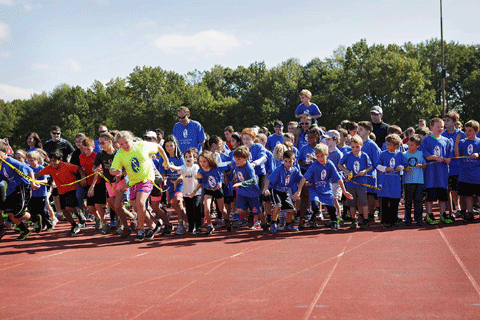 …From the pages of South Jersey Magazine…
One Moorestown mother turns the tragic passing of her young son into a way for an entire community to band together.
It was supposed to be a miserable day.
With gray skies and a day full of rain looming heavy over the morning of Oct. 13, 2013, Kim and Brian Fischel figured the inaugural charity 5K in honor of their son, Sean, was going to be a washout. All outdoor sporting events scheduled to happen in Moorestown that day were cancelled due to the threat of inclement weather.
Kim and a group of six other area women—friends connected by shared experiences and a desire to give cause to an unconscionable loss—spent the better part of five months organizing this day in honor of Sean. They wanted it to be, above all else, a day of coming together as a community to celebrate life. Regardless of how few people came, they agreed, the day would be special.
And then it was time for the run to start.
Clouds cleared. The sun came out. The weather was breezy and warm. Hundreds of children—now looking for something to do with their various sports cancelled for the day—made their way over to the Moorestown High School cross country course and donned oversized Sean Fischel Connect 5K T-shirts. There were 950 registered runners and hundreds more who came to show support.
Kim had no doubt—someone was watching.
"It was the sunniest, most perfect day," she says. "I felt Sean shining down on us."
It was just three weeks into first grade at George C. Baker Elementary School in Moorestown when Sean Fischel—a previously happy and healthy boy with no prior health concerns—came home from school early with a fever.
It was Sept. 25, 2012. For Kim and Brian, the next 100 days would become an unending nightmare.
Sean's fever was uncontrollable, eventually requiring an emergency room visit, where it soared to a dangerous 105 degrees. He was flown to The Children's Hospital of Philadelphia, at that point in septic shock and multi-organ failure. There, he suffered several heart attacks, eventually requiring life support for two weeks and kidney dialysis. He was swollen and blistered beyond recognition. His limbs began to turn black. Eventually, both of his legs were amputated below the knees, as well as nine fingers.
The cause, doctors at CHOP would tell the family, was Hemophagocytic Lymphohistiocytosis, a rare autoimmune disorder better known as HLH. The disorder can surface as the body tries to fight an infection—a cold, a flu or bacterial infection—and the specialized immune system cells that "activate" to fight the infection never return back to a normal (also known as "steady") state. Instead, the cells, known as T-cells and histiocytes, ravage the body, attacking blood cells in the bone marrow and causing a wide variety of symptoms that continue to worsen without treatment.
While HLH was once thought to affect only one in one million children, it is now believed to affect as many as one in 50,000, with newer studies showing it may be more common than that. Still, the disorder remains classified as an "orphan disease," a disorder so rare that it does not receive dedicated funding from the federal government or pharmaceutical industries.
For Kim, the hospital became her second home. Her days were consumed by treatment meetings, chemotherapy and steroid regimens, news of recovery and news of setbacks. Friends, family and neighbors the family never met brought food to the home. Classmates and children Sean never met sent books to him to read in the hospital, trying to help in any way they could.
"He wanted to know who every single book was from," Kim says, laughing through tears. "He was so invigorated by that. It's amazing. It gives me so much life."
Through the whole ordeal, Sean only cried three times, Fischel says—before each of the amputations and toward the end, when he wanted to go home. He died shortly after Christmas, on Jan. 6, 2013.
For her two older children, Sydney, 10, and Connor, 12—and for Sean—Kim had to find a way to keep going.
Sean loved the color blue. He enjoyed playing with Legos. He liked superheroes, dinosaurs, and sharks. One of his many creative works—a remarkably detailed drawing of sharks in the sea with a scuba diver—is proudly framed and hanging by the Fischel's front door. He completed it in kindergarten.
Kim can look at the picture and smile now. But there are still many days when the mere thought of getting out of bed still overwhelms her. At those times, she says, she reminds herself of the most important lesson she has taken from all of this.
"Every day, there is a choice," she says. "And every day, I make a choice to live a good, happy life."
With a group of six other women, Kim formed Sean Fischel Connect, a non-profit dedicated to raising much-needed funds for HLH research and treatment, as well as supporting community programs to help children.
"That's our whole mission," Kim says, "providing for the health and well-being of children. We're not worried about the numbers. What we get, we give. All of it. We give it away."
The community response has been more than the Fischel family could have ever hoped for. So far, Sean Fischel Connect has raised more than $60,000 for the HLH treatment team at CHOP (a team that was formed thanks to the large amount raised), in addition to funding everything from a supplies for the special needs arts program, to "Sean's Book Nook" in the story time room at the new Moorestown library—even supporting the entire Moorestown recreation soccer league for 2014.
"I love it," Kim says. "Here we are, seven moms, and we managed to pull this thing together. I wanted to embrace the community."
On a wall in the story time room, which was dedicated June 20, is a mural of Sean. He sits with his bulldog, Zoe, under a wide-limbed tree with leaves from all seasons —even blue ones. He sits cross-legged, reading his favorite book, The Polar Express.
Kim wrote the hand-painted inscription herself:
Given in loving memory of Sean Michael Fischel. A sweet little 7-year-old boy with a big heart and an even bigger spirit. Your kindness and bravery will continue to connect and inspire us daily. Where there is love, there is life.
This month, the community will come together again for the second annual Sean Fischel Connect 5K. The Fischel family has big plans—raising more funds for HLH and funding track and wrestling programs at Moorestown High School. Through Sean, Kim says, the community is connecting more people than she ever thought possible.
"It is so important to have people remember your child," she says. "People did notice. People do notice. And people continue to notice."
How to help
The second annual Sean Fischel Connect 5K takes place Sunday, Oct. 14, at the Moorestown High School cross country course, 350 Bridgeboro Road, Moorestown. The 5K and one-mile fun run each begin at noon. The cost for each event is $22.50 plus a $2.50 signup fee. Race attendees are encouraged to stay after the run for food and entertainment.
For more information or to make a donation, email SeanFischelConnect@yahoo.com, go to SeanFischelConnect.org or visit the Sean Fischel Connect Facebook page.
Published (and copyrighted) in South Jersey Magazine, Volume 11, Issue 7 (October, 2014).
For more info on South Jersey Magazine, click here.
To subscribe to South Jersey Magazine, click here.
To advertise in South Jersey Magazine, click here.
Article continues below
---
advertisement


---
Author:
Regina Schaffer
Archives
---
Who's Who in Health Care
Out & About
QB Ronnie Borden is Back in the Game
Should fans be worried for the Phillies bullpen?
South Jersey Football Games of the Week
A look at South Jersey's Top H.S. Girls' Soccer Teams
Out & About
Eagles will be fine after close call in opener
High School Football Games of the Week
Is it Super Bowl or bust for the Eagles?
What's New in South Jersey?
From New Jersey to Nashville
Frustrating times for Millville's Mike Trout
High School Football Games of the Week
Hammonton's Kenny Smith off to a quick start
More...