Rancocas Valley Regional High School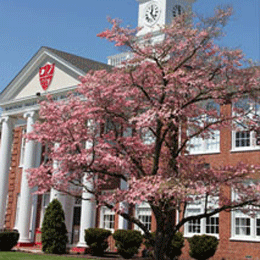 Rancocas Valley Regional High School, originally named Mount Holly High, opened its doors in 1936. In the 1960s, it was named Rancocas Valley High School. The district is comprised of Eastampton, Hainesport, Lumberton, Mount Holly and Westampton townships. More than 2,000 students attend RVRHS.
The school prides themselves on offering an array of opportunities that allow students to excel in academics, athletics and the arts. RV offers a range of college prep, honors, advanced placement, business and industrial arts classes. An exciting addition to their curriculum is the Virtual High School (VHS). VHS allows their students to access over 150 courses online. Courses include pre-veterinary medicine, DNA technology and advanced placement economics.
In addition to the school's curriculum, RV offers over 40 clubs and activities, including their award-winning dance club, robotics club, drama and music classes, and athletics. Over the years, RVRHS's girls softball team and boys soccer team have earned state championships. The RV school spirit is shown at a number of activities including homecoming festivities, Red and White Night and Mr. RV.
RVTV is a Governmental/Educational Access Channel serving the Townships and Public School Districts of Eastampton, Hainesport, Lumberton, Mount Holly, and Westampton. The channel is operated out of Rancocas Valley Regional High School. Programming includes Morning News, Spotlight, Game of the Week, Special Events, RV Insider, MHTPS Programs and Playback Classics. Visit the channel's website for more information.
The RV Media Club is just one of the many exciting activities at the school. Participating students record RV and community events, sports, concerts, graduations and other ceremonies and edit programs to be broadcast on RVTV. They also serve as show hosts, sports announcers or crew members on RVTV programs and the Morning News.
Officers for the 2014-2015 school year include president David Carvin, vice president Jimmy Rockhill, secretary Devon Blair, senior production assistant Karl Rohrbach and junior production assistant Alexis Maldonado.
The Rancocas Valley Regional High School dance team has been in existence since 1999. The team is comprised of students from grades 9-12. During the course of the year, the team competes in 4 to 5 competitions as well as parades. Current members include Devon Blair, Nina Conover, Maritza Maldonado, Kara Milke, Carly Montgomery, Carly Wolf, Becky Evans, Kelly Kearney, Lisa Levine, Caila Plocharczyk, Samantha Ruiz, Noelle DeMara, Meghan Kneringer, Mikaela O'Hara, Paige Palli, Hannah Schwarzmann, Marissa Brown, Gianna Castro, Caitlyn Kowalski and Breana Larkins.
The Rancocas Valley Regional High School Red Devils Marching Band is in the middle of their 2014 season right now. Their final performance of the season is the USBands A Class National Championships on Saturday, November 8 at J. Birney Crum Stadium in Allentown, PA. Student leadership this year includes Josh Springer, Dillon McBride, Katie Smith, Matt Torres, Erin Routhier, Jeancarlo Rodriguez, Tacyta Sanabria, Brian Sommer, Emma Barr and Caitlin Tyson.
Athletic teams at the school include baseball, basketball, football, lacrosse, soccer, wrestling, volleyball, field hockey and softball.
This past summer, the RVRHS stadium got some upgrades including artificial turf, new field lights, a six-lane rubberized track around the field, and new home and visitor grandstands.
Recently Rancocas Valley congratulated seniors John Findlay, Brett Hoffman, Fatai King, Jesse McPartland, Michael Page, Tyler Park, Jacob Sadlier, Alek Tsamutalos, Matt Webb, Brian Zeng and Tim Zeng of the RV Boys Soccer Program at halftime of their game against Pennsauken. Fatai King was a first team All South Jersey and All State selection last year. This year's seniors have helped the team to a 12-1 record.
Did you graduate from RVRHS? Check out http://rvalumni.org/ to catch up with classmates and see a class reunion schedule.
Rancocas Valley Regional High School is located at 520 Jacksonville Road in Mt. Holly. For more information about the school, call 609-267-0830 or visit rvrhs.com.
© SouthJersey.com 2014. All rights reserved. This article or parts thereof may not be reprinted or reproduced by any other party without the express written consent of SouthJersey.com. For more information, please call 856-797-9910.
For more information about what's going on in our local schools and what today's students are up to, visit our South Jersey Schools page.
Article continues below
---
advertisement


---
Author:
Meghan Shott
Archives
---
Advertise with SouthJersey.com
Shawnee High School
Acting Natural
Middle Township High School
Audubon High School
Cumberland Regional High School
African American Heritage Museum
Apple Pie Hill
Attractions: N. Pemberton RR Station
Johnson's Corner Farm
Lumberton's Air Victory Museum
Lucy the Margate Elephant
Tuckerton Seaport & Baymen's Museum
Emlen Physick Estate
Cape May's Washington Street Mall
More...