Dispelling the Senior Living Stigma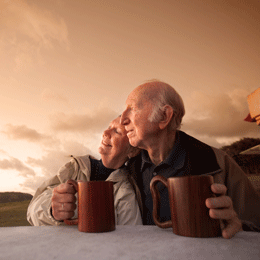 …From the pages of Art of Living Well…
Senior living resources are more advanced than ever, and are providing seniors with a happy, healthy and comfortable lifestyle.
The stigma once associated with senior living is quickly going by the wayside as older adults realize the benefits of moving into long-term living communities. And the South Jersey region is fortunate to have a wide variety of premium locations to choose from. Senior living communities in our area offer a variety of benefits ranging from dining to transportation and even organized trips and outings.
A changing perception
When Nicole A. Bosco first got started in senior living in 1997, she witnessed some of the resistance from older adults who had reluctance about moving out of their homes. She saw that some seniors felt uncomfortable with the decision to leave and noticed there was fear surrounding what their future might hold. But with a lot of education, Bosco says she has seen a shift in those attitudes and the perception of what senior living really means.
Though she left the field for a while to pursue behavioral health, since coming back and working in a new community, she has seen the paradigm evolve. The message of how senior communities can enhance living has reached the masses. Seniors now already know what's out there, which takes away the fear and uncertainly. And they also realize that a move from their home into a senior living community is not a negative: It holds great potential.
"These days everyone is more educated on senior living opportunities—even the doctors," says Bosco, who is now the assistant administrator for the community at Lutheran Crossings Enhanced Living at Moorestown. "A lot of barriers have been broken down. I used to hear phrases like, 'My daughter is putting me here.' I don't hear that anymore. Seniors know what opportunities exist for them in senior living and have friends who have already made the move and love it."
Christina O'Leary, director of branding and media for Spring Hills Senior Communities in Cherry Hill, agrees that education and a greater understanding of what's out there has helped banish the stigma that was once attached to moving into a community. Most now realize that senior living communities are quite different from the "nursing home" they might be picturing in their mind.
"Savvy consumers have seen and felt the difference between a skilled nursing facility and assisted living facility—or a 'community' as we like to call it—first hand," O'Leary says. "They are doing their research, they are touring and they are looking for positive reviews about the assisted living community they are targeting."
"Gone are the days where there was a stigma to a move like this," adds Edward Toy, director of sales and marketing for Lions Gate in Voorhees. "We market it as 'independence with a helping hand,' and that's truly what it is. Residents are still as independent as they're able to be, but we're also here when they need some extra help. That gives them confidence to do more than they probably could have at home."
Newly found independence
While some seniors may still fear that they're losing their independence by moving out of their own home and into a senior living community, the opposite is actually true, says Dawn Ogren, CEO of Woodbury Mews Senior Living. "What actually happens is that they regain their independence," she says. "We take the chores away and we allow them to just live life and enjoy it. They're often doing a lot more here than they were at home."
In fact, the opportunities offered at many communities allow seniors to do some of the things they may have had to give up at home. For instance, transportation allows them to make grocery store trips or run errands even if they've stopped driving or given up their license. "Transportation is a really important factor to many families because the individual might have been stuck at home all the time prior to coming here," Toy says. "Because of that, they actually gain more independence than they previously had on their own."
Ogren adds that seniors no longer have to worry about "remembering everything." That frees up their time and removes some anxiety. "We can take all those hassles away," Ogren says. "We can handle medication management and even have physicians come and visit patients here on site. The senior no longer has to worry about making a lot of appointments and remembering to take all their pills each day."
This also takes a huge burden off of families. Ogren says that in many cases, a visit from a son or daughter used to mean running mom or dad to a bunch of doctor appointments, doing some chores around the house for them, and running their errands. But with the professionals at a senior living community taking those responsibilities off the table, when family members come to visit, they can just enjoy that time together.
"Visiting goes from being mechanical and full of jobs to being enjoyable time together," Ogren says. "Now when families get together they can spend quality time."
But there's also so much to do at these communities that seniors are no longer just sitting around or watching TV. They're keeping active and making new connections. Bosco says it's that socialization aspect which is so important.
"When people come here they're building new friendships, participating in planned activities, and keeping that mental agility going," Bosco says. "They're also keeping in good physical shape. And some are even finding brand new interests by being exposed to opportunities they might have never had before."
O'Leary adds that at Spring Hills Senior Cherry Hill, residents are keeping busy with a variety of engaging activities. "Gone are the days of Bingo and sing-a-longs," she says. "Our residents enjoy lounging in our grand lobby with a baby grand piano and a Starbucks coffee bar or may gather in the Town Center for entertainment. There is a Sweet Shoppe, fitness center, 50-seat movie theater, and a spa. And when the weather is right, they also love to relax in our lush outdoor courtyard with waterfalls and fireplaces."
At Lions Gate there are daily "cultural, social, educational, and recreational programs," adds Toy. "It's not just card playing as so many people think. We have all kinds of activities that seniors can get involved with and really enjoy."
Enjoying life
These days, with seniors living longer than ever before, they want to enjoy those latter years and get the most out of life. And that's exactly what a senior living community allows them to do.
"If you didn't have to work every day or do those household chores or do the cooking, couldn't you just enjoy life more?" says Ogren. "That's what happens to people who come here. We give you your time back. All those chores that take up the day just got a lot easier. You're no longer running to the drugstore because they deliver here. And you don't have to go get blood drawn at a lab because we can do that right here as well. All those chores are gone so that you can just enjoy life." Bosco agrees. "I personally feel that assisted living is a great model of care," she says. "The idea of providing support and socialization while also keeping the individual independent is the goal. You're not stripping away their abilities or things they can do for themselves. It's a beautiful thing and the way aging should be."
Resources
Lions Gate
1110 Laurel Oak Road
Voorhees
(856) 679-2201
LionsGateCCRC.org
Lutheran Crossings Enhanced Living at Moorestown
255 E. Main St.
Moorestown
(856) 235-1214
LutheranCrossings.org
Spring Hills Cherry Hill
1450 Route 70 E.
Cherry Hill
(856) 298-1407
Spring-Hills.com
Woodbury Mews Senior Living
122 Green Ave.
Woodbury
(856) 494-6034
Woodbury-Mews.com
Published (and copyrighted) in the Art of Living Well pull-out section of Suburban Family Magazine, Volume 5, Issue 8 (October, 2014).
For more info on Suburban Family Magazine, click here.
For information about advertising in Suburban Family Magazine, click here.
To find out where to pick up your copy of Suburban Family Magazine, click here.
Article continues below
---
advertisement


---
Author:
Lindsey Getz
Archives
---
A Looming Healthcare Crisis
Getting Your Life Back
Aging Graciously
A Show of Support
Fighting the Good Fight
Building a Community All Year Long
Under the Winter Weather
Innovations in Health Care
A Growing Presence
A Rewarding Journey
Relief is on the Way
Changing the Narrative
What's New in Neurology
Top Physicians 2022
No Pain, All Gain
More Articles