Close of Biz: Made in South Jersey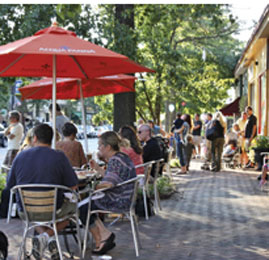 …From the pages of South Jersey Biz…
The "buy local" movement is catching on across the country—and South Jersey is embracing the trend.
Many business associations are promoting "buy local" campaigns to keep residents' hard-earned money in the local economy. Such programs benefit both consumers and businesses, and result in a virtuous cycle of local reinvestment. But local businesses are getting involved in other ways, as well.
After all, why spend local money elsewhere when there is a fellow business owner down the street who can provide the goods or services you need?
Camden County
Camden County's "Shop Local" movement urges residents to spend just $10 a month in the county, which would bring an estimated $35 million in local dollars to the region each year. The movement's website provides resources for residents who want to help spread the word, and encourages businesses to participate by assisting in marketing efforts for the program.
But what about business owners who want to participate from a consumer's perspective? The implications are large, because businesses typically spend significantly more on goods and services than individuals. Thus, local businesses that choose to spend locally can have the same impact as a large number of individuals.
And all it takes is a little research to find a local business that can fit the needs of your own business—even if it's something obscure you're looking for, like a parking meter. Interestingly, you can find a company, Devo & Associates, right in your backyard to answer your parking meter questions.
The Camden County-based Devo & Associates in Berlin Township uses a unique combination of hardware and software to accomplish something not often considered interesting: The company distributes solar-powered parking meters designed and manufactured by French company Parkeon.
But the devices are more than parking meters. They have the capacity to manage parking payments for an entire parking lot. The self-serve kiosks are also an ideal solution for businesses looking to manage customer parking without adding to head count.
Gloucester County
Similarly, Gloucester County launched its "Shop, Dine, Go Local" campaign this summer, and will host its annual shop local day on Nov. 29, when residents can take a pledge to buy local.
The pledge cites some of the numerous benefits of shopping local, including job growth, community preservation, reduced travel and environmental impact and positive effects on property value.
Gloucester County is no different from Camden County when it comes to business-to-business opportunities. In fact, owners currently sourcing from providers outside the county can consider sourcing a variety of common business needs available from local companies—everything from printing to financial advice.
Burlington County
The Burlington County Board of Chosen Freeholders and its regional partners, the Burlington County Bridge Commission and the Burlington County Regional Chamber of Commerce, also support shopping locally. The groups spotlight a different business every week as part of the Shop Burlington County First initiative. The county invites businesses to participate by "promoting and marketing the initiative" in their communities.
Kristi Howell, president and CEO of the Burlington County Chamber of Commerce, notes that no matter which county a business is in, making contact with other local businesses is a good way to find out exactly what is available in your area.
"It's important to be involved," she says. "Join a county, regional or local chamber or business association; get to know your fellow business people. You'll be amazed at the local talent and products that are produced in your backyard."
Published (and copyrighted) in South Jersey Biz, Volume 4, Issue 10 (October, 2014).
For more info on South Jersey Biz, click here.
To subscribe to South Jersey Biz, click here.
To advertise in South Jersey Biz, click here.
Article continues below
---
advertisement


---
Author:
Joe Ross
Archives
---
Family Fun
Live from the White House
Collingswood
Stepping Up to the Plate
Local Story
Lingering Questions
Still Fresh
Under the South Jersey Sun
Riverside Retreat
Against All Odds
Like a Girl
Going Her Own Way
Fall In
Aiming to Please
Walk of Fame: Natalie Hope Sommermann
More...