Thai Terrace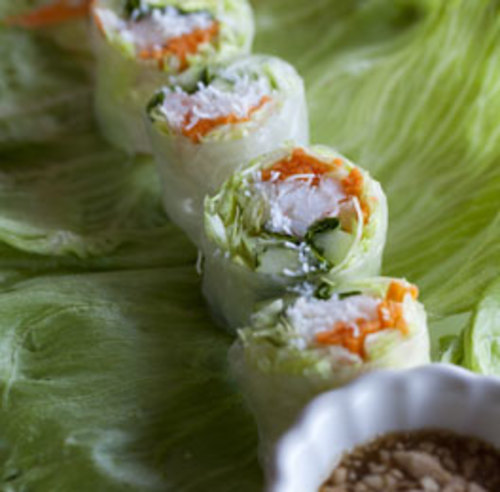 …A Dining Review from the pages of South Jersey Magazine…
A Trip Overseas: Thai Terrace
444 Hurffville Crosskeys Road
Sewell
(856) 553-6292
2 and a half forks
Thai food may not be the most popular cuisine in South Jersey, but it's certainly worth seeking out. International spices, lots of noodle dishes and plenty of fresh vegetables make it a style of food that can be both inviting and exciting.
That's why I was so excited to find Thai Terrace, an eatery that sticks to traditional preparations. It's a sharp and simple space, with waitresses dressed in what appeared to be a traditional Thai dress buzzing in every direction. As the night continued the dining room began to fill up quickly, leading me to wonder: Is this one of the many hidden gems South Jersey has to offer?
Shrimp summer rolls arrived first, wrapped in so much steamed rich paper that they were almost impossible to chew. They were stuffed with a bit too much mint that overpowered the bits of shrimp, lettuce and vermicelli that it shared the space with. The combination of ingredients was fairly flavorless—with the exception of the mint—though the accompanying peanut sauce was good enough on its own and added a heap of much-needed flavor.
The Thai puff pastry was a nice alternative. A plate arrived with two puff pastry crescents, each stuffed with chopped potato and chicken tossed in Thai curry powder and served alongside a cucumber vinaigrette. While the pastries were rich, warm and hearty, the cucumber sauce was cold and fresh, and both played off each other in a fantastic harmony.
The menu was divided into specialty entrees, signature plates created by the restaurant, and a selection of classic Thai soups, noodle bowls and sautéed dishes. The Pad Kee Mao, or drunken noodles, were a stir fry of rice noodles with beef—though guests could pick from a variety of proteins—peppers, onions, carrots and broccoli in a savory soy and fish sauce. The sauce itself had plenty of rich flavors, and went well with the noodles and crunchy vegetables, and the meat was tender and well-seasoned, but I would have loved at least a little spice to brighten everything up.
Soft shell crab curry came with two whole crabs, fried until crispy, chopped up and tossed in curry and served with diced vegetables and fried egg. The aromatics hit me right away, and the crispy and slightly over-breaded pieces of crab had plenty of spice, but the whole plate needed more flavor from more vegetables. It came on a bed of angel hair pasta, which was more of a detriment than a help as the slippery pasta couldn't catch any of the sauce and stayed bland and flavorless while the curry broth sat in the bottom of the plate.
The biggest surprise came at the end of the evening, with one of the most unforgettable desserts I've ever had. A mound of sticky rice, sweetened with sugar and coconut milk, arrived hot and topped with a scoop of creamy coconut ice cream, chopped peanuts and crispy toasted coconut. It was such a beautiful combination of natural, coconut flavors and soft, crunchy and creamy textures that I found myself genuinely considering ordering another plate.
Despite some misses in flavor and preparation, Thai Terrace remains an exciting addition to South Jersey dining. I was surprised by the diversity of the diners: Families with children of all ages, young couples out for a date night, even a group of older women who clearly made this spot their regular rendezvous. It's refreshing to see that so many people in the area are ready to venture into an unfamiliar cuisine and discover its undeniable flavors.
Published (and copyrighted) in South Jersey Magazine, Volume 11, Issue 8 (November, 2014).
For more info on South Jersey Magazine, click here.
To subscribe to South Jersey Magazine, click here.
To advertise in South Jersey Magazine, click here.
Article continues below
---
advertisement


---
Author:
Editorial Staff--South Jersey Magazine
Archives
---
A TALE OF THREE WEDDINGS
Timber Creek's Leary heads to Illinois
One of Us
The Weekender
Hometown Flavor
Hoop Dreams
Symon Says
Food & Drink: Raise a Glass
Off the Ice
Rewarding Work
Dig This
The Berlin Cemetery
A Southern Mansion
Fire on the Morro Castle
Pine Barrens Fire of 1936
More...