Burlington City High School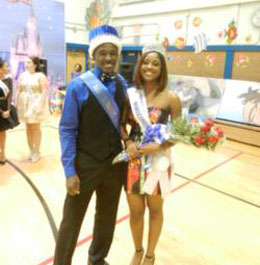 Burlington City High School educates more than 750 students in grades seven through 12 from the city of Burlington as well as from Edgewater Park. The school offers students courses in subjects such as Art, Business and Computers, English, Family & Consumer Science, Health & Physical Education, Industrial Arts & Applied Technology, Junior ROTC, Mathematics, Music, Science, Social Studies, Special Education and World Language.
Burlington City's music department has its own website: http://www.bchsmusic.com/. Musical groups include marching band, percussion, color guard and theater/drama.
Burlington City High School's first ever volleyball team began practicing this past summer with a group of 20 players on the team. Other sports at the school include baseball, basketball, field hockey, football, soccer, softball, tennis and wrestling.
The football team has been struggling this season but does have a win against Florence. Players on the team include Shiquan Crowder, Chiris Fryar, Qadir Modraza, Shafeeq Chestnut, Hamhal Maddrey, D'andre Thurmond, Ryan Daniels, Byron Hall, Julian Rodriguez, Eric Best, Nick Gares, Jay Thomas, Kordell Gaspard, Derek Best, Jason Elazer, David Currie, Lamar Wells, Bobby Wieland, Ihsan Colter, Scott Sikey, Donnie Morgan, Zahere Ritman, Uzziel Crowder, Armon Mobley, Charles Fryar, Chris Strickland, Darnell Ball, David Sintim, Jamol Mcdowell and Jon Viereck.
Burlington City's tennis team recently shutout Willingboro 5-0. Players include Kay Asimama-Duruaku, Kim Asimama-Duruaku, Meredith Megee, Taylor Lup, Kajah Collins, Akira Young and Sayera Khatun. Congratulations to BCHS girls soccer players Jessica Diamond and Paige Seay who each scored a goal in their game against Florence last week. The Blue Devils beat the Flashes 2-1.
Clubs and activities at the school include Adventure Club, Battle of the Books, Consumer Bowl, Future Business Leaders of America, Gaming Club, Key Club, Mock Trial Team, National and National Junior Honor Society, Science Bowl and many others.
The BCHS student newspaper, The Arrowhead, has already put out an issue this school year. Writers include Alexandra Astley, Jenaya Berry, Latisha Calhoun, Charles Fryar, Ihesha Harmon, Ahmet Kaya, Shanel Lawrence, Alexis Langford, Nicole Maugeri, Meredith Megee, Brooke Lynn Stiltner, Daja Timbers, Shannon Welsh and Onur Zivali.
Student Council for grades seven through 12 is led by an Executive Board which includes president Antonio Mastoris, vice president/publicist Danilo Rubio, treasurer Frankie Dixon, secretary Kim Asimama-Duruaku and homecoming chairs Nick Wajda and Hayley Brunetta. Members of the council are Kay Asimama-Duruaku, Tea Bennett, Lindsey Cooper, Arti Chadha, Camille Eckman, Mikayala Franklin, Miya Hammond, Ayush Mohan, Ummuhan Ozdemir and Desiree Roberts.
Congratulations to this year's Homecoming King and Queen, Ryan Daniels and Porsche Santiago. Come see the Burlington and Edgewater Park Schools' staff take on the Harlem Wizards on Monday, November 3 at 7pm in the Bill Burr Gym. Tickets are $10 for students and $15 for adults at the door. For more information, visit harlemwizards.com.
Have a fall athlete at BCHS? The Fall Athletic Banquet will be held on Thursday, December 11 from 6:30-8:30pm in the Burlington City High School cafeteria. More information will be coming soon.
Burlington City High School is located at 100 Blue Devil Way in Burlington. For more information about the school, call 609-387-5800 or visit hsbc.bunrlington-nj.net.
© SouthJersey.com 2014. All rights reserved. This article or parts thereof may not be reprinted or reproduced by any other party without the express written consent of SouthJersey.com. For more information, please call 856-797-9910.
For more information about what's going on in our local schools and what today's students are up to, visit our South Jersey Schools page.
Article continues below
---
advertisement


---
Author:
Meghan Shott
Archives
---
Advertise with SouthJersey.com
Shawnee High School
Acting Natural
Middle Township High School
Audubon High School
Cumberland Regional High School
African American Heritage Museum
Apple Pie Hill
Attractions: N. Pemberton RR Station
Johnson's Corner Farm
Lumberton's Air Victory Museum
Lucy the Margate Elephant
Tuckerton Seaport & Baymen's Museum
Emlen Physick Estate
Cape May's Washington Street Mall
More...