Best in Show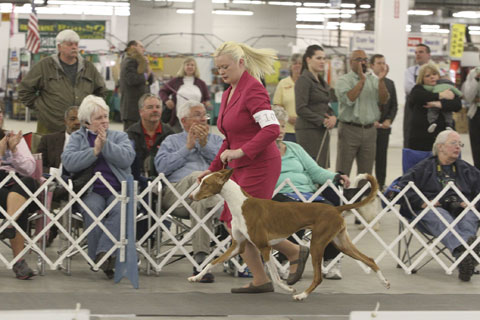 …From the pages of South Jersey Magazine…
A local professional dog handler sounds off on her unique profession.
Sarah Murphy, of Riverside, isn't your typical 24-year-old. She's spent the better part of the last 13 years, weekends included, traveling to dog shows across the country to compete. The Medford native is a professional dog handler and breeder of Ibizan Hounds—and has competed in shows like the Westminster Dog Show and the American Kennel Club Eukanuba National Championship. While Murphy does show her own dogs, she makes a living showing dogs for clients, who drop off their beloved pooches to live and train with Murphy before competing, in a quest to secure those coveted titles.
After working under one of the most well-known and respected professional dog handlers in the country for more than five years, Murphy has now set out on her own. She shared with South Jersey Magazine how she got her start with a pug named Stanley, what it's really like in the ring at professional dog shows, and how, at the end of the day, show dogs are just dogs.
The life of a dog handler…
I show some of my own dogs and some for other people. When people put their dogs in my care, I exercise them, I feed them. I make sure they are clean and are groomed. I train them; and I play with them. The dogs can't perform well if they are not mentally in a good place. When we have shows, I pack everybody up, and we drive to the shows. The shows are either indoors—so we'll work inside— or outdoors, so we'll work out of the van. I have all the equipment—the crates, grooming tools and products.
When I take them in the ring, it's essentially what you see at a dog show on TV, except that the shows on TV are a lot bigger, are inside and are all done up for TV. A lot of dog shows are a lot smaller, they are at local fairgrounds or exposition centers and aren't quite as glamorous as what you use on TV, but it's all the same procedures. The dogs are only shown for a short period each day. The rest of the time is downtime.
A special breed…
I have Ibizan Hounds. They're an ancient breed; you can see them in the paintings in the pyramids in Egypt. They are a very primitive breed, and are quite unchanged. Ibizan Hounds have tall ears, a very wild build. They were created thousands of years ago and their primary use for creation was the hunt. That—more than people selectively breeding them—has dictated their body shape. They weigh between 45 and 60 pounds. Right now, I have seven at home. [Some] are dogs that I have bred and other people own them; then they give them to me [for a set period of time] and I take them to shows and show them. Once they win their titles, they go back home to their parents. But I personally own four of my own.
All for show…
For one, dog shows are a lot of fun—and a lot of people do show their own dogs. It's a lot of fun to have that bond with their dogs. It's a lot like people that have children and like to take them to Little League or soccer tournaments. [But] people will hire a handler like me, [because] dog shows aren't just on Saturdays or Sundays. Some start on Wednesdays and will end on a Monday, and a lot of people have jobs where they can't go to dog shows, can't get the time of work to go and do it. A lot of them just can't physically do it; they may have an injury or are at an age where they can't keep up with their dog. A lot of people love their dogs and their dogs love them, but maybe their dog wouldn't perform for them like they would for someone else.
The purpose of the dog show is for judges to evaluate dogs based on standards so you can get an idea of your breeding program and how you can breed better. It's not just beauty—it's more about function. Another good reason for showing them is for socialization. A lot of dogs don't get out that much. At a dog show, a dog learns to be accepting of friendly strangers coming up to them and touching them. It helps them be better citizens.
Getting her start…
My aunt was a pet sitter when I was younger, and one of her clients who lived in Medford had show dogs. So when my aunt would go over [to take care of the dogs,] I'd go along with her, and put the leashes on the dogs and run around the yard pretending I was doing a dog show. I had a lot of fun doing it. [That year] my aunt had bought me a pug for Christmas, and hadn't told me about it. And the client we did petsitting for, she started taking me to classes with her and her dogs so I could learn how to do dog shows. Then I got the pug [Stanley] for Christmas and I started taking him to classes, started taking him to dog shows. Then in 2002, I saw my first Ibizan Hound at a dog show; I fell in love with the breed and have been showing them ever since.
Puppy love…
Over the years, I have just found that Ibizan Hounds are so funny. They are not serious dogs whatsoever. Everything is a joke to them. They are also sensitive, very loving and very loyal. They have a lighter eye color than a lot of dogs, and between the color of their eyes and something about their face, you can tell their emotions from their faces. They are very human-like in that way. …They just make a great all-around pet. They are wonderful with children, wonderful with other dogs. They will alert you when someone is coming, but they also love to curl up in a tiny ball with you on your bed.
On breeding dogs…
Right now, I'm on my fourth litter. It's a lot of fun, but a lot of work. Typically, you have to be familiar with the pedigree that you are working with, not only for the relations between the dogs, but also for what they will look like and for their health. When you are breeding, you try very hard to breed in a way so you have the lowest risk of having puppies with any problems. I test for eyes, hearing and thyroid [issues]. I also test the heart. Temperament is also a big issue. In this country, in this day in age, [Ibizan Hounds] are primarily kept as pets. And a dog that has a great temperament to be a hunting dog is not necessarily the best for a pet. They are extremely smart dogs, but they are not always obedient.
Breeding dogs is a hobby. Showing them for other people is how I make my living.
Learning the business…
I worked for [professional handler] Margery Good for five-and-a-half years. We went to an average of 150 shows per year, from California to Canada to Florida. I have learned about many different breeds and gotten to work with all different types of dogs. I've also learned about the business side of things, and more about the official rules of the AKC when it comes to dog shows. Margery has been showing dogs for over 40 years and has a lot of knowledge—she's become like family to me. And I know she's always willing to help and give information and knowledge anytime I need to know something.
The thrill of competition…
Personally, I think it's a lot of fun. I do dog shows because I love dogs, and that's a primary reason why a lot of people do it. It can get a little stressful sometimes, because there are some dogs that are so high up in the rankings of all dogs, and so much money is being put into their careers, so it's a little more important to win something. There are some dogs that are showing up to win Best in Show, that's what they want, so it can be a little stressful that way. But for the most part, it's a very nice community.
What family and friends say…
They think I'm kind of crazy. My dad still wonders when I'm going to get a "real job," but I understand that it can be a bit confusing that you can make a living showing dogs. Even to me, it's kind of crazy that even though there's a lot of work that goes into it and it can be stressful and exhausting at times, I just always think that I get paid to play with dogs. I love dogs. I love all different kinds of dogs, and [through training and showing clients'] dogs, I've gotten to "own" more than 500 dogs. We even finished more than 50 champions last year.
How to become a champion…
It means that while competing, a dog has won 15 points total and twice won an award that was worth at least 3 points, called a "major." They can't win more than five points in each show, so that means the dog has won in at least three shows under three different judges. [The American Kennel Club] has a point scale that changes each year slightly depending on how many dogs of each breed are being shown.
Competing at a high level…
I've shown in Westminster every year since 2010, and won Best of Breed twice with two different Ibizan Hounds that I own. I've shown at the American Kennel Club Eukanuba National Championship every year since 2010 as well. This past year, my dog that I bred won Second Place in the Bred by Exhibitor Hound Group. She was the first Ibizan Hound to ever place there and was second behind the No. 1 hound in the country. It was really awesome.
What people don't realize about show dogs…
I think the most important thing that people can learn is that all the dogs that are in dog shows have homes. When they are not at a dog show, they are at home being somebody's pet. They have families; maybe they have other dogs they play with; maybe they are the only dog in the house; and they all come from respectable breeders that breed them for health and temperament because they knew they would find them a loving home, rather than just for profit. Dog shows are quite misunderstood, especially now when breeders of purebred dogs are being made to look like enemies of shelter dogs.
Yes, dog shows and the people involved are quirky, but that goes with any hobby. The one similarity that everyone in this community shares is an undying devotion to the dogs; the breeders are responsible to their puppies for their entire lives, the owners love and care for their dogs just like every other pet owner out there, and the handlers treat each of their dogs as if they were their own, giving them love and care while training and competing. Show dogs are still dogs. At the end of the day they are flopped all over the couch like anyone else.
Published (and copyrighted) in South Jersey Magazine, Volume 11, Issue 8 (November, 2014).
For more info on South Jersey Magazine, click here.
To subscribe to South Jersey Magazine, click here.
To advertise in South Jersey Magazine, click here.
Article continues below
---
advertisement


---
Author:
Rachel Morgan
Archives
---
Who's Who in Health Care
Former Shawnee star Doolittle Calls It A Career
Camden County College welcomes Baseball Hall of Fame
South Jersey Football Games of the Week
Out & About
QB Ronnie Borden is Back in the Game
Should fans be worried for the Phillies bullpen?
South Jersey Football Games of the Week
A look at South Jersey's Top H.S. Girls' Soccer Teams
Out & About
Eagles will be fine after close call in opener
High School Football Games of the Week
Is it Super Bowl or bust for the Eagles?
What's New in South Jersey?
From New Jersey to Nashville
More...