Cumberland Regional High School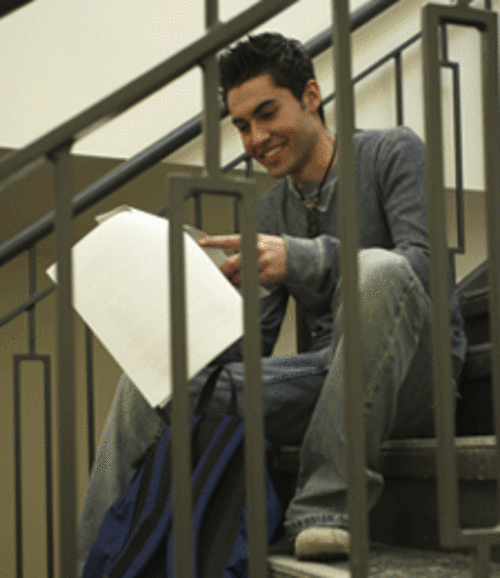 Cumberland Regional High School, located in the northwest part of Cumberland County, serves students from Deerfield Township, Fairfield Township, Greenwich Township, Hopewell Township, Shiloh Borough, Stow Creek Township and Upper Deerfield Township.
Ground was broken on the school on May 12, 1976, and there were 322 members in its first graduating class in 1978. According to the school's website, more than 6,400 students have graduated from the high school since then, including 283 during the schools 37th commencement ceremony on June 23, 2014. The school enables students to reach their full academic potential and provides many opportunities for them to learn both inside and outside of the classroom. CRHS aims to inspire and encourage not only the students within their building, but also staff, family and the surrounding community.
The school's colors are orange and brown and their mascot is the colt. Course areas include Agricultural Education, Fine Arts, Family & Consumer Science, Language Arts, Mathematics, Music, Science, Social Studies, Special Education, Student Community Service, Technology and World Language. Congrats to the following seniors on achieving honors during the first marking period of the 2014-2015 school year: Daysha Adams, Kayla Alicea, Nicholas Andersen, Tristan Anichino, Kevin Austin, Bryant Banks, Joseph Boose, Juliana Brooks, Steven Carlaw, Michael Chiari, Giulia Cirri, Samantha Cocove, Eric Comer, Jason Coombs, Guadalupe Cortazar, Miguel Cortes, Ryan Crabtree, Edwin Cruz-Garcia, Yesenia Cruz-Perez, Katie D'Agostino, Kyle Daddario, Delwyn Davis, Ian Davis, Kayla Davis, Megan Davis, Michael Davis, Abigail DiPrimio, Bryann Dick, Franklin Dudo, Robert Elia, Tykiria Ellis, Brianna Enrico, Sean Ezzo, Jennie Ferrara, Kayla Ford, Michael Foytik, Tanisha Gayle, Dominic Giacalone, Morgan Gifford, Erin Glenning, Lamont Goodwin, Chelsea Goss, Taylor Granato, Jeri' Gray, Nicole Green, Tyler Greynolds, Amber Griner, Tyonna Gunter, Carley Guy, Renaye Hargrove, Meghan Hebert, Chase Hemple, Benjamin Hernandez, Ayanna Holmes, Ashjon Hudgon, Danny Johnson, Sarandeep Kaur, Lauren Lairson, Robert Lashley, Dana Loatman, Candid Lopez, Hilda Lopez, Kyle Loudon, Evita Luna-Castillo, Andrew MacDonald, Blaire Malinowski, Tony Martinez, James Massey, Shaless McCoy, Samantha Messeck, Dayna Miller, Jerika Miller, Michael Minch, Jacob Miranda, Brian Molina, Isaac Mooney, Kayla Moore, Taylor Moore, Dominic Morey, Adam Muffley, Callan Muffley, Sierra Murphy, Samantha Newkirk, Shannon O'Brien, Rachel Ore, Haley Paraskewich, Troy Pastirko, Dominick Patitucci, Maggie Paul, Paige Peploe, Dwayne Pierce, Johnathon Preston, Madison Price, Kristen Queen, Michael Raczenbek, Heather Rice, Amari Roberts, Nicholas Roberts, Crystal Rodriguez, Nayomi Roman, Jasmin Romero, Jessica Rosales, Jennie Russell, Madison Saul, Kyle Scarpa, Allen Sharp, Elena Sierra, Parker Smith, Sarah Smith, Lana Taylor, Dayna Thomas, Katelyn Thompson, Victoria Thompson, Robert Vosburgh, Ashonte Warren, Jeremy Wesztergom, Steven Whelan, Steven White, Tyler Whitesall, Daniel Williams, Shaquare Williams and Alec Wroniuk.
Cumberland Regional High School offers many clubs, organizations, academic teams and non-athletic activities for the students. Outside of their coursework, participating students continue to learn valuable lessons in leadership, cooperation, character, teamwork, decision-making and communications, according to the school. Offerings include A-Team Tutors, Audio Visual Club, Concert Choir, Marching Band and Band, Colt's Tale Newspaper, FCCLA, Gay-Straight Alliance, Invictus Yearbook, Key Club, National Honor Society, Native American Awareness Club, Peer Mediation, Step Team, Student Council, Students Against Destructive Decisions, Team Theatre and many others.
Cumberland Regional High School's Student Council recently organized a "Chaps for Champs" campaign to collect lip balm for U. S. military overseas. Freshmen, sophomores, juniors, seniors and staff competed to see which group could collect the most lip balm during the month of October. Staff won the contest by contributing 451 items, with seniors donating the second most lip balms – 383, according to the story in The Daily Journal. Key Club is open to students in all grades who are interested in helping throughout the community. Each year, the group participates in the Bridgeton Thanksgiving Parade, Rosenhayn's Harvest Festival, and local Rotary Club functions. Key Club is affiliated with the Kiwanis and Lions Clubs.
The SADD Club's goal at CRHS is to make the student body more aware of the harmful effects of drinking and drugs. The organization sponsors events during Red Ribbon Week, promotes an alcohol- and drug-free semi-formal and prom, as well as sponsors safe, fun alternative activities like 3vs3 basketball, powderpuff football, and a Rock-n-Roll concert. The school's Red Cross Blood Drive is also sponsored by SADD.
Many students also participate in athletics at the school. Sports include basketball, cross country, diving, field hockey, football, soccer, swimming, tennis, winter track and wrestling. Athletes this fall season included Abby Styring, Aracelis Alvarez, Brianna Coulbourn, Carly Jorgenson, Carly Malestein, Dayna Miller, Dayna Patitucci, Devon Patchell, Jessica Rottkamp, Lindzey Mosley, Makayla Pepper, Megan Davis, Mikayla Mathias, Nancy Cortazar, Paige Blake, Pastirko Kelsey, Renee Bokma, Sydonnie Dawkins, Tristan Anichino, Joshua Rivera, Allen Sharp, Anthony Coombs, Tai'yon Singleton, Bryant Banks, Yarnell Knock, Haziah Walker, Michael Foytick, Steven Whelan, Paul Fidler, Jake Yoshioka, Benmir Telfair, James Bryant, Joseph Boose, LaMark Jones, Latrell Harris, Robert Saunders, Deandre Palmer, Brian Ambros, Maquay Richmond, James Meyers, Robert Elia, Jason Coombs, Khaleem Bartley, Mark Jenkins, Benjamin Manski, Bryce Dunn, Phillip Smithbey, Anthony Devol, James Cuff, Steven Henigan, Bobby Dinovi, Kyle Kerr, Toby Cuff, Devin Desmarais, Alec Wroniuk, Andrew MacDonald, Brandon Bizarro, Danny Johnson, Dominic Cocove, Dominick Patitucci, Eric Mathias, Hunter Jackson, Jason Bischer, Jordan Angel, Michael Magee, Michael Raczenbek, Nick Delussa, Nick Rothman, Parker Smith, RJ Andino, Scott Delussa, Trevor Davenport, Trevor Ward and William Mosley, among others.
Cumberland Regional High School is located at 90 Silver Lake Road in Bridgeton. For more information, call 856-451-9400 or visit crhsd.org.
© SouthJersey.com 2014. All rights reserved. This article or parts thereof may not be reprinted or reproduced by any other party without the express written consent of SouthJersey.com. For more information, please call 856-797-9910.
For more information about what's going on in our local schools and what today's students are up to, visit our South Jersey Schools page.
Article continues below
---
advertisement


---
Author:
Meghan Shott
Archives
---
Advertise with SouthJersey.com
Shawnee High School
Acting Natural
Middle Township High School
Audubon High School
Cumberland Regional High School
African American Heritage Museum
Apple Pie Hill
Attractions: N. Pemberton RR Station
Johnson's Corner Farm
Lumberton's Air Victory Museum
Lucy the Margate Elephant
Tuckerton Seaport & Baymen's Museum
Emlen Physick Estate
Cape May's Washington Street Mall
More...