New Books Help Children Cope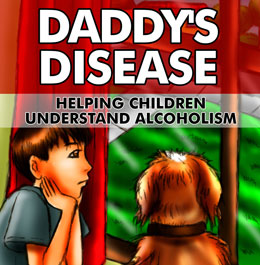 Life can be very challenging for children who are experiencing life with an alcoholic parent. Carolyn Hannan Bell, MS, LPC has written two books that can help children begin to understand the disease of alcoholism and put it in a somewhat familiar and manageable framework.
Mommy's Disease and Daddy's Disease (both subtitled "Helping Children Understand Alcoholism") take the reader through the experiences of seven-year-old Mila and Tommy, each living with one parent and away from their addicted parent. The children learn from their healthy parent that their other parent loves them but has a disease that causes them to behave in ways that seem uncaring.
Mila and her dog Annie live with Mila's dad. Mila's mom is an alcoholic. As Mila experiences different things, her father puts her mother's alcoholism into a context that Mila can relate to. Tommy and his dog Murphy live with Tommy's mom. Tommy's dad is an alcoholic. As Tommy experiences things in his own live, his mother puts his father's alcoholism into terms Tommy can understand.
Both books are well written and simply illustrated, and are very easy to read. These books address the emotional damage inflicted on children by their alcoholic parents while clearly explaining the disease of alcoholism and providing young readers ways to begin to understand what is happening with their addicted parent. They are written so that readers can relate to the feelings of the children in the stories. The books seem to be geared toward children aged 10 and younger, and to be read with them.
Throughout the books, the all-important message of "it's not your fault" is repeated. These stories are designed to help a child understand why she is not at fault and should not have to carry the daily burdens that weigh down a relationship with an alcoholic parent. "Daddy's drinking doesn't have a thing to do with you, or me or anyone or anything. He drinks because he chooses to drink," explains Tommy's mother. Mila's dad explains, "What happened tonight didn't have anything to do with how much Mommy loves you. The reason she didn't come tonight is that she has a disease that makes her forget the things she promises you. It makes her act in ways that she's ashamed of."
During the holiday season, families affected by alcoholism often have more challenges. These books can be very helpful for young children who are living with alcoholism in their families. Because children can and do internalize their experiences and negative thoughts about themselves related to their addicted parent, it is very important to give children the opportunity to express themselves, hear from others that it is not their fault, and know that it is ok to talk about the disease. Again, these books would be a wonderful place to start.
Carolyn Hannan Bell is a practicing licensed professional counselor in Cherry Hill, New Jersey. She earned a Bachelor's Degree in Psychology from Duquesne University and a Masters Degree in Counseling from Chestnut Hill College. In her private practice, she specializes in counseling those that suffer the adverse effects of substance abuse, including codependency, depression, and anxiety.
For more information about these books and the author, go to www.alcoholismhurtskids.com.
Article continues below
---
advertisement


---
Author:
Editorial Staff--Southjersey.com
Archives
---
South Jersey Magazine Digital Edition
South Jersey Man Survives 'Friends' Lighting Him On Fire In Sleep
Man 'Executed' Woman He Met On Marketplace App To Buy Cellphone
Two Families Displaced, Four Townhouses Damaged In Sicklerville Fire
New Jersey Man Gets Life Without Parole In Murders Of Woman, Baby
NJ Mother Who Smothered 3-Month-Old Baby After Heavy Drinking Gets Prison Time
12 Arrested In Trafficking Untraceable 'Ghost Gun' Assault Rifles, Drugs, New Jersey Attorney General Says
3 Confirmed Measles Cases In Lakewood
Nearly $2 Billion Wagered On Sports In New Jersey In Nine Months
Woman Charged With Animal Cruelty After Emaciated Dog Found Eating Carcass Of Another Dog
Search Continues For Killer After 21-Year-Old Woman Fatally Shot Inside Car In Willingboro
Homeless Veteran Johnny Bobbitt, Katelyn McClure Plead Guilty For Roles In $400,000 GoFundMe Scam
Fire Damages Pizza Restaurant In Gibbstown
Serious Injuries Suffered In Multiple-Vehicle Crash On South Black Horse Pike In Gloucester County
Arena Football League Officially Coming To Atlantic City
More Articles