Shawnee High School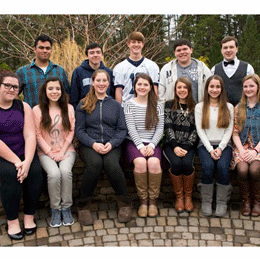 Shawnee High School is a public high school in Burlington County and is part of the Lenape Regional High School District. Dedicated in 1971, the school serves students in ninth through twelfth grade from the Medford Lakes and Medford Township areas. In 2009, the school completed a second construction project in its history that included a new auditorium, as well as new art and band rooms, and science labs.
The Mission of the Lenape Regional High School District, "as a leading innovator of student-centered education, shall be to develop students who are and feel academically prepared to succeed, who will be competitive in a changing global economy, and who will humanely and effectively interact socially and politically in a culturally diverse society". Passionate teachers work to individualize curriculum to the student needs in a safe and substance free environment with leading edge technology.
Shawnee offers a rigorous program of study with levels of instruction including Honors, Academic, Modified Academic, Basic and Special Education. Course requirements include four years of English, three years of Math, three years of U.S. and World History, three years of Science and two years of a World Language.
The National Merit Scholarship Corporation recently announced the names of the semifinalists in the 60th annual National Merit Scholarship Program. Jordan Lim and Gabriel Eiseman were selected as semifinalist after fulfilling several requirements to advance to the finalist level of the competition.
Congratulations to Shawnee December Students of the Month: Serena Estacio-Touhey, Jack Dougherty, Kristen Townsend, Jake Parola and David Smith.
Shawnee offers many clubs and activities to students including Aeronautics Club, African-American Club, Art Club, Biology Club, Chess Club, Chorus, Debate Team, Drama Team, FBLA, French Club, German Club, Jazz Band, Literary Magazine, Media Tech Club, Newspaper, Peer Leaders, Photo Club, SADD, Spanish Club, Student Council, Technology Club, Yearbook Club and many others.
Congratulations to the following SHS students for being accepted into the South Jersey Chorus (pictured): Kylie Taylor, Riannon Taylor, Nicole Emerle, Megan Bandomer, Annamaria Caputo, Sophia Chryssofos, Michaela Hickey, Matthew Holmes, Tim Estacio, Michael McNeil, Zachary Fulcher and Sean Reilly. Students Tori Sheffer and Aiden Vogel were selected to perform in the All State Jazz Choir as well.
Senior Shawnee student Katie O'Rorke and freshman Caroline O'Rorke were recently awarded the highest level of the President's Volunteer Service Award for 2014. Both students organized and held the 2014 Medford Students March Against Hunger which provided thousands of pounds of food for the Food Bank of South Jersey. This collection drive was started years ago by their brother Matt, a 2013 graduate of Shawnee High School.
Sports offered at Shawnee include Cross Country, Field Hockey, Gymnastics, Soccer, Tennis, Football, Basketball, Swimming, Wrestling, Track, Bowling, Baseball, Golf and Lacrosse.
The Shawnee boys basketball team is ranked No. 15 on the Courier-Post pre-season Top 20 list. Players on this season's team will be Luke Olenberg, Robbie Stephan, Alec Warren, Luke Cooper, Sam Portner, Anthony Mague, Austin Crafts, Dean Noll, Rostin Eslambolchi, Daevon Robinson, Collin Telechea, Dean Austin, Dylan Deveney, Jake Volkerijk, Jordan Torres, Max Gussen, Mike Caples, Mike Shinske, Sam McNellis and Travis Guaracino.
There are high hopes for the girls basketball this season as well. They're ranked No. 9 on the Courier-Post pre-season Top 20. Defending their South Jersey Group 4 championship, the team includes returning players Nikola Williams, Taylor Ryan, Karissa Mansure and Amanda Morello.
Are you an alumnus of Shawnee High School? Visit the alumni website at www.shawneealumni.org to learn about upcoming events and reunions, and to reconnect with former classmates.
Keep up with events and news on the Shawnee Renegades by following their Twitter account at https://twitter.com/SHSRenegades.
Shawnee High School is located at 600 Tabernacle Road in Medford. For more information about the school, call 609-654-7544 or visit lrhsd.org/Shawnee.
© SouthJersey.com 2014. All rights reserved. This article or parts thereof may not be reprinted or reproduced by any other party without the express written consent of SouthJersey.com. For more information, please call 856-797-9910.
For more information about what's going on in our local schools and what today's students are up to, visit our South Jersey Schools page.
Article continues below
---
advertisement


---
Author:
Meghan Shott
Archives
---
In Good Health
2017 Executives of the Year
Superior Sandwiches
Raise a Glass
Impressive New South Jersey BBall HOF class
The Promise of Public Transportation
Empowering the Next Generation
Singles: January 3
River Revitalization
Spreading Cheer
Singles: December 27
Winter Retreat
Are Holiday Parties Back in Favor?
Support System
Singles: December 20
More...