Palmyra High School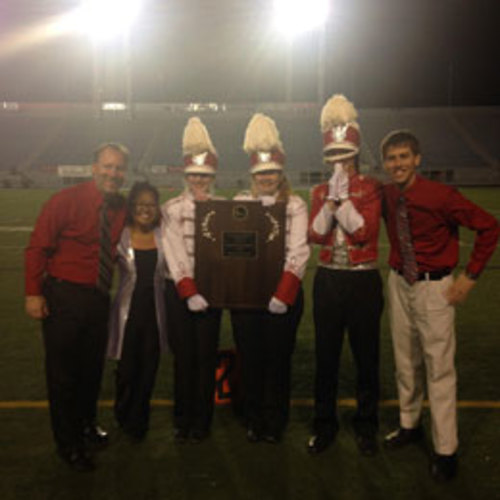 Palmyra High School offers a comprehensive educational program for students in grades seven through twelve. This traditional setting provides each student the opportunity to excel in their area of interest as well as a wide range of extra-curricular activities. A hallmark of the Palmyra experience is an enthusiastic and dedicated staff interacting with concerned and involved parents to meet student needs.
High school classes began in Palmyra, New Jersey shortly after the completion of the Spring Garden Street School in 1895. With increased enrollment, the school was moved to a former girls school, Berkeley Hall, in 1907, and to its own building in 1909. According to the school website, a large addition to Palmyra High School was completed in 1922. The 1909 structure was destroyed by fire in 1957, and after a vote that narrowly defeated establishing a regional high school, additions were made to the building in 1958 and 1961.
The school offers academic development, college preparation, school-to-careers training, mentoring programs, and a variety of interventions for students with special needs. Students, alumni and staff continue to earn recognition on the local, state and national levels. Palmyra High School is proud of its well-deserved reputation for "Excellence in Education."
Congratulations to recent students of the month Tania Harris, Jeton Cocaj and Walter Fischer.
PHS offers many activities and clubs to its students including student council, Spanish national honor society, art club, German club, yearbook club, consumer affairs club, book club and many others.
The newest class of inductees to Palmyra High School's National Honor Society were recognized at a ceremony this fall and include Tessa Beck, Eric Blatz, Emily Calhoun, Samuel Croft, Giovanni Gravano, Gabe Hochenberger, Natalie Janowicz, John Kay, Dylan Martin, Charles Martocello, Cielo Nuestro, Amber Orfe, Diamond Robinson, Jasmine Sanchez, Ian Stocker, Genna Tatu and Taylor Young.
Palmyra High School's Music Department has its own webpage. Top news on the page includes the Marching Band taking 2nd place at the Cavalcade of Bands Independence Class A Championships with a score of 86.55. They bested 14 other bands in their class, won the caption award for music ensemble and came in 2nd for best music and best overall effect.
Congratulations to PHS junior Natalie Janowicz for being selected to participate in the All-South Jersey Regional Choir for the third time. She received the 6th best score in the entire South Jersey region for Alto 1.
PHS senior Amanda Trotta was recently accepted into the Community College of the Air Force to pursue an Associate's Degree in Applied Science.
In 1907, the Red Devils, Palmyra's football team, began its rivalry with Burlington City. This is the oldest school rivalry in Burlington County. Now the school's team is known as the Palmyra Panthers, but the rivalry still exists as does Palmyra High School's fierce determination and drive to achieve both scholastic and athletic excellence. The athletics program has grown and now includes baseball, basketball, field hockey, football, soccer, softball, tennis, track/cross country, track & field, and wrestling.
Congratulations to Palmyra's football team successful fall season, ending with a record of 9-2. Players on this season's team included Terry Bailey, Marquise Carstarphen, Kameron Kennedy, Jomo Percell, Cameron Wallace, Andrew Hunt, Josiah Jenkins, Gerbree Brinkley, Kelvin Harmon, Antony Perkins, David Lynch, Max Smyth, Nehemiah Merritt, Elijah Karnhay, Garrett Tetzloff, Chance Glenn, Cody Wallace, Kenyatta Brown, Xavier Carter, Davonte Vivian, Malik Howard, Justin Thompson, Zach Strom, Taeron Robinson, Noah Stephenson, Chris Walthall, Matt Yanick, Robert McPherson and Zaki Burroughs.
Palmyra High School is located at 311 W. Fifth Street in Palmyra. For more information, call 856-786-9400 or visit palmyraschools.com/ps/PHS.
© SouthJersey.com 2014. All rights reserved. This article or parts thereof may not be reprinted or reproduced by any other party without the express written consent of SouthJersey.com. For more information, please call 856-797-9910.
For more information about what's going on in our local schools and what today's students are up to, visit our South Jersey Schools page.
Article continues below
---
advertisement


---
Author:
Meghan Shott
Archives
---
Advertise with SouthJersey.com
Shawnee High School
Acting Natural
Middle Township High School
Audubon High School
Cumberland Regional High School
African American Heritage Museum
Apple Pie Hill
Attractions: N. Pemberton RR Station
Johnson's Corner Farm
Lumberton's Air Victory Museum
Lucy the Margate Elephant
Tuckerton Seaport & Baymen's Museum
Emlen Physick Estate
Cape May's Washington Street Mall
More...