Coaches at Triton, Holy Spirit Resign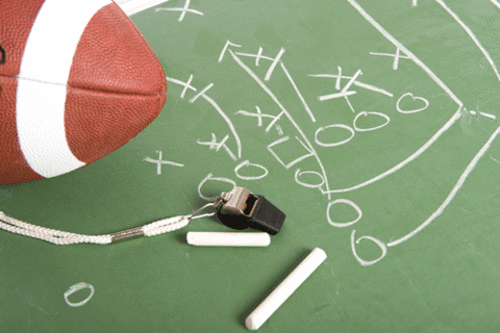 Usually there is change in the South Jersey high school football coaching ranks, and it has already begun. There are two coaches who have already resigned. If this offseason is like the previous ones, there will likely be other moves in the waning months.
Coaching football (and many other high school sports) has become a 12-month a year occupation. In fact, many of the teams that finished competing in late November or early December, are well into their off-season weight training programs.
The two coaches who have resigned, both had their share of success. Pete Goetz is leaving after 12 seasons coaching Triton.
Goetz's overall record of 54-70 was deceptive. He took over a program that had only made one trip to the NJSIAA playoffs prior to his arrival. (The playoffs began in 1974 and Triton made its first appearance in 1999.)
Goetz took over for Bill Fisher (currently the Seneca coach) in 2003. During his tenure, Triton qualified for the playoffs four times. The Mustangs went 9-2 and won a playoff game in 2006, shutting out Clearview, 29-0. That was the first playoff win in school history.
Under Goetz the Mustangs also made the playoffs in 2008 when they went 7-4, 2011, when they were 8-3 and this past season when finishing a deceptive 5-5.
This year, the Mustangs lost a 25-18 first round South Jersey Group 4 game to Hammonton. The next week, in what turned out to be Goetz's final game, Triton lost its Thanksgiving rivalry game to Timber Creek, 26-20.
That was a Timber Creek team that advanced to the South Jersey Group 4 final the following week.
In fact, all five of Triton's losses came against teams that qualified for the postseason. Besides Hammonton and Timber Creek, the other losses were to South Jersey Group 3 champion Delsea, state Non-Public Group 4 qualifier Paul VI and to South Jersey Group 4 qualifier Winslow Township.
So Goetz left his mark at Triton and made this a competitive program, while annually playing among the more difficult schedules in South Jersey.
While the Triton position hasn't been filled, the other vacancy didn't stay that way for long. After the season, John Iannucci resigned as head coach at Holy Spirit and was replaced by A.J. Russo, a 1981 graduate of the school.
Iannucci, who previously was a head coach in South Jersey at Cherry Hill East, had three successful seasons at Holy Spirit. His first team in 2012 went 8-4 and won the state Non-Public Group 2 championship.
In fact, the Spartans appeared in the state title game each of Iannucci's three seasons. Last year, Spirit was 11-0 before falling to DePaul, 35-16 in the championship. This season, Spirit again fell to DePaul in the final, 42-0.
Spirit went just 5-7 this season, but the highlight was a 54-36 win over previously unbeaten Holy Cross in the Non-Public Group 2 semifinal.
During his three seasons at Holy Cross, Iannucci posted a 24-12 record.
So both Goetz and Iannucci set high standards for their successors.
© SouthJersey.com 2014. All rights reserved. This article or parts thereof may not be reprinted or reproduced by any other party without the express written consent of SouthJersey.com. For more information, please call 856-797-9910.
For more Local Sports features, visit our South Jersey Sports page.
Article continues below
---
advertisement


---
Author:
Marc Narducci
Archives
---
Who's Who in Health Care
Crowd Pleaser
Can the Eagles Regain Their Winning Way?
A Bight Future Ahead for Glassboro Football
The Big Impact of Small Businesses
Eagles Need to Reset
Feeling Festive
Another dominating season for Delsea football
Mainland's Historic Football Season
A Rooting Interest
Eagles Continue to Fly High
Raising the Bar
Thanksgiving Football Continues
Hotstovers to honor All-SJ Baseball and new HOF inductees
South Jersey Football Games of the Week
More...