Anthony's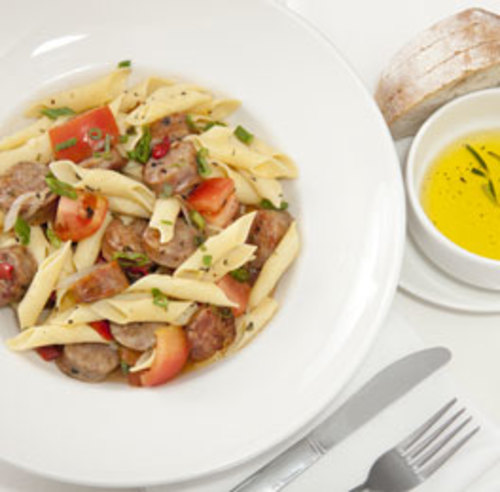 …A Dining Review from the pages of South Jersey Magazine…
Warm Plates on a Chilly Evening: Anthony's
512 Station Ave.
Haddon Heights
(856) 310-7766
AnthonysCuisine.com
3 forks
Haddon Heights' Station Avenue may be tiny, but it's become known as the area's cozy little downtown. Smack in the middle of that main drag is Anthony's, an Italian eatery that has earned a notable reputation. The tiny space was buzzing on a particularly chilly Sunday evening, with a long mirror running alongside the one wall making the room ultimately look bigger, but still welcoming. Low lights, soft chairs and quiet conversations made this a truly comfortable place to grab a warm meal.
During our weekend visit, we were given the option of dining from their prix-fixe Sunday dinner menu, but opted for the regular offerings instead. Short rib risotto came with large, tender pieces of shredded beef in a creamy asiago risotto cooked until just al dente. It was tossed with sun dried tomatoes, which could have been a nice addition of sweetness, but instead were served too large and were chewy and overpowering.
But it was hard to ignore an appetizer of diver scallops dusted in dried porcini and pan seared, served over a bed of arugula and diced red pepper with a balsamic glaze. I didn't get much of the porcini—perhaps if they were served whole instead of as a dust on the edges, the earthiness would have been more prominent—but the scallops were cooked to perfection, and elevated by the sweet and tangy balsamic sauce. And the arugula and pepper salad added great balance to the remaining balsamic sauce.
A plate of sausage garganelli featured a handmade pasta shape similar to a penne but with a slight twist. The pasta was tossed with slices of sweet Italian sausage, tomatoes, shallots and bell pepper in a garlic and olive oil sauce. The unique pasta was exciting and the sausage packed plenty of its own spices and juices, but the sauce it was sautéed in was generally flavorless and drowned the vegetables.
The Marsala sauce covering the pan-seared filet medallions, however, was just right. Three coins of steak sat atop a bed of mashed potatoes, smothered in a Marsala cream that was thicker than what I was used to, but retained so much more sweet, rich flavor than other imitators. The Marsala wine shone through just enough without being overpowering, and added a kick with hearty mushrooms, cooked whole and topping the steak.
And while the lump crab in a heaping plate of crab tomasso—featuring capellini tossed with basil, garlic and Roma tomatoes—sang with freshness, the large, chunks of garlic overtook the plate. The tomatoes, tossed in a rosé wine, clung to the capellini nicely and the addition of fresh basil was appreciated, but overall the garlic was the first and last flavor in each bite.
Homemade desserts included a seasonal apple crisp. The apples—still crunchy—didn't absorb any of the hot and gooey cinnamon sugar sauce that they sat in. But the crisp on top was a nice saving factor, especially when paired with a scoop of homemade vanilla gelato that accompanied the plate.
The warm and upscale plates here truly give an elevated feel to some familiar dishes, keeping them approachable while still elegant.
Published (and copyrighted) in South Jersey Magazine, Volume 11, Issue 10 (January, 2015).
For more info on South Jersey Magazine, click here.
To subscribe to South Jersey Magazine, click here.
To advertise in South Jersey Magazine, click here.
Article continues below
---
advertisement


---
Author:
Editorial Staff--South Jersey Magazine
Archives
---
A TALE OF THREE WEDDINGS
Timber Creek's Leary heads to Illinois
One of Us
The Weekender
Hometown Flavor
Hoop Dreams
Symon Says
Food & Drink: Raise a Glass
Off the Ice
Rewarding Work
Dig This
The Berlin Cemetery
A Southern Mansion
Fire on the Morro Castle
Pine Barrens Fire of 1936
More...