The Sound of Success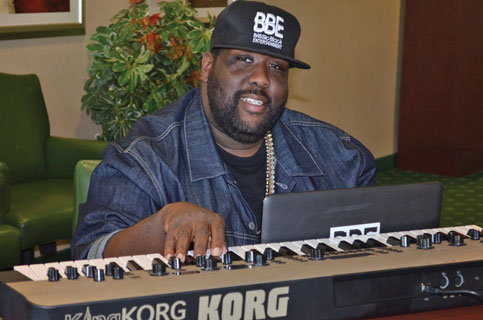 …From the pages of South Jersey Magazine…
Willingboro's Adam Blackstone rubs shoulders with the music industry's elite.
Adam Blackstone is no stranger to the music industry. The producer, performer and writer has worked with musical heavy hitters like Jay-Z, Kanye West, Justin Timberlake, Rihanna, Al Green and Maroon 5, just to name a few. He's appeared on NBC's smash hit The Voice, and can count winning a Grammy among his many achievements. He currently sits at the helm of his musician staffing, production and artist development company, BASSic Black Entertainment, LLC, which he runs with his wife Kaisha.
Blackstone, who once called Willingboro home, talked with South Jersey Magazine about working with some of music's biggest names, what it's like to work with his wife, and his most memorable moment thus far.
Working with top talent…
It has been so amazing playing for all the artists I have worked with, but actually my most memorable moment would have to be Jay-Z's Madison Square Garden Fade to Black concert. This was turned into a concert movie and has been shown all over the world. It was a great time.
Favorite part of the job…
At this present time, I would say that I prefer producing for live concert events, but I would have to say they are all equally gratifying and serve different purposes to me. The one common thing is that the music pleases the people and the fans.
Breaking into the music business…
I moved to Philadelphia from Willingboro in 2000 to go to school. While in Philly, I was a staple at all open mics, all sessions and anything they would let me sit in for. One day, I [went] to the Philly Five Spot and met Rich Nichols, Shawn Gee and Ahmir "Questlove" Thompson [of The Roots]. They took me under their wing and put me right to work.
Getting his company off the ground…
BBE was birthed from the idea that as I was becoming a go-to guy in the industry, I was no longer able to be onsite with each and every artist. Many still wanted me to consult them and help put bands together even though I was not able to be there. My wife Kaisha then said, "We should start an official company to use as the catalyst of our services." Hence, BBE was born.
Working with his wife…
It can be stressful at times when we disagree, but it is also very comforting. She has my back and I trust her with my life.
On creating his own record label…
When I was staffing these bands, I was running into major talent that I was interested in, so I decided to work with them internally—and BBE Records only made sense. The BBE roster currently includes Aaron Camper, an R&B singer from Maryland, and Laurin Frierson, a jazz vocalist from Cleveland, Ohio.
Working on The Voice…
The Voice was a great experience. I was able to see many, many different talented people. I was happy I was able to assist Adam Levine in winning Season 1. One [memorable] moment was when Adam and I were picking the songs for our contestants to sing. I was exposed to a bunch of music I had not even heard before and instantly fell in love with.
Other TV appearances…
I have done many other shows since then—[I was] a judge on VH1's Make a Band Famous, a music director for several segments on the MTV VMAs, [The Tonight Show Starring] Jimmy Fallon, Saturday Night Live; [and] we are currently airing our fourth season of TV One's Verses and Flow.
The challenges of live television…
Live TV is different from producing or running a business because the world is watching what you do and say on TV. Behind closed doors in my studio or office, I can say and do things that someone else may not agree with, but it's what's best for me and my company.
Mixing business with pleasure…
I think it plays a big role in the respect that I have for other musicians and what is fair, for example, in pay, accommodations, etc. I am a band guy first, so I make my decisions based on that.
And the Grammy goes to…
I was nominated [for a Grammy] as a songwriter for Musiq Soulchild's song "Teach Me," but the Al Green record I co-wrote won a Grammy for Best R&B Traditional Album and Song. It felt really good to be a part of something [that] others deemed the best of the year—such an honor. My next goal would be to win more Grammys and also run BBE Records very successfully and create a new type of Motown, so for years down the road people are still listening to the music BBE has produced.
Growing up in Jersey…
I loved going to [the] park, churches and local sporting events growing up. New Jersey is a great place and gave me a wealth of knowledge and a sense of family and community. I definitely still take those feelings out into the world.
Published (and copyrighted) in South Jersey Magazine, Volume 11, Issue 10 (January, 2015).
For more info on South Jersey Magazine, click here.
To subscribe to South Jersey Magazine, click here.
To advertise in South Jersey Magazine, click here.
Article continues below
---
advertisement


---
Author:
Rachel Morgan
Archives
---
Who's Who in Health Care
Crowd Pleaser
Can the Eagles Regain Their Winning Way?
A Bight Future Ahead for Glassboro Football
The Big Impact of Small Businesses
Eagles Need to Reset
Feeling Festive
Another dominating season for Delsea football
Mainland's Historic Football Season
A Rooting Interest
Eagles Continue to Fly High
Raising the Bar
Thanksgiving Football Continues
Hotstovers to honor All-SJ Baseball and new HOF inductees
South Jersey Football Games of the Week
More...