Southern Exposure: January, 2015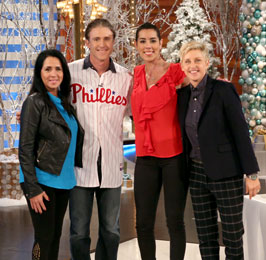 …From the pages of South Jersey Magazine…
Go Figure
$630,000,000: Amount in state tax breaks issued by the New Jersey Economic Development Authority over the past six months to companies moving into Camden.
512: Estimated number of new jobs that will be created in the city through the tax breaks, with companies like the Philadelphia 76ers and Lockheed Martin moving in.
$8,000: The increased amount of the reward for information in a 2010 Glassboro murder. Police made the decision to increase the reward an additional $3,000 for information in the shooting death of Patrick Hastings, who passed away from related complications in March.
thirty-six: Number of tires from state vehicles that were slashed at an Atlantic City child welfare office in mid-December. The case is under investigation.
18: Number of foreign press reporters from countries like Sweden, France and Finland who were invited to tour North Camden with the Camden County Police Department in December. The trip was organized by the New York Foreign Press Center and the U.S. Department of Justice.
53: Percentage of state voters who do not think Gov. Christie would be a good fit for president, according to a poll conducted by Quinnipiac University.
62: Percentage of people who think Christie should resign as governor should he choose to run for president.
Hit or miss
Barnegat's Matt McAndrew was named the runner-up in the hit NBC show The Voice. The 24-year-old was coached by judge Adam Levine and performed alongside band Fall Out Boy in the finale.
An off-duty police officer in Runnemede and his 18-year-old son stopped an armed robbery at a local CVS pharmacy. The suspect allegedly attempted to rob the pharmacy at knifepoint.
ESPN named Glassboro native Corey Clement—a running back at the University of Wisconsin who currently holds the state record for rushing yards in a single game—as one of their "Early 2015 Big Ten Heisman hopefuls."
Willingboro township officials have announced the sale of two of their former fire stations. The firehouses were sold at public auction for a total of $545,000.
Gov. Christie was forced to once-again defend his loyalty to the Dallas Cowboys after he was filmed high-fiving Dallas owner Jerry Jones at the Dec. 14 Eagles-Cowboys game in Philadelphia.
Former sportscaster Don Tollefson has withdrawn his plea of guilty related to multiple charges, including theft by deception and violating state charity laws. Tollefson also announced that he will be acting as his own lawyer.
Datebook
1/15
See the Haddonfield Plays and Players' adaptation of Company, a musical comedy that follows Bobby, a bachelor unable to commit, while he considers the pros and cons of marriage. Dates and times vary in January at Haddonfield Plays and Players, 957 East Atlantic Avenue, Haddonfield, (856) 429-8139, HaddonfieldPlayers.com, prices vary
1/18
Experience a realistic, close look at the planets and stars and be led on a virtual ride through our galaxy and intergalactic space in Passport to the Universe, a movie narrated by Tom Hanks. Dates and times vary at Edelman Planetarium, Science Hall, Rowan University, 201 Mullica Hill Road, Glassboro, (856) 256-4389, Rowan.edu/Planetarium, prices vary
1/24
Don't miss alternative rock band, 10,000 Maniacs, and special guests Paul Barrere and Fred Tackett of Little Feat, as they perform at the Collingswood Scottish Rite Theatre. Jan. 24, 8 p.m. at Collingswood Scottish Rite Auditorium, 315 White Horse Pike, Collingswood, (856) 858-1000, Collingswood.com, $29.50-$39.50—Emily Bierman
3 Things You'll learn
Willingboro native Adam Blackstone has worked with several of today's top music acts. Page 26
Comedian Hannibal Buress is starring in an upcoming film with Mark Wahlberg and Will Ferrell. Page 84
One local Sicklerville man has carved a unique path to Hollywood. Page 104
Street Level
Burlington County: Moorestown
A South Jersey plumber has been charged with three separate thefts across Moorestown, allegedly stealing an estimated $27,000 worth of jewelry and personal items from the homes.
Camden County: Gloucester Township
A man has been charged in the death of a local woman, who went missing in December and whose body was found in Evesham.
Gloucester County: West Deptford
Police have arrested the woman who was listed as No. 2 on the Gloucester County Sheriff's Department's Fugitive Unit. The woman was wanted for failure to appear in court related to possession.
Did You Hear?
"Christie beat me at football toss, which really aggravated me. And he bragged about it afterwards, which is OK, but I will get a rematch at some point."
—President Barack Obama, during a speech given at Joint Base McGuire-Dix-Lakehurst in December. The visit marked the president's first time back to the state since his tour of the Jersey Shore with Gov. Christie in 2013.
Voice & Vent
This month, on page 36 of South Jersey Magazine, we take a look back at 2014 in our annual Year in Review. Share your opinion by visiting SouthJersey.com's Voice and Vent section and answering:
"Did you stick to your 2014 resolution?"
Click on "Submit" to make your vote count. Next month, we'll report back on what our readers are thinking.
Last month, we asked:
"Do you think the marketing of the holiday season has gone overboard in recent years?"
51% of you said No
49% of you said Yes
People: Swinging for the Fences
Tabernacle's Julie Kramer was faced with the fight of her life earlier this year, when she was diagnosed with a stage 4 synovial sarcoma at the age of 23. After undergoing surgery to remove the mass, Kramer caught the attention of talk show host Ellen DeGeneres, so much so that Kramer was invited to appear on DeGeneres' show (pictured), and was given $10,000 by Target.
Kramer is also a lifelong Phillies fan—she applied to be a Phillies Ball Girl in 2011—and was surprised on-stage by her favorite player, Chase Utley, who invited her to be his guest of honor at games in the 2015 season. We spoke with Kramer about that day, and found out how she's doing now.
What was it like appearing on Ellen?
Never in my lifetime did I think I would ever meet Ellen DeGeneres, or any celebrity for that matter! It was really special for me to meet her, because she reminds me a lot of myself in the personality aspect of things.
Did you know Chase Utley was going to show up?
If I had any idea Chase was going to be there, I would've dressed nicer. When she called out his name, I thought someone was just going to bring out a Chase Utley Fathead or something. But boom, Chase Utley comes out.
Do you have plans to stay in touch?
We definitely do! He did invite me to some games this upcoming 2015 season and to go to some batting practices and meet the guys, which I cannot wait for. Maybe I'll take a few swings with them and show the men how it's done.
So how are you feeling these days?
I actually feel great. I am currently getting treatments at the Perelman Center in Philadelphia. I go every day for seven weeks, so my last treatment is Jan. 18, and I cannot wait till that day comes. Hopefully soon after, I can say I am in remission! Find Kramer's full interview on SouthJersey.com.
Names to Know
Local people making a difference in South Jersey and beyond
Cooper's Ferry Partnership's vice president of neighborhood initiatives Mitchell was given the Healthy Kids Champion award by the Robert Wood Johnson Foundation's New Jersey Partnership for Healthy Kids (NJPHK). NJPHK honors six people each year for their commitment to childcare in their community, and Mitchell was acknowledged for the work she does in Camden, specifically through the Cooper's Ferry Partnership.
Marlton senior Gillin was named Cherokee High School's Russian Scholar Laureate for 2014. Cherokee awards the honor to one student every year who is the most outstanding Russian student, and he was only one of 30 students nationwide to win. Gillin, who will be the first Cherokee student to ever take the AP Russian Exam, received a certificate and pin from the American Council of Teachers of Russian.
The New Jersey Council of County Colleges has named Camden County College trustee Albright as chair to the board. Albright, a Gloucester Township resident and Camden County College alumnus, has served on the Camden County College Board of Trustees since 2006 and will join the council in working with state legislatures to provide opportunities for the state's 19 community colleges.
Thomas Jefferson Elementary's Tinkelenberg won the school's National Geographic Bee. The fifth grader beat out fourth and fifth graders in the school to earn first place, answering a series of geography questions provided by National Geographic. Tinkelberg now has the opportunity to qualify for the state competition, which features students in fourth through eighth grades.
Rowan College at Gloucester County's head softball coach was inducted into the school's 2014 Sports Hall of Fame. DePasquale is the winningest coach in the history of the school, with 622 wins under his belt and back-to-back national championship wins in 2011 and 2012. He was honored at the 2014 Hall of Fame Induction Dinner in mid-December at Adelphia's Restaurant in Deptford.
Medford 13-year-old Mandy has written and published her own 660-page novel. Thunderland: The Quest to Uthnir is a fantasy-based story that follows a 12-year-old girl through a magic world. The Medford Memorial Middle School eighth grader published her book online with the help of her dad, and it is now available for purchase on Amazon.
Published (and copyrighted) in South Jersey Magazine, Volume 11, Issue 10 (January, 2015).
For more info on South Jersey Magazine, click here.
To subscribe to South Jersey Magazine, click here.
To advertise in South Jersey Magazine, click here.
Article continues below
---
advertisement


---
Author:
Erica Bauwens
Archives
---
Family Fun
Live from the White House
Collingswood
Stepping Up to the Plate
Local Story
Lingering Questions
Still Fresh
Under the South Jersey Sun
Riverside Retreat
Against All Odds
Like a Girl
Going Her Own Way
Fall In
Aiming to Please
Walk of Fame: Natalie Hope Sommermann
More...