On a Roll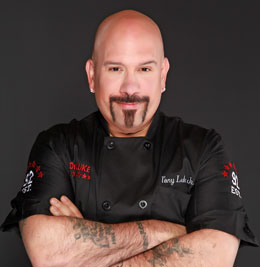 …From the pages of South Jersey Magazine…
There's much more to sandwich king Tony Luke than just cheesesteaks
When you ask Anthony Lucidonio Jr.—better known as Tony Luke Jr.—what he does for a living, don't expect an easy answer. Ever since he was a kid, the South Philadelphia native has been a man of many interests and talents, from music to acting to food. His adult life has been about chasing his dreams in all of those arenas.
Today, he is the face of Tony Luke's, the sandwich empire he started with his father and brother in his hometown in 1992. The fast-casual chain headquartered in Paulsboro—which specializes in roast pork, chicken cutlets and of course, cheesesteaks—can now be found all over the Delaware Valley, has a shop in Florida and will soon be opening several locations in Southern California. They are also known throughout the world, with two stores in the Middle East and plans for further expansion.
Luke is passionate about music, and has written a number of songs for himself and other artists, usually with an R&B flavor. Also an actor and screenwriter, his movie credits include Invincible, the Mark Wahlberg flick about former Philadelphia Eagle and South Jersey resident Vince Papale. Finally, he entered the reality television realm last year with Spike's Frankenfood, a fun show in which Luke and chef Josh Capon searched the country for unique food creations that used unexpected—and sometimes unfortunate—ingredients.
We spoke to Luke about the food industry, his demanding entertainment schedule and why he'll always call the Philadelphia/South Jersey area home.
SJM: Tony Luke's has obviously become a great success story, but I want to go back to when you first opened the original location on Oregon Avenue with your dad and your brother. Do you remember that as being a nervous and scary time, trying to build a brand in a competitive market?
On betting his future on the sandwich business…
I know my father was very concerned, and so was my brother. It took us forever to open up because we had no money. … We laid the concrete, we put in the framing, we put in the windows. When businesses say they built from the ground up, we literally built from the ground up. We opened on Feb. 3, 1992, and … I would be surprised if we had more than $1,500 sitting in the register; that was all we had to our name. You never start a business with no money, but that's all we had. … We didn't make anything when we first opened. I remember losing my home and losing my car. Me and my now ex-wife and my kids had to move in with my father and mother, because there was no money. It was a massive risk that we took.
Turning things around…
The first year, it was touch and go; we almost weren't able to open the doors. The second year was a little bit better—we were making enough to keep the doors open. Then in 1994, [we were voted] best cheesesteak and best roast pork, and business really started to pick up. People who didn't know who we were started to come by. … By the fourth year, we were actually doing OK. We started winning more awards—GQ magazine gave us the golden dish award for the roast pork, and then business started to double. Gourmet magazine voted us one of the best 150 restaurants in America. If I remember correctly, it was only us and Le Bec-Fin (from Philadelphia) that won. It was such a weird dichotomy; we were on opposite ends of the spectrum. … Business really started to take off then, and '97 was really when Tony Luke's came into its own.
Visions of building a brand…
The entire time, I was always the dreamer. … I remember being across the street at the Roy Rogers when we were still building. I told my father, 'One day everybody in the whole world is going to know who Tony Luke's is. We didn't invent the cheesesteak, but one day, when people hear cheesesteak, they're going to think of Tony Luke's.' I'll never forget the look my father gave me. It was like, 'Why don't we concentrate on finishing the concrete in front of the building before you take over the world?'
So I always believed in the concept, I believed in myself and I believed in the family. … My mindset was always to make Tony Luke's the biggest name in cheesesteaks. That was my goal before the building even opened.
Taking things to the next level…
In about 2005, I was really itching to do more. I remember going to my father and brother and saying I wanted to expand, I wanted to go worldwide. I remember cutting a deal with them for the trademarks and everything, and then I partnered up with Ray Rastelli. My goal when I partnered up with Ray was to give people that experience all over the world. It was very naïve, obviously. I never quite understood what kind of undertaking that was, and maybe if I did, I might not have done it. In my case, ignorance truly was bliss. Here we are, 23 years later—Feb. 3 will be our 23rd anniversary—and I'm still learning every single day. I continue to make a million mistakes, but that's part of the process. … My goal for Tony Luke's has not changed. I want Tony Luke's in every city in the world, or at least the United States. I want to be in Europe and I want to make it a household name.
Cheesesteaks in the Middle East…
We have two locations there now, and the reaction has always been great. I couldn't believe the reaction when I got there. I was a little apprehensive to go; I didn't know how I would be treated. It was a shock for me, but I was treated amazingly well, and they loved the idea of the cheesesteak. My experience in the Middle East was amazing—I saw a bunch of hardworking people who loved their families, and unfortunately, like everyone else on the planet, they're caught up in whatever craziness the governments are doing.
More than just a sandwich guy…
In everything I've ever done, there's no feeling like I have when I'm in a recording studio or when I'm writing music. Don't get me wrong—I love writing scripts, I love filmmaking and I love acting—I love being an entertainer of all sorts. I used to draw when I was a kid, and I wanted to be an artist at one point. I guess you could say I just love the arts. I don't enjoy doing business; in fact I hate it. I know how to do it and I can function in doing it, but I don't like it. I don't get any pleasure from it whatsoever. If I could sketch and write music and do plays the rest of my life, I would die the happiest individual in the world. But that's a fantasy land, because there's a thing called paying your bills and taking care of your family that intercedes. Very, very few people that I've known in my entire lifetime actually make a living from doing the arts.
Now, I don't like business, but I do love the food industry. I love cooking, I love being at the restaurants and I love opening up new stores. It's the business end that I can't stand. I've been lucky enough to have one of the most brilliant men, and one of my dearest friends in the whole world, a gentleman named John Moser, who's the COO of Tony Luke's. He's the pivotal reason why we've expanded and are in the places we're in. It's because of his leadership.
Finding time for other endeavors…
I do more of that than I do anything else. I had the television series with Spike and I just signed a deal with Asylum Media. My single last year was up for Grammy consideration and I'm in the studio a lot. I have two new films that I'm working on. John does all of the day-to-day operations, so I travel all over the country performing or doing TV. I would say 75 percent of my time is doing TV, movies and music, and 25 percent is dealing with the store and going to grand openings. … People don't realize that this is as integral for the success of Tony Luke's as the product itself is. Every movie I do, more people know what Tony Luke's is. Every TV show I do, more people know what Tony Luke's is. I don't think people realize that in today's world of social media, being in the public eye might be even more crucial than the product itself.
Getting involved with Frankenfood…
No, that wasn't my idea, but me and (co-host Josh Capon) had a lot to do with figuring out the feel of the show. Josh was very much the acclaimed chef and very well-respected, and I was the crazy sandwich street guy. I appealed to the blue-collar guy, and Josh appealed to the foodie. Finding that balance was a lot of fun; we were very different, but similar. It was a lot of work—I mean a lot of work. … You see five dishes on TV, but I had to eat 50 dishes per show. I have been struggling ever since I got back. I put 35 pounds on doing the show.
The weirdest dishes from the show that stood out…
I get asked that all the time and it's tough, because we did a full season and there had to be at least 500 dishes that I ate that didn't even make it to camera. There was one dish that was not only horrific taste-wise, but texturally it was inedible, and that was the baby octopus that was boiled and suspended in an aspic. I spit it right out. And one of my all-time favorite dishes didn't even make it onto the show. It was like a poutine, but with brisket and sweet potatoes. It was the best thing I ever ate in my entire life, but it wasn't a frankenfood. It wasn't that outrageous of a dish, or clever of a dish, but it was certainly one of the tastiest.
More Tony Luke on TV…
We're still on hiatus and I think they have another two months before they have to decide whether to do another season, but I am allowed to pursue other opportunities. They have a certain amount of time to pick up a show, and if they don't pick it up during that time, I can be looking. So I just signed with Asylum Media to do a pilot for a new show, and we're doing that. I got four offers from regular networks and my agent is talking to them now. What I can say about Frankenfood is that I developed a great friendship with Josh Capon, who is an amazingly talented chef and a great guy. Spike treated us like rock stars; they are a great network to work for. I had the time of my life and I met some great people. I learned a lot about reality television—doing a series is a lot different than just doing guest spots on shows. And Frankenfood raised my stock 1,000 percent. When I went to L.A. to take meetings, everyone knew the show, everyone knew who I was, and it led to me signing with Asylum. If the show doesn't come back for Season Two, it was some of the best times of my life and I am grateful that I got to do one season. If it does come back, I'm sure it will be a blast and I'll have fun doing it.
Keeping his roots planted locally…
I love Philadelphia, and I could never see myself living anywhere else besides Philadelphia or the South Jersey area. I lived in Glassboro for 15 years; before that I lived in Runnemede. I'm always going back and forth between South Jersey and Philadelphia, every couple of years. But lately I've been traveling so much that it doesn't matter where I live; it's just a place to collect mail.
A big Jersey Shore guy growing up…
Sure I was. You can't be from South Philadelphia and not be. My grandmother had a home in Atlantic City and we went down there all the time when we were kids. She had a bed and breakfast kind of thing for years and years. Now I have a really good friend who has a place in Ventnor, so I go down to Ventnor a lot.
Favorite place to eat in South Jersey…
That's a great question and I don't know that I've ever given it much thought. I have so many friends in the restaurant business, so I usually don't try to single one place out. I'll get phone calls from people saying, 'What, does my place suck Tone?' So I have many restaurants I enjoy in South Jersey as well as Philadelphia.
Being on the Mount Rushmore of Philly sandwich shops…
Growing up, it was always Pat's and Geno's and Jim's. That was the Mount Rushmore. It seems to me now, even when Geno (Vento) does an interview or Frankie (Olivieri) from Pat's does an interview, it really is Pat's, Geno's, Jim's and Tony Luke's. I believe we've made it to the top of cheesesteaks, and it's an amazing honor to be a part of it.
Published (and copyrighted) in South Jersey Magazine, Volume 11, Issue 11 (February, 2015).
For more info on South Jersey Magazine, click here.
To subscribe to South Jersey Magazine, click here.
To advertise in South Jersey Magazine, click here.
Article continues below
---
advertisement


---
Author:
Matt Cosentino
Archives
---
A TALE OF THREE WEDDINGS
Timber Creek's Leary heads to Illinois
One of Us
The Weekender
Hometown Flavor
Hoop Dreams
Symon Says
Food & Drink: Raise a Glass
Off the Ice
Rewarding Work
Dig This
The Berlin Cemetery
A Southern Mansion
Fire on the Morro Castle
Pine Barrens Fire of 1936
More...