Boys Track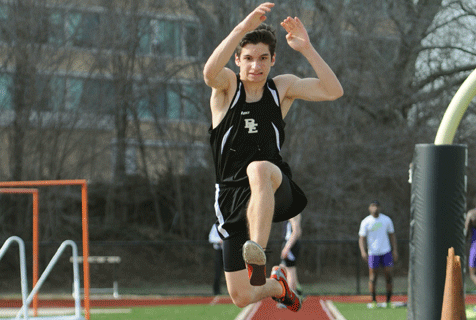 ...From the pages of Suburban Family Magazine's Spring High School Sports Preview...
Bishop Eustace Crusaders
Players to watch: Eustace returns some of the top performers from last year's division championship team, including a pair of senior stars in Shawn Hutchison and Chris Smith. Hutchison set a school record of 9:17.06 in the 3200 on his way to a seventh-place finish at the Meet of Champions. He also took fourth at Non-Public A states in the event and had a terrific cross country season in the fall. Smith placed fourth in the long jump at states and competed at the Meet of Champions. He also took seventh at states in the triple jump. Senior Praveen Vulimiri is another strong distance runner, and the junior class features a pair of standout high jumpers in Evan Adams and Jack McCaffrey and a talented thrower in Jack Smith. Other returners include seniors Jonathan Carrie and Dominic Lopinto (pictured); juniors Jack Brady, Sebastian Fenerty, Jason Varley, Paul Jacob, Wesley Payne and Zahir Williams; and sophomores Michael Dziuba, John Nguyen, Daniel Hullihan and Michael Fisher.
OUTLOOK: The Crusaders placed 10th in South Jersey and 15th in the state in Non-Public A, and also went undefeated in dual meets to claim the Olympic Conference National Division title. With many important veterans back, another division crown is within reach.
Camden Catholic Fighting Irish
Players to watch: Camden Catholic lost a big part of last year's team in star sprinter/hurdler Benny Walls—who placed fourth in the 400 hurdles at the Meet of Champions—as he transferred to St. Joseph's Prep in Philadelphia. In his absence, leadership of the team will fall to a pair of seniors. Distance runner Tim Slack is a strong competitor who placed fourth in the 1600 and eighth in the 3200 at sectionals, and Malik Johnson is among the best long jumpers in the area. Also back for the Irish are senior Avery Goodwin; juniors Jordan Jefferson and Kris Noone; and sophomore Greg Delcolombo.
OUTLOOK: After placing fifth in South Jersey and 13th in the state in Non-Public A, Slack and Johnson will look to keep Camden Catholic a contender.
Cherokee Chiefs
Players to watch: Senior Justin DeTone and sophomores Jack Shea and Nick Falk lead a strong group of distance runners for Cherokee, and all three had strong cross country seasons in the fall. Senior Marc Woodard, a star running back for the Chiefs football team, is one of the leading sprinters in the Olympic Conference. Returning middle distance runners include sophomore Matt Powell and juniors Robert Curley, Tyler Kurzawa, Michael Zurzolo and Steven Gravlin. Leading the list of throwers are senior Philip Quipot, junior John Hemple and sophomore Adonis Giovetis.
OUTLOOK: The Chiefs have a young team and are looking to build around their strong core of distance runners.
Cherry Hill East Cougars
Players to watch: Aaron Groff has established himself as one of the state's premier distance runners and the expectations are high for his junior outdoor season. Last spring, he was the South Jersey Group IV champion in the 3200, took second at states and ninth at the Meet of Champions. He was also the Olympic Conference champ in the 1600, just ahead of senior teammate Dan Helfand, another outstanding runner who was all-South Jersey in cross country. Senior Terry Hall should contend for sectional and state titles in the javelin, and juniors Jordan Clark (hurdles) and Isaiah Jean-Baptiste (800) will also make noise at the big meets. Other key returners are seniors Christian Mele, Jeff Braun, Ian Dunn and Vladhimir Theophile; juniors Kennedy Omari, James Garth, Kyle Encarnacion and Naz Abdali; and sophomores Jake Ciocco, Josh Dillon, Marc Meltzer and Colin O'Donnell.
OUTLOOK: The Cougars placed eighth in South Jersey and tied for sixth in the state in Group IV. Year in and year out, you can count on this program being one of the best in the area, and this season should be no different.
Cherry Hill West Lions
Players to watch: The Lions graduated most of their top competitors but do bring back a solid distance runner in junior Liam Coverdale, who placed sixth in the 3200 at the Olympic Conference Championships last year. He leads a group of distance runners that also includes junior Owen Barrett and sophomores Robert Abrams and Jonathan Hoch. Senior hurdler Justin Major and senior sprinter Quinton Jenkins also return.
OUTLOOK: The Lions will have a hard time improving on their 14th-place finish in a loaded South Jersey Group IV, but will have an impact in several events, especially the distance races.
Clearview Pioneers
Players to watch: The bad news for Clearview is that outstanding distance runner Bill Dolan, the Group IV state champion in the 1600, has graduated. The good news is that Nathan Shivers is coming off a breakout season and is in line for a huge spring. Shivers placed second in South Jersey and fifth in the state in Group IV in the 3200, and went on to take 23rd at the Meet of Champions. He also runs the 1600 and finished third at sectionals in that event. Junior Michael Avallone is another solid distance runner who took sixth in the Tri-County Conference in the 1600. Senior Nahir Nelson leads a strong group of throwers that includes seniors Julian Perotti, Marshall Muldoon and Byran Mohrman. Other returners are junior Chris Jones and senior Julian Weeks, both sprinters; senior hurdlers/jumpers Gerald Tench, Michael Grubb, Jordan Morales and Christian Maisch; and middle distance runner Elijah Sterling, a junior.
OUTLOOK: The Pioneers placed eighth in South Jersey Group IV and tied for sixth at states, and with athletes like Shivers leading the way, they will again be fun to watch at the championship meets.
Eastern Vikings
Players to watch: The graduation of Mikhail Micheaux—the Meet of Champions winner in the long jump as well as an outstanding triple jumper and sprinter—leaves a gaping hole on the Eastern roster, but there are other standout athletes remaining. One of them is senior sprinter Cinque Hill, who also took fourth in South Jersey Group IV and ninth at states in the high jump and placed third in the Olympic Conference in the triple jump. Senior Tim Farrar is another force in the long jump, high jump and triple jump, which he competed in at states. Junior Nicholas "Cole" Pschunder took third in the conference and fourth at sectionals in the 1600, while junior Vipul Bhat was the conference runner-up in the 3200. Senior Anthony "Jake" Caruso and junior Joshua Chazin are other returning distance runners. The sprinters include junior Parnel Ahamed, senior Izayah Polite and senior Gregor Belizare; juniors Benjamin Stevenson and Alexander Sung are returning hurdlers; and senior Bailey Backal and junior Joey Marshall are middle distance runners. Senior Pete Flacco and junior Ryan Bolden are returning throwers and seniors Zach Soffer and David Chung are back to compete in the pole vault.
OUTLOOK: The Vikings probably won't finish third at sectionals like they did last year with Micheaux leading the way, but they still have a team capable of placing high.
Gloucester Catholic Rams
Players to watch: Senior Tyler Chamberlin placed 13th in South Jersey Non-Public A in the javelin and is one of the key returners for the Rams. Junior miler Sean Simila had strong showings at the Tri-County Conference meet (11th) and sectional championships (19th) and leads the distance runners. Sophomore Nick Giordano is back in the sprints and jumps, and senior Tyler Berglund is another returning sprinter. Mike Quigley (jumps) and Griffin Schappell (throws) are returning seniors, while sophomores Ryan Cassidy and Riley Walsh gained valuable experience in the hurdles last year.
OUTLOOK: The Rams are trying to build a successful program and it will be interesting to see the improvements they make this spring.
Haddonfield Bulldawgs
Players to watch: Despite graduating several top athletes, the Bulldawgs again boast a talented roster, led by their terrific distance runners. Many of the members of the Haddonfield cross country team that repeated as state champions in the fall are looking to add a strong spring season to their collection. That includes juniors Greg Pelose and Austin Stoner, who placed in the top 10 at the Group II sectional and state meets in the mile and 800, respectively, last season. Senior Danny Brennan is coming off a sixth-place finish at sectionals in the 3200. Juniors Sean Quigley and Cyrus Trojano lead the sprinters along with senior Jordan Rodriguez, who is also a long jumper. Seniors Kevin Wolf and Chris Bateman are returning throwers, and other experienced seniors are Andrew Dembs (hurdles), Chris Goings (middle distance) and Ian Picking (pole vault). Junior Franklin Clapp is a varsity newcomer who competes in the pole vault.
OUTLOOK: After placing second at the South Jersey Group II meet, the Bulldawgs will again be in the mix at sectionals, with their distance runners leading the way.
Kingsway Dragons
Players to watch: Senior twin brothers Noah and Trevor Culbreath have accomplished a number of feats in their cross country and track careers at Kingsway and will look to go out strong in their final season as Dragons. Last year, Noah took second in the mile and fourth in the 3200 at the South Jersey Group IV meet, and was the Tri-County Conference champion in the 800. He was the sectional champ this past cross country season and is considered one of the premier distance runners in New Jersey. Trevor placed fifth at sectionals and 11th at states last spring in the 800, and was third in South Jersey in the 400 hurdles. He was also part of the 4x800 relay—along with returning seniors Mark Mihlebach and Kyle Evernham—that placed fourth at states and seventh at the Meet of Champions. Evernham is also a strong distance runner, and Mihlebach competed at states in the 800. Other returning Dragons who qualified for states are seniors Jermaine Coleman (100), Denzel Polk (shot put), Marshall Hoebing (javelin) and Chad Shire (pole vault) and junior Chase Matthews (high jump).
OUTLOOK: Kingsway captured its second straight South Jersey championship in 2014, winning Group IV a year after taking Group III. They have the talent to be in the mix again.
Lenape Indians
Players to watch: Senior Jake Liebling, the Burlington County champion in the high jump, also placed second in South Jersey Group IV and fifth at states in the event and leads a long list of returners for Lenape. Liebling is a consistent performer in the triple jump and sprints, as well. Senior hurdler Dave Roberts joined Liebling at states, and senior Austin Simms finished sixth in the 400 at sectionals. Other seniors are pole vaulters Chris Gouveia and Shamerz Haider and distance runner Matt Zubrzycki, and the promising junior class includes Kevin Harrison and Devon Isaac (jumps), Joshua Flowers (hurdles), Jared Erlanger and Danny Fraley (middle distance), Craig Lauer and Adam Vicente (distance), and Ray Backus, Ryan Souter, Matthew Ott and Zachary Pilling (throws). Sophomores who could emerge this year are Chase Campbell (sprints, jumps), Khyree Johnson-Waters (hurdles), Yianni Christou (distance) and Ron Caccese (throws).
OUTLOOK: The Indians took third at the county meet and fifth at sectionals, and once again look to have the depth to shine at the big meets. Nick Tyson, the boys indoor track coach, takes over as outdoor coach, replacing Brian Cranston.
Moorestown Quakers
Players to watch: Senior thrower Trevor Allen is aiming for another standout season after ending last spring at the Meet of Champions in the shot put. Allen placed third in the event at South Jersey Group III and fifth at states. Moorestown also returns a pair of strong pole vaulters in senior Michael Margiotti and junior Kyle Boyle-Loveland. Margiotti was the Burlington County champion and placed in the top 10 at sectionals and states, while Boyle-Loveland was in the top five at the county and sectional meets and also competed at states. Other important returners are juniors Harrison Morris and Christian Cramer (distance), Melvin Sheppard and Casey Bennett (sprints), Skyler Clark and Kyle Hogeboom (jumps) and Niles Turner (throws); and seniors John Cedano and Austin Coggins (middle distance) and Eli Etienner (throws).
OUTLOOK: Even in a transition year, the Quakers still placed sixth in the county and 10th at sectionals in 2014. They will look to better those marks this spring.
Paul VI Eagles
Players to watch: Junior Stefon Moore-Green emerged as one of the area's top sprinters in 2014, as he won the South Jersey Non-Public A title in the 100 and placed second in the 200. At states, he was sixth in the 100 and fourth in the 200, advancing to the Meet of Champions in both events. Look for more of the same this spring, and Moore-Green will also get a push from two other promising sprinters on the roster: sophomore Erich Robenson and freshman Dominik Morton, who placed fourth in the Olympic Conference in the 55-meter dash during indoor season. Junior Max Dickens joined Moore-Green at the Meet of Champions, as he qualified in the 400 hurdles thanks to a fifth-place finish at states. Other returning juniors are Christopher Randle (sprints), Nick Hallam (middle distance), Gianluca Catalini (hurdles), Gabe Schwankert and Frank Scaramuzzo (throwers), and Brian Boligitz (pole vault). Also back are senior Bill Schmidt (distance) and sophomore Tyler Barnett (long jump).
OUTLOOK: The Eagles have the potential to move up from their eighth-place finish at sectionals, and Moore-Green and Dickens should both be in the mix for state championships.
Seneca Golden Eagles
Players to watch: Seneca has a solid junior class that gained valuable varsity experience last spring. Leading that group is sprinter and hurdler Sam Jordan, while his twin brother Roosevelt Jordan and Jurelle Watson are also strong in the sprints and compete in the jumps. Other juniors to keep an eye on are distance runners Brendan Brown, Kevin Curtin and Arthur Suchodola. The senior class features middle distance Danny Nesko, distance Joe Hackney, high jumper Russell Bauer, pole vaulter Dillon Hathaway and throwers Ian Hastie and John Piper.
OUTLOOK: The Golden Eagles will have a tough time placing high at sectionals, but they will aim to send several individuals on to the state meet this year.
Shawnee Renegades
Players to watch: Senior Liam Onbashian placed in the top five in the Burlington County and South Jersey Group IV meets in the javelin and went on to compete at states. He'll look to finish his career on a high note, along with fellow senior thrower Chase Morello. Junior Eric Clark is another team leader in the throws and senior Kevin Kinney is an experienced pole vaulter. On the track, the Renegades are led by junior sprinter Cooper Churylo and a group of distance runners that includes senior Bryan Dickinson, juniors Jason Richwall and Joey Lipinsky, and sophomore Mike Miller.
OUTLOOK: The Renegades were extremely young in 2014 and are hoping the experience they gained leads to an improvement on their 17th-place finish at sectionals.
Washington Township Minutemen
Players to watch: The Minutemen graduated their top competitor in thrower Connor Hunt, but several returners have the potential to compete at states, including hurdler Dalin Hackley, sprinter Jamir Miller and pole vaulter Koy Connors, all seniors. Other returning seniors are Norris King (hurdles), Nick Tiwari, Dennis Williamson and Andrew Torney (distance), and Tom Cooper (throws). Juniors to watch are Ryan Maness (hurdles), Jaylen Kelly (sprints), Alex Tursi and Mike Roscioli (distance), and Tiger Lauria, Colin Eggert and Bryan Mark (throws). Sprinter Stephan Roche is a returning sophomore.
OUTLOOK: The Minutemen probably aren't a sectional championship contender, but they have talent in multiple events and should be exciting to watch this spring under new head coach Chris Mitchell, who moves over from the girls program to replace Rich Bostwick.
Click here for team schedules.
Published (and copyrighted) in Suburban Family's High School Spring Sports Preview, January, 2015.
For more info on Suburban Family Magazine, click here.
For information about advertising in Suburban Family Magazine, click here.
To find out where to pick up your copy of Suburban Family Magazine, click here.
Article continues below
---
advertisement


---
Author:
Matt Cosentino
Archives
---
Who's Who in Health Care
Former Shawnee star Doolittle Calls It A Career
Camden County College welcomes Baseball Hall of Fame
South Jersey Football Games of the Week
Out & About
QB Ronnie Borden is Back in the Game
Should fans be worried for the Phillies bullpen?
South Jersey Football Games of the Week
A look at South Jersey's Top H.S. Girls' Soccer Teams
Out & About
Eagles will be fine after close call in opener
High School Football Games of the Week
Is it Super Bowl or bust for the Eagles?
What's New in South Jersey?
From New Jersey to Nashville
More...