An Inescapable Threat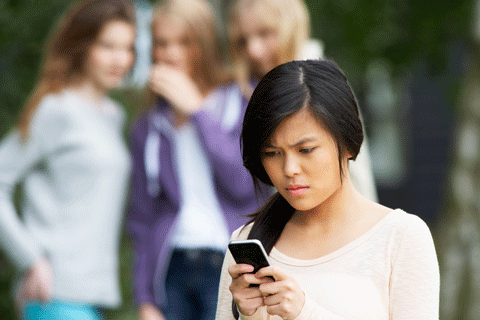 …From the pages of Suburban Family Magazine…
When bullying happens online, it can be nearly impossible for children to avoid it. But the right resiliency skills can help your child cope.
After a year and a half of being taunted and bullied online, 12-year-old Rebecca Sedwick of?Florida jumped to her death from atop a silo in an abandoned cement factory. It's a story that's recently received a lot of media attention and, while it's an extreme scenario, cyberbullying takes place every day with varying degrees of severity. Cyberbullying is any form of bullying (name-calling, threats, intimidation) that is done through the use of electronic communication, and unfortunately it's becoming increasingly common among our kids.
Bullying is certainly nothing new. Whether we were picked on or not, most of us can at least remember a schoolyard bully from our childhood. But the way bullying takes place has changed dramatically. "Bullying from our childhood never involved electronic communication," says Barbara Rakoczy, student assistance counselor and an anti-bullying specialist at Cherry Hill High School West. "Bullying from girls often took place in the bathroom and you could just avoid that space. You knew who the bully was and you could walk away. But today, with phones and the Internet, kids can't escape it. It comes into their homes; it comes into their bedrooms. Kids no longer have that private, sacred space and they feel like they can't get away."
It's a constant and ongoing issue, adds New Jersey State Police Sgt. 1st Class Gregory Williams. "A student can be alone but still be bullied on the computer," he says. "The distribution of bullying is also spread a lot faster online—and it's seen by everyone." Kevin Burke, dean of academics for St. Augustine Preparatory School in Richland, says the distribution factor is a key concern. Mean words can spread like wildfire.
"Prior to social media, negative comments made by students reached a limited number of peers," he says. "These comments were made in small group settings. In the age of social media, these comments are broadcast to many people and continue to exist in cyberspace for an extended period of time. Hence, the impact is different than a passing comment made at the lunch table or on the football field."
Many believe that these factors make the bullying that takes place in this day and age increasingly severe. Virginia Tulley, guidance counselor for The Kings Christian School in Cherry Hill, says while bullying has become less physical, it's become more emotionally damaging—and that can take a serious toll. Cyberbullies often get more aggressive with their words online than they might have in person. When hidden behind a screen or posting comments anonymously, the bully feels empowered.
"It's so much easier to type a few words and quickly hit send than to actually have to hand a note to someone, hear their voice or see their face," Tulley says. "The removal of the voice and the person-to-person contact seems to lower the inhibition. And the impact of what is said is multiplied because it can easily be forwarded to large groups or posted in a public forum."
A simple solution might seem to be to just stop looking. But Rakoczy says it's not that easy. "They have a hard time turning it off and are actually drawn into it," she says. "Phones are seductive and we're constantly checking them, and kids are the same way. Even if they're being bullied, they often become obsessed with checking for these bad messages."
Can it happen to my child?
Cyberbullying is a fairly widespread issue. Jared Scherz, Ph.D., M.Ed., ACS, a clinical psychologist in Mount Laurel, says statistics point toward the estimation that at least half of students have experienced cyberbullying. And Scherz, who has written three books on the subject, says that's probably a low estimate since many of these kids don't come forward. While boys and girls of all races and ages can be victims of cyberbullying, Scherz says middle school females are probably at the highest risk, particularly for severity.
"Girls are more insidious about their cyberbullying—doing things like leaving messages on a friend's machine for their parents to hear or pretending to be friends with somebody in order to set them up for failure," he says.
There are a number of signs to look for that may indicate your child is a victim of bullying. Scherz says any time there is a change in behavior, mood, attitude and/or relatedness, parents need to take notice. "Sometimes changes aren't easily distinguishable from normal adolescence, so continuous involvement and checking in will help alert parents to brewing trouble," he adds. "Signs can range from withdrawal to aggression, so it's difficult to be concrete. Kids are often embarrassed or ashamed to admit being bullied, so checking in with friends of your child can also yield valuable information."
It's important to realize that kids may also be afraid to admit the bullying is happening. Most of the time, the victim believes there will be worse treatment to come if they tell someone in authority about it, Tulley says. "Therefore, the target often just attempts to bury it inside—which ends up undermining their sense of self-worth and confidence. Parents should not be afraid to observe the interactions among kids and their peers from a distance, to look at texts, and to review notes and posts. Most of all, it's important to create safe and conducive times to converse with your child on this issue—both how they treat others and how they allow others to treat them and their classmates."
Getting help
Most schools are trying to be proactive about the issue. For instance, at St. Augustine Prep, cyber citizenship, consequential thinking and resiliency skills training are a focal point. "Resiliency training is a big part of fighting bullying issues," says Burke.
"This training attacks the problem from the potential victim's side. Students must learn resiliency skills to fight the negative impact of bullies. Our counseling office promotes resiliency training, which is used by our military to fight PTSD, as a set of skills that compartmentalizes events and develops resiliency to minimize the negative effects of bullying and other stress factors."
Scherz agrees that resiliency is key. "Helping a child develop confidence is a long-term process that helps them to navigate the inevitable challenges of being a teen," he says. "Learning constructive differencing is one of the most important elements that allow kids to maintain a sense of self, yet feel a part of their peer group."
Parents also need to stay up to date with the latest technology and know what sites their kids are visiting. Cyberbullying often takes place on social media sites like Facebook or Twitter. But there are also new sites and applications being developed that some parents don't even know about. The photo app Snapchat, for instance, can easily be misused for cyberbullying and "sexting." Ask.fm is another site that has become notorious for bullying. "A lot of times, parents block Facebook, but the bullying just switches to another site," Rakoczy says. "Sites like Ask.fm that allow anonymous posting can be even worse. Parents need to do their best to keep up with the sites their child is visiting and block them when necessary. Kids need to be constantly reminded that nothing is really private on the Internet and to keep private information private."
Sgt. 1st Class Williams adds that New Jersey does have the toughest anti-bullying laws in the country. If parents suspect their child is a victim of being bullied, he advises they first contact the school counselor. "Make sure the school is aware of what is going on because there are mechanisms in place within the school system to deal with bullying," he says.
While bullying itself is not a crime, harassment and intimidation are criminal acts.
There are times that cyberbullying can escalate into a harassment complaint, adds Williams. If the issue becomes one that involves police, an investigation will be done and can result in obtaining a juvenile delinquency record for the bully. States are taking the issue more and more seriously and New Jersey is helping lead the way.
But Scherz reminds us this is an extremely complex issue and it requires ongoing attention. After all, Rebecca Sedwick did tell her parents about the bullying and even sought legal help—none of which stopped it. "She eventually committed suicide to escape, showing just how difficult it is to both realize the impact and take steps to address the issue," Scherz says.
Aim to prevent bullying in your kids' lives with constant and ongoing engagement. Parents should be active and involved in their kids' lives and reinforce healthy communication skills at home. Teaching skills that help discourage bullying in the first place can be effective. But coping skills are also critical. "Parents need to stress healthy, appropriate communication," says Rakoczy. "We've become so electronically focused that we're losing the ability to talk and that's definitely part of the problem."
Scherz agrees. "The technology is evolving faster than we keep up with it, and that's definitely making things worse."
Published (and copyrighted) in Suburban Family Magazine, Volume 5, Issue 12 (February, 2015).
For more info on Suburban Family Magazine, click here.
For information about advertising in Suburban Family Magazine, click here.
To find out where to pick up your copy of Suburban Family Magazine, click here.
Article continues below
---
advertisement


---
Author:
Lindsey Getz
Archives
---
Who's Who in Health Care
Former Shawnee star Doolittle Calls It A Career
Camden County College welcomes Baseball Hall of Fame
South Jersey Football Games of the Week
Out & About
QB Ronnie Borden is Back in the Game
Should fans be worried for the Phillies bullpen?
South Jersey Football Games of the Week
A look at South Jersey's Top H.S. Girls' Soccer Teams
Out & About
Eagles will be fine after close call in opener
High School Football Games of the Week
Is it Super Bowl or bust for the Eagles?
What's New in South Jersey?
From New Jersey to Nashville
More...