5 Individual Golds at the Swimming MOC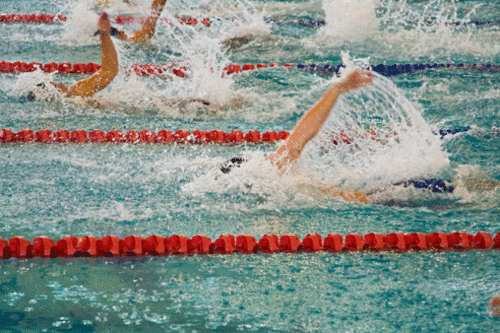 South Jersey Wins Five Individual Golds at the Swimming Meet of Champions
The NJSIAA swimming season concluded, and South Jersey ended with five individual gold medals and anther first place relay finish.
Ocean City's Amanda Nunan was the lone South Jersey double individual gold medal winner. (She also was part of a winning relay). St. Augustine's Colin McHugh set a meet record as one of three South Jersey individual boys' winners.
With eight lanes in the pool at Gloucester County Institute of Technology, many South Jersey swimmers finished in the top eight.
McHugh set the meet record in the 100-yard breaststroke in a time of 54.77 seconds. The old mark was 54.89 set last year by Montgomery's Zack Warner. Lenape's Steven Shek was second in a time of 56.15 seconds.
South Jersey had a 1-2 finish in the 100 butterfly. Shawnee's Jon Burkett won the title in a time of 49.43 seconds, beating second place David Rowe if Cherry Hill East (50.08). A senior, Burkett was the top seed in the event. Also in the race, Edwin Parks of Vineland was seventh.
Moorestown's Alex Martin won the 100 backstroke in a time of 49.46. Shawnee's Burkett was third, while Egg Harbor Township's Christian Bell was seventh.
Of the other finishes in the top eight, Rancocas Valley's Kyle Worrell was fifth in the 200 freestyle, with Vineland's Mark Novatorskiy sixth and Gloucester Catholic's Max McCall seventh.
Moorestown's Zach Fong placed third in the 200 individual medley, followed by fourth place McHugh of St. Augustine.
Vineland's Parks placed fifth in the 50 freestyle, with Clearview's Hunter McNamara seventh and Haddonfield's Michael Kurtz eighth.
Cherry Hill East's Pat Gillooly was fourth in the 100 freestyle, with St. Augustine's Luke Snyder sixth.
Yet another St. Augustine swimmer, Zach Washart was second in the 500 freestyle. His time of 4:37.45 just missed overtaking winner Aaron Schlemovit or Ridge (4:37.32). Moorestown's J.D. Schurer was sixth.
South Jersey had the 3-7 spots in the 200 free relay, with Cherry Hill East third, followed by St. Augustine, Moorestown, Haddonfield and Vineland.
Cherry Hill East was second in the 200 medley relay, with Moorestown third, St. Augustine fourth, Shawnee sixth and Lenape eighth. Cherry Hill East was also second in the 400 free relay, with Vineland third, Rancocas Valley fourth and Lenape sixth.
In girls action, Ocean City's Nunan captured the 500 freestyle, an event in which the Red Raiders placed the first three swimmers. Nunan won in a time of 4:51.75 and was followed by teammates Amber Glenn and Maggie Walker.
Nunan won the 200 freestyle in a time of 1:48.60 while Haddonfield's Sophie Fontaine was second (1:48.68). Ocean City's Amber Glenn was fourth (1:53.26).
The Red Raiders also won the 200 free relay in a time of 1:36.69. The relay consisted of Aly Chain, Nunan, Gabby Breazeale and Ryann Styer. Haddonfield placed second to Hillsborough in the 200 medley relay.
Among other top-eight finishers from South Jersey, Moorestown's Carter Orth placed second in the 200 individual medley, while Lenape's Nicole Shek was sixth and Cherokee's Jamie Bowne was eighth.
Orth was also second in the 100 butterfly in a time of 55.39 seconds.
Haddonfield's Fontaine had two second place finishes, with the other in the 100 backstroke. Lenape's Shek was eighth.
Clearview's Marissa Moskalow was fifth in the 100 breaststroke while Audubon's Nora Woods was sixth and Egg Harbor Township's Leenah Sarhan was eighth.
Ocean City placed third and Haddonfield was fifth in the 400 free relay.
© SouthJersey.com 2015. All rights reserved. This article or parts thereof may not be reprinted or reproduced by any other party without the express written consent of SouthJersey.com. For more information, please call 856-797-9910.
For more Local Sports features, visit our South Jersey Sports page.
Article continues below
---
advertisement


---
Author:
Marc Narducci
Archives
---
Phillies' Realmuto is heating up
SJ pitcher is 37th pick in MLB draft
Mainland grad fully enjoys MLB draft
Millville's Kenndy moving up the minor league ladder
Phillies not in a bad position at the All-Star break
Memorable season for Bishop Eustace baseball
TOP DENTISTS 2021
Another distinguished award for Rowan baseball program
Help Wanted
A TALE OF THREE WEDDINGS
Who's Who in Health Care
Two South Jersey pitchers headed for potential first-day selections in MLB draft
Colleges After COVID
Family Fun Outdoor Movies Events Near You
South Jersey 4th of July Shore events guide
More...