Shining Stars: Jordan Krug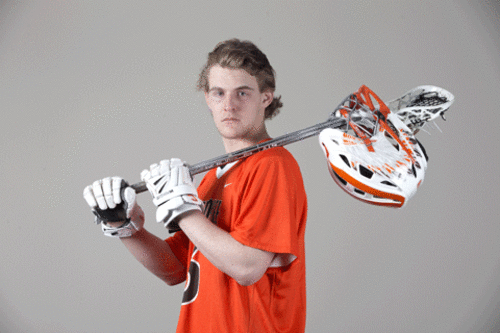 …From the pages of South Jersey Magazine…
Jordan Krug, Cherokee lacrosse
A senior attacker who was all-South Jersey in 2014, Krug has led the Chiefs in scoring the last two years. He was also a linebacker and tight end in football for Cherokee's back-to-back sectional championship teams, and was a standout wrestler during the winter.
SJM: How tough is it to go from football to wrestling to lacrosse? Would you rather have more of a break or do you like staying active the whole time?
JK: I'm real big on having something to do. I always have stuff on my plate; I'm always running around. I feel like when I slow down, everything changes. So I don't mind the quick switches. It takes me a little while to get in the mood for the next sport, but once I'm into it I just keep going, and whatever's next I just keep doing.
SJM: Have you always played all three sports since you were young?
JK: I used to play baseball before lacrosse, and I played basketball when I was real little, but I wasn't too good so my dad got me into wrestling. Ever since fifth grade, I've been doing all three.
SJM: But next year in college you're just focusing on lacrosse, right?
JK: Yes, I'm going to Cabrini College to play lacrosse. It's definitely going to be different. I'll always be checking in on football and wrestling. No matter what, I'm still going to love those sports. But it will be good for me to improve my lacrosse skill and IQ. I'll be focusing on that year round.
SJM: Did you choose to focus on lacrosse in college because you think it's your best sport?
JK: When I was younger, football was my main thing, and I was really thinking about going with that. But I just fell in love with lacrosse and it clicked once I hit high school. I knew that was what I wanted to do. Watching college lacrosse and the pros, I knew that's what I wanted to do.
SJM: What did you like about Cabrini?
JK: The team is really good and the coach is awesome. They've been in the top 10 for the last 10 years, so they're a successful team. I was looking to go somewhere we could possibly win a Division III national championship. That was really big, and the school is great. It's a really good location, and there's not too many kids, so I'll be able to focus on my education way more than I would at a big school. Also, I'm going to be able to play there. I talked to the coach, and he expects me to be playing my freshman year. I don't want to be the kid sitting on the bench for two years and then playing my junior year. I want to get in there, make an impact for the team and help everyone get better.
SJM: After leading the team in scoring the last two years at Cherokee, what are your goals for your final season?
JK: Team-wise, I want to win a championship. I think we have the perfect amount of skill that we need for this year. I really want to lead the team to a championship, and individually I want to get my 100th goal. But I'm not really looking at that, because I don't want to get too caught up with myself. I want to make sure the team is getting better.
SJM: You had a tough loss in the playoffs last year as the No. 2 seed, and you've fallen in the quarterfinals the last two years. What is going to be different this year?
JK: I think this year the whole senior class and the varsity are better chemistry-wise than we were in the past. The last two years, us younger kids were playing a lot as sophomores and juniors. Me and Timmy Carroll have been starting attack the last two years and we were just sophomores and juniors. I think this year we'll have older veterans on the team, and we all have the taste of losing the last two years. We remember how much it sucked last year, and we're all thirsty to keep on going. We're all confident enough to be able to say no matter who we play we can beat, because we can beat everyone on our schedule. And everyone can beat us, too. But we're all in the right state of mind; we're not thinking about ourselves or [college], because a lot of us have already committed. So we can all come together as one, keep our heads straight and keep going down the right road.
SJM: There are so many good teams in this area. Who do you consider some of the best players in South Jersey? Are there any particular goalies that give you a hard time?
JK: The Seneca kid [Tyler McCormack], I have a couple kids on my team that play summer [lacrosse] with him. Last year when we played them, I realized he was really good. … I think about how we lost to them last year, it was a really close game, we lost by two. So this year I have to change it up and try to score on him.
Me and a couple of the Cherokee kids played South Shore with a bunch of the Shawnee kids, and we've grown up being competitors in football and lacrosse since we were little kids. They're really talented. Curtis [Corley], the defender, is a really good athlete and he's going to Maryland for defense. That's someone who I can see my skill level when I go against him. I know it's going to be really good competition against them this year with our strong offense and their strong defense.
SJM: Do you have a favorite moment in high school sports? I guess winning back-to-back championships in football would be hard to beat.
JK: That's something that's really big and when I get older I'll always look back on that. But I think how close both the football and lacrosse teams have been, and the memories that we have [are what stand out]. Not even the stuff on the field. Of course, almost going undefeated last year [in football] and being so dominant was great, and so was making first team all-conference in lacrosse. But I think spending all this time with my friends is something I'm never going to forget, and our friendships are never going to go away. It's really tough to pick out one thing because there's so much success we've had at Cherokee.
SJM: What's the best feeling—scoring a touchdown in football, pinning your opponent in wrestling or scoring a goal in lacrosse?
JK: I think scoring a touchdown in football is probably the best. Football has been Cherokee's [best sport] for so long, and you have so many people there when you score a touchdown or make a big hit. My two interceptions last year in the championship game were really big, and that feeling of the whole crowd going nuts is great. There are so many people that have gone through the system before you have, and being able to be one of the ones that's remembered, it's definitely different than scoring 30 goals a year in lacrosse.
SJM: When you're not playing sports, what are you usually doing?
JK: Spending as much time with my family and friends as I can, just hanging out. During the summer, people are gonna start leaving left and right for school around the country. So we're trying to bond and hang out as much as we can. Obviously, I spend a lot of time with my parents and my sister too, since I'm gonna be leaving next year. It's gonna be weird not coming home to the same house and sleeping in the same bed or eating home-cooked meals. So I'm trying to enjoy the time I have of being a teen and being a kid.
SJM: At least you won't be too far away at Cabrini.
JK: Yeah, that was another good thing. I really wanted to get out of state and get a taste for a different lifestyle, but it's close enough where my dad can come up, because he's involved with everything, and my whole family can come up.
SJM: If you can look down the road a little bit, where do you see yourself in 10 years? Is there a certain job you'd like to have? Do you think you'll be starting a family yet?
JK: I've thought about it. In 10 years, I could definitely see myself trying to settle down or find someone. Career-wise, my dad is a salesman, so he can really make his own schedule and work around stuff, so he's always there for us and he's really successful at work. So I'd like to do sales. I'm really good at talking to people and selling myself and all that. I'd [also] like to stay involved in sports. I had so many people who put in the time to help make me better. When I'm 30 or older, I want to coach my kids and help out the younger players who are trying to beat my records.
Published (and copyrighted) in South Jersey Magazine, Volume 12, Issue 1 (April, 2015).
For more info on South Jersey Magazine, click here.
To subscribe to South Jersey Magazine, click here.
To advertise in South Jersey Magazine, click here.
Article continues below
---
advertisement


---
Author:
Matt Cosentino
Archives
---
Who's Who in Health Care
Former Shawnee star Doolittle Calls It A Career
Camden County College welcomes Baseball Hall of Fame
South Jersey Football Games of the Week
Out & About
QB Ronnie Borden is Back in the Game
Should fans be worried for the Phillies bullpen?
South Jersey Football Games of the Week
A look at South Jersey's Top H.S. Girls' Soccer Teams
Out & About
Eagles will be fine after close call in opener
High School Football Games of the Week
Is it Super Bowl or bust for the Eagles?
What's New in South Jersey?
From New Jersey to Nashville
More...