Shining Stars: Aine Filler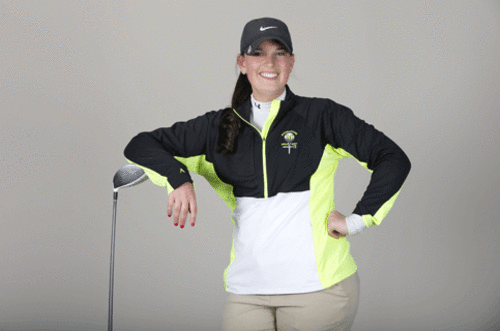 …From the pages of South Jersey Magazine…
Aine Filler, Moorestown golf
Despite just committing to the sport at the start of high school, Filler has become one of the top female golfers in South Jersey. The senior placed third at the Central Jersey Golf League Tournament and 18th at the Girls Meet of Champions last year, and will continue her golf career at Muhlenberg College.
SJM: Heading into your senior year, what are your goals for yourself and the team? Any big tournaments you're really aiming to win?
AF: I want to make it to states again, that's my goal every year. I was there last year and did really well. I think I have a good chance of winning Carl Arena, as long as I play well. We're just gonna try to win as much as we can.
SJM: Do you like playing in tournaments like Carl Arena where the boys and girls compete together?
AF: I like competing with the guys because it's good competition. But in some ways, we're smarter than the boys, because the boys just go for it, but the girls think about it.
SJM: How long have you been playing golf and how did you get started?
AF: I've only been playing for school and I started because my parents made me do a spring sport. So I picked golf.
SJM: Did you have success right away?
AF: No, my freshman season I was No. 4 [on the team]. I had to work really, really hard over that summer and I took a lot of lessons. It all paid off.
SJM: But the enjoyment was always there?
AF: Yeah, I really liked it. It's different from any other sport I've ever done. I played soccer my whole life, but golf is so different. I can just rely on myself in golf. I've learned a lot from golf. I've learned to be very independent. If I make a mistake, it's on me to fix it.
SJM: Do you get frustrated like any other golfer?
AF: I try not to get frustrated. If I do, I just think about something that makes me happy, because when you get frustrated, that's when you mess up.
SJM: Going to your happy place—did you get that from Happy Gilmore?
AF: (Laughs) Yeah, I guess.
SJM: So you have never thrown your clubs on the course or anything?
AF: Actually, I broke my driver the day before I left for a college combine because I was so frustrated. But ever since then, I fixed my frustrations.
SJM: I think that happens to everyone; it's such a challenging sport.
AF: Yeah, but that's the best part about it. It's a very unforgiving sport, but at the same time, when you succeed you just feel so much better about yourself.
SJM: Your team plays home matches at Moorestown Field Club. What do you like about that course?
AF: I wish that we got the opportunity to play at Laurel Creek like the boys, because I've been a member there for a really long time. But I like the Field Club because it is very challenging. It's very narrow and all the holes are surrounded by bunkers or water.
SJM: Do you have a favorite course in South Jersey?
AF: Probably Laurel Creek. I like Blue Heron, I like Shore Gate and Seaview is really nice. That's where they have the LPGA Shoprite [Classic].
SJM: If you could play any course in the world, what would it be?
AF: I would play Pebble Beach. I really like California, it's so different from here. It's so beautiful, all the pictures I've seen.
SJM: How about if you could play in a foursome with any three people. Who would you choose?
AF: Probably Adam Levine from Maroon 5, because I love him; Tiger Woods, because I did my research paper on him and I could tell him I did that; and I like [PLGA star] Stacy Lewis, so I'll go with her.
SJM: When you're watching the pros, can you take elements from their game and apply them to yours?
AF: I like watching the girls more than the guys because the girls are more relatable. I pay attention to what they do to focus and what they do to relax and all of their pre-shot routines, because what they do works. I try to translate that to my game and I think it helps.
SJM: Will you be playing golf in college?
AF: Yeah, I committed to Muhlenberg in Allentown, Pa. I liked it because it's academically challenging. It's like a pressure-cooker. I liked the golf team because I think I can have an impact there and I think I'll be able to succeed there.
SJM: Do you know what you want to study?
AF: I'm either going to do accounting or pre-med. I really don't know, but one of those.
SJM: Do you think you're a golfer for life now?
AF: Oh yeah, definitely. I want to play for the rest of my life. It's so much fun and you can do it forever, unlike other sports like soccer or lacrosse where you have a lot of wear and tear on your body.
SJM: What are some of your interests away from the golf course?
AF: I go to the gym a lot. I still try to play pickup games in soccer with my friends. I ski a lot and I like the beach.
SJM: What do you like about growing up in South Jersey?
AF: I like South Jersey because we're 45 minutes from the beach, we're close to Philly. You can get anywhere from here—the Poconos, New York. It's a really good location. I'm really close to my family, so I wanted to be close for college. I want them to come to all of my tournaments.
Published (and copyrighted) in South Jersey Magazine, Volume 12, Issue 1 (April, 2015).
For more info on South Jersey Magazine, click here.
To subscribe to South Jersey Magazine, click here.
To advertise in South Jersey Magazine, click here.
Article continues below
---
advertisement


---
Author:
Matt Cosentino; Photos by Tim Hawk
Archives
---
Who's Who in Health Care
Former Shawnee star Doolittle Calls It A Career
Camden County College welcomes Baseball Hall of Fame
South Jersey Football Games of the Week
Out & About
QB Ronnie Borden is Back in the Game
Should fans be worried for the Phillies bullpen?
South Jersey Football Games of the Week
A look at South Jersey's Top H.S. Girls' Soccer Teams
Out & About
Eagles will be fine after close call in opener
High School Football Games of the Week
Is it Super Bowl or bust for the Eagles?
What's New in South Jersey?
From New Jersey to Nashville
More...