Shining Stars: AJ Wright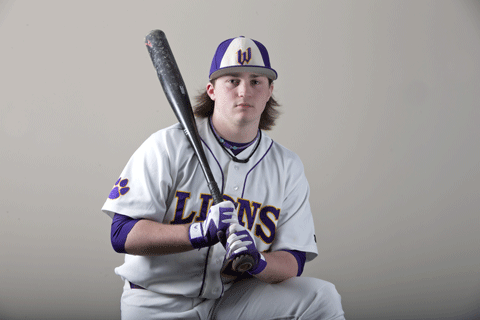 AJ Wright, Cherry Hill West baseball
A varsity starter since his freshman year, Wright is coming off a junior season in which he hit .471 with 27 RBIs and was named to the all-South Jersey first team. He will play college ball at the University of Maryland, Baltimore County.
SJM: You entered your senior season just a few hits away from 100 for your career. What does that milestone mean to you?
AW: I guess it's a good accomplishment, because it means I've been doing my job and helping the team. But we really haven't had too much success in the playoffs, so this year I'm hoping I can produce even more hits and help the team go farther and make it to a state final.
SJM: That leads into my next question. After making the all-South Jersey team and playing in the Carpenter Cup, are team goals the most important thing left for you to accomplish?
AW: Yeah, definitely. We made it to the playoffs all three years that I've been here, but we haven't made it past the second round. This is the year I feel the most confident in the team, because I think we have eight guys returning from last year. I feel really confident about our chances.
SJM: Before you were born, Cherry Hill West was a powerhouse in the late 1980s. Are you aware of that history?
AW: Yeah, we have a couple signs that get hung up in the outfield [that have] the top five or top three rankings in the [country on them]. And I know a couple guys who played on those teams, and I've gotten to talk to them about it. They said they played really well together, and it seems like they had a lot of success.
SJM: What stands out as your best memory on the field, whether it was in high school or Little League?
AW: Just playing with the guys I've been playing with; we've probably been playing together since I was 6 or 7 years old. They've become really close friends, and hopefully I'm going to enjoy this last year that I have with them. It's been a long ride and I want to end on a good note.
SJM: Who are some of the toughest pitchers you've faced in South Jersey?
AW: There's John Murphy from Gloucester Catholic, definitely. There's a couple of kids from Bishop Eustace, Tyler Phillips and Justin Hagenman. They've been conference rivals since I've been here so hopefully I get to face them again this year.
SJM: Is it tougher to face a guy who's throwing real hard or a guy who has nasty off-speed stuff?
AW: I think it's definitely harder to face a guy with off-speed stuff, because there's more diversity with his pitches than somebody who just throws in the upper 80s. I've been playing travel ball for a while, so I'm kind of used to [hard throwers], but you never really know what you're going to get from these guys with the good curveballs, sliders and changeups.
SJM: I hear your dad is a groundskeeper for the Phillies. Does that lead to any perks for you?
AW: It's cool that he gets to watch major-league ballplayers every day and he tells me all about it. I get to a handful of games each year and it's awesome to see what it's like at the pro level. I've been on the field a few times; not much recently, but when I was younger I used to go to work with him a lot. I got to take ground balls on the field a few times. I hit in the cage underneath [the stands], but never on the field.
SJM: Are there any specific big-league guys you look up to?
AW: Ever since I was young I was always a fan of Jimmy Rollins and Chase Utley because I'm a middle infielder myself, and I like to watch what they do and see if I can replicate it. They've had a lot of success at the big-league level and they give it their all every game, every pitch.
SJM: So are you comfortable at second base and shortstop?
AW: Yeah. I grew up mostly at shortstop and moved to second base around 13, so I've always had the ability to play either. For high school I've played shortstop for the most part, and travel it's been mostly second.
SJM: Was it always a dream to play college ball? What went into your decision to attend UMBC?
AW: When I was younger, probably 5 or 6, my goal was to be a major-league ballplayer. As I got older, I realized it doesn't happen to everyone, so the fact that I can play past high school and still pursue my dreams of being a major-leaguer, I just jumped at the opportunity. We'll see what goes on from there.
SJM: You never know what can happen. Looking at a guy like Dustin Pedroia of the Red Sox, who's a small guy, does that give you hope?
AW: I wouldn't say I'm the biggest guy either. I'm probably 5-10 on a good day. The fact that Pedroia and even Jose Altuve [of the Astros] are the smallest guys out there and play with the biggest hearts, that shows that there's a chance for anyone in the league.
SJM: What do you like about growing up in Cherry Hill?
AW: I moved to Cherry Hill when I was 9 from Pennsauken, and I played most of my baseball here. It's been fun. I've met most of my friends here and I can say I'm going to be friends with them for the rest of my life.
SJM: What's it like to be part of the rivalry with Cherry Hill East and do you already have those games circled on your calendar?
AW: Yeah, definitely. I actually live on the eastside of Cherry Hill, but of course I go to Cherry Hill West. I know a lot of kids from East who play baseball and other sports. It's a friendly rivalry and it's always good when you see them coming up on the schedule. The last few years we just played them once because we were in separate [divisions], but this year we're in the same [division] so we play them twice.
SJM: If you're not playing baseball, where can you usually be found?
AW: I'm a good student in school, I get pretty good grades, so that's always a priority. So a lot of times I'm doing schoolwork or hanging out with my friends.
SJM: If a pro career doesn't work out, do you see yourself staying involved in baseball as a coach or playing in a local men's league?
AW: I want to stay involved with sports in general. I'm a big sports fan—hockey, football, basketball, whatever. So I'd like to stay involved in sports.
Published (and copyrighted) in South Jersey Magazine, Volume 12, Issue 1 (April, 2015).
For more info on South Jersey Magazine, click here.
To subscribe to South Jersey Magazine, click here.
To advertise in South Jersey Magazine, click here.
Article continues below
---
advertisement


---
Author:
Matt Cosentino; Photos by Tim Hawk
Archives
---
Planning for the Unpredictable
A Chain Reaction
South Jersey H.S. Football Games of the Week
Leading Business Attorneys 2021
South Jersey High School Girls' Soccer Preview
On the Right Track
No Easy Games For The Eagles
Eastern and Cinnaminson are top girls' and boys' seeds in South Jersey Soccer Coaches Tournament
Healthy People, Healthy Business
South Jersey highschool football games of the week
Best of Home and Garden
Back to School
Ready to Take Flight
Bishop Eustace's Danny O'Rourke a model of stability
Who's Who in Real Estate
More...