Shining Stars: Chris Haruch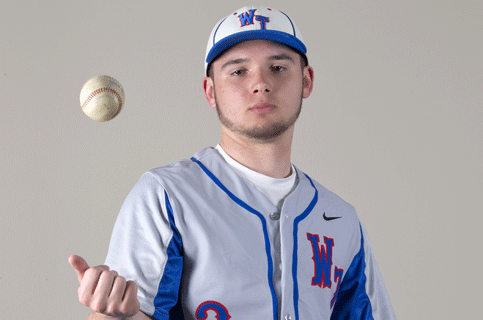 …From the pages of South Jersey Magazine…
Chris Haruch, Washington Township baseball
In his first full season in the Minutemen's starting rotation last year, this right-handed pitcher posted a perfect 6-0 record with 36 strikeouts in 40 innings. Now a senior, he is ready to take over as the team's ace before moving on to Rowan University.
SJM: Going undefeated as a pitcher is never easy, but especially with the schedule you guys play. Why do you think you were able to do it last year?
CH: It was because of our offense and our defense. The offense was able to get big leads early in games, and that's a huge part of relaxing and allowing yourself to go out there and throw strikes without trying to do too much. Defensively, I can't tell you how many double plays that were turned, and little things like that definitely made it easier on me.
SJM: In your sophomore year, you earned a big win over Vineland in the Diamond Classic. How important was that for your confidence?
CH: That was huge. To come in as a sophomore in a tournament like the Diamond Classic, it was really big. I had heard stories about it and it has all of the top teams. When I found out I was coming up, it was pretty awesome. I was nervous, but to get that win was huge.
SJM: Do you feel like you're ready to be the ace this year with the graduation of Mark Scarpa?
CH: Oh yeah, definitely. Last year, he got the conference games and I was usually the tournament guy. It kind of prepared me to take over his spot this year. I definitely think I'm ready for it.
SJM: What did you learn just being around him?
CH: Mark is the biggest competitor I've ever played with. The guy does not want to come out of a game without a win. He's a bulldog, he fights to the last pitch. Being around him and his work ethic—he never takes a day off—that was big. He always encouraged us to do an extra workout … because it would all benefit us in the long run.
SJM: How many pitches do you have?
CH: I throw a four-seam fastball, a two-seam fastball, a split fastball and a curveball. I also mix in a change occasionally. I throw the two-seam fastball more than the four-seam, and last year the curveball was probably my biggest out pitch.
SJM: Have you always been a pitcher going back to Little League?
CH: Yeah, I've always been a pitcher, but I became just a pitcher my sophomore year. That's when they told me I'd just be focusing on pitching for the program. That's when I stopped hitting, and now I get DHed for.
SJM: Does that bother you?
CH: A little bit, yeah. I kind of want to get out there. I'd like to hit again in college.
SJM: Who are some of the toughest hitters to face in South Jersey?
CH: I have some buddies in the conference that I played with last summer for Tri-State Arsenal. Guys like AJ Wright from Cherry Hill West, Ryan Shinn from Northern Burlington, Davis Schneider from Eastern. Eastern also has a freshman that's supposed to be really good, he's already committed to Maryland. I know those guys are pretty good, but for the most part I try not to really pay attention to names. I just try to go out there and throw my game.
SJM: What are you like on the mound? Do you get mad when you give up a walk or a hit, or do you try to keep your emotions in check?
CH: I think it's safe to say it's a happy medium. I definitely don't let my emotions get the best of me, but I do think they come out a little bit. I don't want anybody on base at all, so if I walk someone, I just have to go after the next hitter. I like to win every at-bat I'm a part of.
SJM: If you could pitch in any major-league ballpark, what would it be?
CH: Definitely Citizens Bank Park, just because I'm a Phillies fan and I grew up watching them. I went to the World Series games when they won and all that.
SJM: Will you be pitching in college?
CH: Yes. I had a bunch of D-I offers, including Manhattan, but I chose to go to Rowan University. I followed [head coach] Mike Dickson over there because I developed a good relationship with him. Our assistant coaches, Mike Schatzman and Rob Swift, both played under him at Gloucester County College and won a national championship. So they were big influences in me getting recognized over there. I started talking to Dickson at the end of last summer and it grew from there. He's a proven winner.
SJM: Was staying close to home a factor?
CH: Yeah, I wanted to stay in the Northeast. Rowan is only 15 minutes away for me, so it's pretty cool.
SJM: What are you going to miss about Washington Township High School?
CH: I'd say the baseball atmosphere. After four years, you build strong relationships with the coaches and I love the home field. It will be tough, but it's time to move on to college.
SJM: Your high school coach, Bill Alvaro, was a pitcher. Does that mean he's extra hard on you?
CH: He's definitely more critical of the pitchers; he's always hanging over them. Especially this year, we're very pitcher-heavy and we have a lot of good young guys. But he has a lot to offer us, so it definitely helps when your head coach is a former pitcher himself.
SJM: Do you like the fact that the pitchers are being asked to carry the team this year?
CH: Yeah, we have Rich Racobaldo and Nick Evangelista, he's a junior who came up as a freshman, so he's been here for a while. We have a sophomore, Mike Piperno, another senior, Tom Seagreaves, who's gonna be a big part of our team, and another junior, Eric Mastran, a lefty who's gonna be a huge part. I definitely like that we have a lot of pitching; it's the most pitching we've had since I've been there. It makes it easier when you have four conference games in six days, or you're coming off the Diamond Classic and the state playoffs start the next day. That's always a hectic time, trying to find a pitcher who's ready to throw. So I think being pitcher-friendly is going to be a big advantage this year.
SJM: Do you know what you want to study at Rowan?
CH: I'm going to double major in accounting and finance.
SJM: So where do you see yourself in 10 years?
CH: Hopefully I'll be in an accounting firm in Philadelphia or New York City, or even Jersey City; just somewhere in the Northeast area. I would definitely like to stay involved in baseball, maybe coach or something.
Published (and copyrighted) in South Jersey Magazine, Volume 12, Issue 1 (April, 2015).
For more info on South Jersey Magazine, click here.
To subscribe to South Jersey Magazine, click here.
To advertise in South Jersey Magazine, click here.
Article continues below
---
advertisement


---
Author:
Matt Cosentino; Photos by Tim Hawk
Archives
---
Who's Who in Health Care
Former Shawnee star Doolittle Calls It A Career
Camden County College welcomes Baseball Hall of Fame
South Jersey Football Games of the Week
Out & About
QB Ronnie Borden is Back in the Game
Should fans be worried for the Phillies bullpen?
South Jersey Football Games of the Week
A look at South Jersey's Top H.S. Girls' Soccer Teams
Out & About
Eagles will be fine after close call in opener
High School Football Games of the Week
Is it Super Bowl or bust for the Eagles?
What's New in South Jersey?
From New Jersey to Nashville
More...