Shining Stars: Gabby Fornia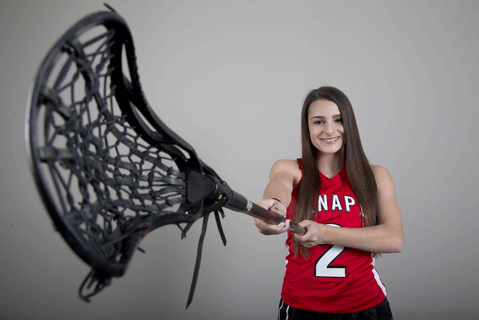 …From the pages of South Jersey Magazine…
Gabby Fornia, Lenape lacrosse
Fornia burst onto the scene last year as a freshman, scoring a phenomenal 70 goals to help Lenape set a school record with 21 wins and claim the Group IV state championship. She has already committed to Vanderbilt University.
SJM: Did you ever imagine you have that much of an impact last year as a freshman?
GF: No, I didn't even know if I was going to make the team or even play. But everybody is very welcoming and they make you feel like part of the team as soon as you get there.
SJM: Was there a moment when you realized you belonged on the varsity team?
GF: I would say the first couple of games when me and Carlee [Braverman]—we were both freshmen on varsity—started scoring goals. It became evident that we should be there.
SJM: It was such a special year, setting the school record for wins and winning the state championship. What is your best memory?
GF: I think it was after the state championship, on the bus ride home we were all singing and cheering. It was just really happy, and we took so many pictures. It was just a great way to wrap up the season, even though we ended up losing in the Tournament of Champions. We felt like we already achieved what we were aiming for.
SJM: But even in that Tournament of Champions game against Moorestown, you gave them a good game, didn't you?
GF: Yeah, we were winning in the beginning and we were excited to be running with them. This year, I think it's going to be a really tough game, but I think we can beat them.
SJM: You lost three important seniors from last year's team. Does that mean you have to take on a bigger role?
GF: I think that since the seniors are gone, a lot of people have to step up. I think the whole team is feeling the loss, but we're definitely making up for it.
SJM: How did you start playing lacrosse?
GF: I started playing in fourth grade I think. My friend Carlee [Braverman] started playing when she was in second grade, and I wanted to be just like her, so I started playing.
SJM: Did you realize early on that you had a talent for lacrosse?
GF: Well, when we first started playing there wasn't much competition, so I really didn't know what to think. As we got older, I started doing summer leagues, and that's when I started getting better.
SJM: How important has playing for South Jersey Select been for your development?
GF: There are so many good girls, and of course a lot of them are from Moorestown. They push you to be better, even though you go to different schools.
SJM: What made you pick your college so early?
GF: I was hoping I wouldn't have to pick it so soon, but the process is starting earlier and earlier. The coaches are really nice and I love the campus. I visited and I fell in love with it.
SJM: Nashville is far away, but the head coach at Vanderbilt [Cathy Swezey] is a Moorestown native and she recruits heavily in the area. Was that appealing to you?
GF: Yeah. It's really far from home, so it will be nice to have a few people in the same situation as me who are from here. [Swezey] played for K.C. Knobloch, who I play for in the summer, so it was a good connection.
SJM: You also play soccer at Lenape. What's it like being part of one of the best programs in the state?
GF: There's a lot of pressure, we always have high expectations. There will be big shoes to fill next year, we lost 11 seniors. So we're trying to recruit girls to come out and we're hoping we'll be just as good next year.
SJM: Do you love both sports equally, or is lacrosse clearly your No. 1 sport?
GF: I clearly like lacrosse better. I play soccer more for fun and to stay in shape, but I love lacrosse.
SJM: When you're not playing either sport, what do you do for fun?
GF: I do clinics in the winter for lacrosse, so I basically play all year round. When I have my offseason, I just focus on school to keep my grades up.
SJM: What do you like about growing up in South Jersey?
GF: I've always lived here and the towns are really nice. Our school is really big, so you have a lot of opportunities with school and sports. It's a great place to live.
SJM: After such a great season last year to start your high school lacrosse career, what other things are you looking to accomplish the rest of the way?
GF: I'm hoping to improve as a player, obviously, and expand my range; instead of just playing attack, I want to play midfield as well. And also I want to win more state championships.
Published (and copyrighted) in South Jersey Magazine, Volume 12, Issue 1 (April, 2015).
For more info on South Jersey Magazine, click here.
To subscribe to South Jersey Magazine, click here.
To advertise in South Jersey Magazine, click here.
Article continues below
---
advertisement


---
Author:
Matt Cosentino; Photos by Tim Hawk
Archives
---
Who's Who in Health Care
Out & About
QB Ronnie Borden is Back in the Game
Should fans be worried for the Phillies bullpen?
South Jersey Football Games of the Week
A look at South Jersey's Top H.S. Girls' Soccer Teams
Out & About
Eagles will be fine after close call in opener
High School Football Games of the Week
Is it Super Bowl or bust for the Eagles?
What's New in South Jersey?
From New Jersey to Nashville
Frustrating times for Millville's Mike Trout
High School Football Games of the Week
Hammonton's Kenny Smith off to a quick start
More...