Washington Township High School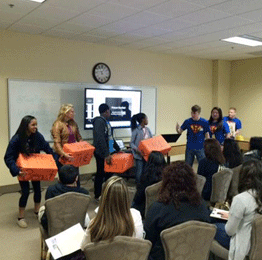 Washington Township High School's goal is to provide an educational environment for all students to gain the skills necessary to participate in our society as responsible citizens. According to the school's website, they have 243 full and part-time teachers, 10 administrators and 19 secretaries. Washington Township High School has 2,615 students.
Students at WTHS have the opportunity to take classes in subjects including Language Arts Literacy, Mathematics, Social Studies including United States and NJ history, civics, Genocide/Holocaust Studies, Science, Physical Education, Health, and Safety, Visual, Practical and Performing Arts, World Languages, and Cross Content Workplace Readiness Standards.
The school is currently celebrating the achievement of 52 seniors who have successfully obtained a Seal of Biliteracy that will be included on their high school diplomas in June. Senior Lewis Diaz qualified for both French and Spanish. Vasiliki Dinoulis, Gabrielle Di Emma, Devon Grundvig, Ali Harb, Arvind Venkataraman and Emily Wescott qualified for French. Kevin Chanaba, Koy Connors, Vanessa Fath, Carly Gallo, Alexander Hesketh, Kelly Jiao, Gina Lee, Juliana Macrini, Alexa Mangual, Daniel McKenna, Matthew Molnar, Anna Panto, Ann Park, Hannah Smith, Nicholas Urban, Maya Alejandro, Natalie Dalesandro, Ronak Desai, Anthony Guzman, Anudeep Kaur, Carmine Palladino, Chelsea Pinardo, Anthony Spadano, Sarah Uricher, John Villarante, Christopher Cozzan, Oluwadamilola Fowora, Preyash Bharat, Shannon Slough, Jennifer Somers, Justine Wilson, Diego Gutierrez, Thomas LaSalle, Julian Savelski, Philip Wall and Mahaa Ahmed qualified for Spanish. Miya Brooks qualified for Japanese. George Woodward, Taylor Ahl, Kayla Bride, Melissa Manfre, Alexandria Morris and Mackenzie Ballauer qualified for German. Ahmad Loul and Mustafa Loul qualified for Arabic.
Congratulations to the recent overall students of the month: freshman Madison Shelburn, sophomore Jessica Bodner, junior Anna Gallicchio and senior John Villarante.
The school has nearly 40 extracurricular clubs in which students can participate. The Renaissance program's mission is to encourage and empower students to reach their highest potential by recognizing and rewarding their daily efforts. This program's goal is to recognize students that show a commitment to academics, attendance, behavior and extra-curricular activities.
Members of the WTHS Renaissance Club recently attended the Penn-Jersey Jostens Renaissance Collaborative at Life Center Academy in Burlington on April 24. More than 100 teachers and students from 14 schools throughout New Jersey and Pennsylvania attended the collaborative, which offered nine different workshops for participants. Washington Township had seven Renaissance Club members present a talk called "Rally Ideas", co-presidents Kristy Kang and Jon Lucich, vice president Mark Lucich, and members Abby Haley, Kaeley Bogan and Alexis Waters.
Another annual Student Council event is the Mr. Washington Township Show. Participants this year were Koy Connors, Chris Cozzan, Dalin Hackley, Kyle Lark, Tom LaSalle, Jon Lucich, Robert Marsh, Eddie McCusker, Chris Mullen, Keesean Skinner, Ryan Waters, and Ross Wilson.
Sports at WTHS include Cross Country, Field Hockey, Football, Gymnastics, Soccer, Tennis, Volleyball, Basketball, Bowling, Cheerleading, Swimming/Diving, Winter Track, Wrestling, Baseball, Golf, Lacrosse, Softball, and Spring Track.
Washington Township's baseball team has games this week against Cherokee and Winslow Township at home and Lenape on the road. Players this season include Ryan Swift, Nick Cianci, Chris Haruch, Danny McGee, Alex Ruiz, Tim Boyle, Mario Arizzi, Alex Gattinelli, Dan Tracy, Nick DiFranceisco, Dylan Baratti, Tim Seagreaves, Nick Grosso, Rich Racobaldo, Mike Raggio, Nick Kulikwoski, Mike Piperno, Eric Mastran, Tom Seagreaves, Vinny Fanty, Gil Addeo, Nick Evangelista, Anthony Buffone and Joe Stoever.
The Washington Township Class of 1980 has scheduled their 35th reunion for Saturday, October 10 at the Wedgwood Country Club in Blackwood at 7pm. Check their Facebook page for further details and updates as the day gets closer.
Washington Township High School is located at 529 Hurffville Crosskeys Road in Sewell. For more information about the school, call 856-589-8500 or visit wtps.org/Domain/18.
© SouthJersey.com 2015. All rights reserved. This article or parts thereof may not be reprinted or reproduced by any other party without the express written consent of SouthJersey.com. For more information, please call 856-797-9910.
For more information about what's going on in our local schools and what today's students are up to, visit our South Jersey Schools page.
Article continues below
---
advertisement


---
Author:
Meghan Shott
Archives
---
Advertise with SouthJersey.com
Shawnee High School
Acting Natural
Middle Township High School
Audubon High School
Cumberland Regional High School
African American Heritage Museum
Apple Pie Hill
Attractions: N. Pemberton RR Station
Johnson's Corner Farm
Lumberton's Air Victory Museum
Lucy the Margate Elephant
Tuckerton Seaport & Baymen's Museum
Emlen Physick Estate
Cape May's Washington Street Mall
More...