Glassboro High School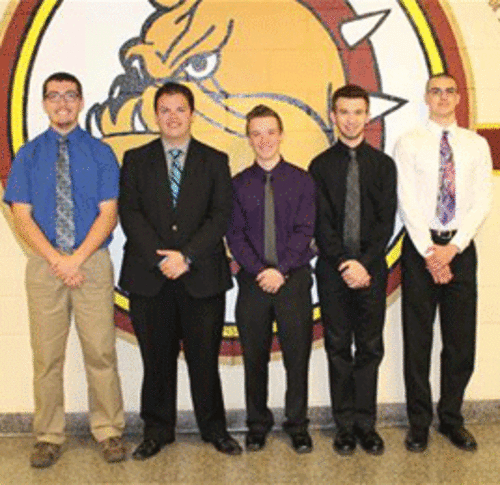 Glassboro High School is a small school in Gloucester County serving 700 students. Teachers at the school provide each student with individual attention during the school day, which is comprised of a 4 x 4 block schedule of extended learning periods. Students have the opportunity to participate in the Fine and Performing Arts Academy or the Science Technology Engineering and Math Academy.
Glassboro High School's mission is as follows: "All Students will be prepared with the skills and attitudes necessary to succeed as life-long learners, and will be competent, well rounded individuals, ready to attain productive and self-fulfilling roles in a Global Society. A partnership of Board of Education, staff, students, parents and community will ensure a commitment to the shared obligation to provide optimum opportunities for learning. Educational community members will dedicate themselves to the responsible execution of their obligations to the children, parents and citizenry of Glassboro."
By providing students with high academic standards, specialized programs, clubs, activities and technology necessary to reach achievement, Glassboro High School graduates are well-prepared for life after high school. According to the school's website, recognizing the importance of all students, they provide programs for dual college credit, inclusive education, and collaborative instruction with special and regular education teachers. Advanced placement classes and dual enrollment courses are also offered.
Glassboro High will be sending five students to the American Legion NJ Boys State Program at Rider University from June 21-26. Neil Schoenfeldt, Brenden Finley, Jacob Harrison, Jonathon Meddick and Matthew Schillaci will gain hands-on experience with elections, participate in discussions on democracy, attend college fairs and career seminars, and have sports and musical opportunities.
Congratulations to the following seniors for earning a spot on the Principal's List for the 3rd marking period of the 2014-2015 school year: Sarah Allinson, Andrew Bernard, Wen Fei Cao, Mark Carchidi, Taylor Carite, Samantha Corosanite, Dominic D'Alessandro, Kelly Dalton, Erica Devitt, Paige Durham, Kaya Durkee, Kyle Espino, Mark Fiedler, Allison Gilbert, Joseph Gramigna, Christopher Grillo, Jennifer Hopkins, Enrica Iacovone, Kaitlin Kortonick, Kristine Kortonick, Jonathan Logan, Brianna Lucidonio, Kasey McCarver, Melissa McWilliams, Gabrielle Monahan, Brandon Muzyka, Gregory Nazarewycz, Corrina Pereira, Francis Ramirez, Shannon Redmond, Druscilla Rogers, James Schmittinger, Christian Schneider, Morgan Servis, Victoria Shute, Michael Silvestro, Eden Texidor, Kristine Tranchina, Sarah Unger, Brittany Wigglesworth, Na'eemah Williams and Sa'Miyah Wright.
According to Glassboro's website, the Renaissance Program is part of a national effort to recognize academic excellence, continuous improvement and citizenship. Glassboro's group meets monthly and is involved in several events during the academic year, including the April Peoples' Choice Awards, pre-Prom events, and the Mr. Glassboro contest. Every student at Glassboro High School is eligible to earn a Renaissance Card, which entitles them to special privileges at school and even community discounts.
Earlier this month, Glassboro High School inducted thirteen new students into the National Arts Honor Society. New inductees included Mark Carchidi, Sidney Corsey, Morgan Davis, Casey Donovan, Anna Haltiwanger, Jonathan Logan, Alexis Khieu, Savannah Markert, Ava Powell, Peter Salugao, Megan Selfridge, Sarah Unger and Micaela Woerner. These new members join current NAHS members Bianka Corsey, Erica Devitt, Alisha Donnell, De'von Downes, Noah Johnston, Ashley Kulikowski, Kasey McCarver, Megan Ritter, Maya Thomas, Nicole Thompson, Emily Toy and Brittany Wigglesworth.
Many talented musicians attend Glassboro High School and participate in groups such as chorus, orchestra, band, marching band, and the Tri-M music club.
Athletics at the school include baseball, basketball, cheerleading, cross country, field hockey, football, golf, soccer, softball, swimming, tennis, track & field, winter track and wrestling.
The Glassboro baseball team is wrapping up a great season. Players on the team include Andrew Bernard, Brandon Corson, Brandon Muzyka, Bryan Kane, Chris Maldonado, Danny Guerin, Dominic D'Alessandro, Eric Gilbert, Jim Lord, Jim Schmittinger, John Oberkehr, Juliano Morrone, Justin Perry, Ken Dobbins, Kenyonn Jones, Larry Brown, Mark Fiedler, Mike Maldonado, Neil Schoenfeldt and Tom Villec.
Glassboro High School is located at 550 Joseph Bowe Boulevard in Glassboro. For more information about the school, call 856-881-2200 or visit their website at glassboroschools.us/glassborohs.
© SouthJersey.com 2015. All rights reserved. This article or parts thereof may not be reprinted or reproduced by any other party without the express written consent of SouthJersey.com. For more information, please call 856-797-9910.
For more information about what's going on in our local schools and what today's students are up to, visit our South Jersey Schools page.
Article continues below
---
advertisement


---
Author:
Meghan Shott
Archives
---
In Good Health
2017 Executives of the Year
Superior Sandwiches
Raise a Glass
Impressive New South Jersey BBall HOF class
The Promise of Public Transportation
Empowering the Next Generation
Singles: January 3
River Revitalization
Spreading Cheer
Singles: December 27
Winter Retreat
Are Holiday Parties Back in Favor?
Support System
Singles: December 20
More...