20 Under 40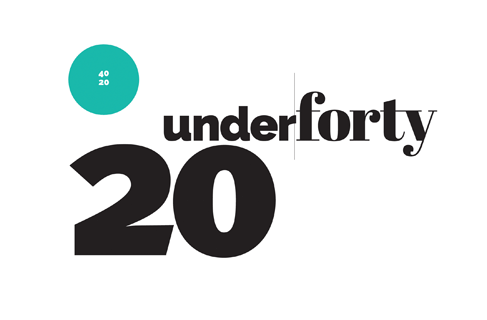 …From the pages of South Jersey Biz…
When it comes time to compile our 20 Under 40 list each year, we are always amazed by the accomplishments the young professionals in our area have achieved. From law firm partners to company presidents to shareholders, we're reminded again that age truly is just a number and we can all accomplish whatever we put our minds to.
Having received more online nominations this year than ever before, we also realize that more and more young professionals are aiming high in their fields, and choosing 20 to highlight is a challenge. We're excited to present this year's list to you, and we can't wait to see how this year's group continues to bring positive change to the South Jersey business climate.
Gina Iacoviello Perazza
36, Vice President and Store Manager, Republic Bank
Iacoviello Perazza joined Republic Bank in November 2013 after spending over 16 years with TD Bank and has not looked back. She has made it a priority to build business relationships and promote the bank to the best of her ability, and is now managing a team of 10 and helping to grow the bank's core deposits by $77 million. Also an active member of her Cherry Hill community, she was recently named to the board of the Cherry Hill Regional Chamber of Commerce.
Future goals: "My future goals are to grow and flourish with Republic Bank, raise my family and become a role model for women within the community."
Adrienne Onorato
26, Director of Marketing, The Alloy Silverstein Group
Onorato is living proof that internships can lead to something greater. While still in high school, she worked as a marketing intern at the Alloy Silverstein Group, and after graduating from Rutgers-Camden she became the company's first full-time director of marketing in 2011. She later achieved a master's degree in professional and business communication from La Salle University. Onorato is active in the community as a member of the Image Committee for the YMCA of Camden and Burlington Counties, as well as the young professional committees for both the Camden and Burlington counties' chambers of commerce.
Alternate job she'd enjoy: "While it's not a job per se, I'm a volunteer foster parent for the Burlington County Animal Alliance and I'd love to do whatever I can to spend more time with dogs, especially those in need. Anyone that knows me knows my love for my little dachshund."
Ryan Bailey
38, Executive Vice President, TD Bank
Bailey may be one of the youngest executives at TD Bank, but his youth does not indicate inexperience. Having spent the last 14 years in the financial services industry, and with an MBA from Western Michigan University, he brings a business mind to the table that has helped him find success in his position. Bailey says he'd eventually like to have a CEO title, which, considering how quickly he reached the level of EVP, could happen quite soon.
Keys to success: "I believe empathy is the most important thing to have in business. Once you put yourself in their shoes, you can understand what both your customers and your employees want."
Philip Corradino
39, Vice President/Market Director, Beneficial Bank
Corradino's success in the financial industry began 19 years ago, when he started working as a part-time teller while a student at Rutgers University in New Brunswick. He returned to the industry a few years after graduation and now oversees nine branches and more than 70 employees. He also helped co-found and is now the volunteer CFO for the nonprofit Checking for Charity, which started off with a single adult ice hockey tournament and now operates tournaments on the East and West coasts, has raised more than $150,000 and has been recognized by the NHL and the Philadelphia Flyers.
Keys to success: "Working with great people, learning from great leaders and never believing there's a ceiling in what you can accomplish."
Mark Iaconelli Jr.
34, Attorney, Law Offices of Scott H. Marcus & Associates, PC
A lifelong resident of Washington Township, Iaconelli earned bachelor's and master's degrees from Rutgers University-Camden before attending the Rutgers-Camden School of Law. After graduation he served as legislative aide to State Senate Majority Leader Stephen Sweeney and was also confidential aide to Gloucester County Clerk James Hogan. He joined Marcus & Associates in 2013 and represents clients in various commercial matters, including collection issues, construction and contractual disputes, and real estate transactions. Iaconelli also gives his time to several political and business organizations in the area, serving as president of the South Jersey Young Democrats and director of government awareness for the Washington Township Chamber of Commerce.
Alternate job he'd enjoy: "Working in the front office for a professional sports organization"
Vincent D'Agostino
30, Shareholder, Foundation Title
Since beginning his career in public accounting in 2007, D'Agostino has managed to work his way up the corporate ladder rather quickly, starting in full-service accounting firms WeiserMazars and The CPA Firm before making his move to Foundation Title in 2012, all before his 30th birthday. A licensed title producer in both New Jersey and Pennsylvania, D'Agostino—who calls Woolwich Township home, along with his wife Danielle and son Lewis—also serves as treasurer of the Gloucester County Bar Foundation and is a member of TriState Realtors Commercial Alliance, and the Builders League of South Jersey.
Alternate job he'd enjoy: "Alaskan hunting guide"
Mark Heenan
31, President, Hessert Construction Group
As president of Hessert Construction Group, a third-generation construction company serving medical, education and commercial clients with project sizes ranging from $500,000 to $30 million, Heenan has helped maintain the company's family sensibilities, but also kept it innovative. After his graduation from the University of Delaware, Heenan joined his uncle, Bill Hessert, at the family company as a full-time employee after spending his summers and winter breaks in high school and college working in the field and office. Heenan and his uncle then spearheaded the formation of H2 Contracting after observing an opportunity in the renewable energy market, firmly rooting the company—and Heenan—as innovators in the industry.
Keys to success: "Honesty, hard work and a great team that takes immense pride in our work."
Amy E. Rudley
36, Partner, Cooper Levenson
At Cooper Levenson, Rudley focuses on employment, hospitality and casino law, defense litigation and premises liability, and even helps guide clients through the process of drafting employee handbooks and daily employment decisions and practices. She serves as a board member of the Pitman Education Foundation, is a volunteer for the Metropolitan Business and Citizen Association's scholarship committee, a member of the marketing/membership committee of the Southern New Jersey Development Council, and is a volunteer for Gilda's Club, where she provides legal counsel and advice.
Biggest obstacle she's faced: "When I was in high school, my dad passed away after a long illness. It was obviously a difficult time for me and for my family, but we were able to pull through. My mom deserves a lot of credit in making sure that it did not derail me or my brother and I am very thankful for the amazing person that she is."
Julia Brines
33, Assistant Vice President, Business Development Officer, Liberty Bell Bank
As assistant vice president and business development officer for Liberty Bell Bank, Brines has her hands full not only developing new retail and commercial opportunities, expanding existing client relationships and increasing core deposit growth, but she also mentors managers and their teams on identifying internal sales opportunities and the importance of service for retention. She also is the face of Liberty Bell at community events, increasing brand awareness and promoting a positive image of the bank.
Biggest obstacle she's faced: "Balancing work life and home life"
Jake Buganski
32, Executive Director, South Jersey Tourism Corp./Visit South Jersey
With Buganski at the helm, the South Jersey Tourism Corp.—known to many as Visit South Jersey—has become a booming attraction for tourists coming from out of state as well as locals looking for nearby resources. He joined the company in 2007 as director of communications and technology before being promoted to executive director in 2009. Since then, he has helped launch a future campaign for our area, with a recent focus on South Jersey's blossoming wine region.
Alternate job he'd enjoy: "Starting a vineyard and winery at the farm where my father grew up in Cumberland County, and working there alongside my friends and family."
Teresa Sydorko
28, Social Media Director, Delco Development
In today's digital age, growing a company's online presence is important. As social media director for Delco Development, Sydorko is responsible for the online presence of the real estate firm as well as five hotels, including Aloft Mount Laurel. Under Sydorko, Delco Development's hotels have seen growth in all Web presence. She is also active in the community, not only as chair for the Burlington County Regional Chamber of Commerce Young Professional Network, but also as volunteer national communications director for the Alpha Xi Delta sorority.
Keys to success: "Having passion. The most successful people I know are passionate about what they do. Energy is kinetic. When you are excited about your business you attract potential clients, coworkers and even potential employers."
Joe Rehm
37, Executive Vice President and Chief Lending Officer, Capital Bank
Rehm began his banking career as a teller with Woodstown National/The Bank, working his way up the company in just 10 years and being named vice president of commercial lending before stepping into his most recent role at Capital Bank. A family man and father of three, Rehm also serves as the president of the Gloucester County YMCA board of directors, vice chairperson of the Gloucester County Chamber of Commerce board of directors, and member of the Gloucester County Institute of Technology Academy of Finance's advisory board.
Keys to success: "I think being thoughtful, honest, direct and hardworking are keys to success. People who are successful generate those personal traits. You wouldn't choose to do business with someone who didn't."
Kevin M. Bush
39, President, Source4Teachers
Formerly serving in business development for Sodexo Corporation and Aramark—both of which work with schools across the country—Bush was named the president of Source4 Teachers in 2007 and formed the board of directors in 2009 and has since helped provide schools all over the area with a variety of resources, including substitute staffing, training tools and development opportunities. Outside the office, Bush serves on the board of directors for the YMCA of Burlington and Camden Counties, the board of trustees for the Camden City Schools Education Foundation and the advisory board for the Cherry Hill Education Foundation.
Future goals: "Taking [Source4Teachers] from $200 million to $1 billion in revenue; also ringing the opening bell [at the New York Stock Exchange]."
Brian Wolford
39, Manager of Strategic Planning and Marketing for South Jersey Energy Solutions
Wolford successfully conceptualized and launched the marketing department at South Jersey Industries, a publicly-held energy services holding company. His initiatives have raised revenues, increased customers and reduced administrative costs. Wolford also helped create a career development program to broaden the skill set of new marketing analysts, as well as help them build professional relationships.
Biggest obstacle he's faced: "Career changes. While getting an advanced degree is difficult, and entering new fields is a challenge, such challenges can be energizing if you embrace them. I have made several changes and each challenged me in new unexpected ways, but made me a better person."
Ryan J. Petrizzi
38, Vice President of Consumer Markets and Sales Operations, AmeriHealth New Jersey
As vice president of consumer markets and sales operations, Petrizzi is responsible for end-to-end oversight, accountability of consumer markets, membership growth and retention within consumer markets. In his various roles with the company—he was previously in sales operations and small markets for AmeriHealth New Jersey—Petrizzi has been credited with helping to shape the company's health care reform exchange strategy. He also finds time to give back—he is vice chair of the New Jersey Association of Health Plans and vice president of the Burlington County Special Services School District Foundation.
Biggest obstacle he's faced: "Working through the implementation of the Affordable Care Act was one of the biggest challenges I have ever faced professionally. There was so much uncertainty since it was completely new to the entire health care industry. As with any challenge, there is opportunity to learn and looking back I now consider that experience one of the most rewarding in my career."
Justin Van Fleet
35, Partner, Friedman, LLP
Since joining Marlton-based accounting firm Friedman, LLP, more than 10 years ago, Van Fleet has served clients in a variety of industries including manufacturing, telecommunications and technology. He played an integral role in building the firm's public companies service practice, helping publicly held companies navigate their needs. Van Fleet was named partner this past January and relocated to the South Jersey office, where he hopes to help expand Friedman's name throughout the community.
Alternate job he'd enjoy: "If I could do any other job, I would want to be a sports agent. I love all aspects of sports, but this would allow me to explore the business side of athletics."
Stephanie Sanderson-Braem
38, Attorney, Stradley Ronon Stevens & Young LLP
Sanderson-Braem grew up in Lackawanna County, Pa., the daughter of a trust and estates attorney. Seeing her father's commitment to his clients and his community was an inspiration from a young age, and after earning an undergraduate accounting degree and spending time as a tax associate, she decided to make the law her career. She specializes in estate and tax planning as well as estate administration for high net worth clients. She also serves on the Board of Directors for the Cherry Hill Library, Covenant House Pennsylvania and the Philharmonic of Southern New Jersey.
Alternate job she'd enjoy: "I would love to be a professional ballerina."
Roy Leitstein
39, CEO, Legacy Treatment Services
Leistein started his professional career in social services while serving in the United States Army and volunteering for the Exceptional Family Member program. He continued his work in social services after his discharge, and last year helped organize the merger of two organizations that left him as the head of a $45 million company with over 700 employees and 10 locations that serve New Jersey's most vulnerable and at-risk children, youth, adults and families with residential, behavioral and mental health needs.
Future goals: "I would love to say that I have helped a million people in my lifetime. Whether that be staff, children, or adults—I am driven to help people and my future goals all involve helping make that happen."
Alicia Truman
28, Head of Marketing, Educational Information and Resource Center (EIRC)
Truman has always been interested in the behind-the-scenes work that goes into planning a major event like the Super Bowl. That led her to study marketing at Rowan University, where she earned her bachelor's and master's degrees and was involved in student marketing positions and internships. At EIRC, she helps represent the brand of an organization that provides educational programs and services throughout the state. Truman monitors all of EIRC's social media platforms, coordinates community events such as Toys for Tots, and recently helped give the agency's website a complete makeover.
Keys to success: "Passion—you have to love what you are doing and really care about it to give it your all. [And] a positive attitude—a positive attitude is not only contagious, but will help you excel in your tasks and goals. [Like] everyone, I have faced many obstacles, but I kept a strong spirit to be able to achieve my goals and set new ones."
RJ Tallarida Jr.
31, Associate Vice President for University Advancement and Executive Director of the Rowan University Foundation, Rowan University
After graduating from Temple University, Tallarida worked in government as a deputy chief of staff for a member of the U.S. House of Representatives for three years. But this son of a university medical school professor also wanted to be involved in education, so he joined Rowan in 2008. In his current leadership role—which he's held since 2012—he oversees such areas as fundraising, alumni engagement, advancement services and foundation events. Tallarida, whose wife is a cancer survivor, also devotes time to the American Cancer Society.
Future goals: "I would love to lead a university's successful comprehensive fundraising campaign. These multi-year strategic campaigns are designed to fund specific university goals and advance educational excellence, and I would relish the opportunity to be a part of something that would have such a broad and lasting impact."
Published (and copyrighted) in South Jersey Biz, Volume 5, Issue 5 (May, 2015).
For more info on South Jersey Biz, click here.
To subscribe to South Jersey Biz, click here.
To advertise in South Jersey Biz, click here.
Article continues below
---
advertisement


---
Related Articles
---
Author:
Editorial Staff--South Jersey Biz
Archives
---
Who's Who in Health Care
Former Shawnee star Doolittle Calls It A Career
Camden County College welcomes Baseball Hall of Fame
South Jersey Football Games of the Week
Out & About
QB Ronnie Borden is Back in the Game
Should fans be worried for the Phillies bullpen?
South Jersey Football Games of the Week
A look at South Jersey's Top H.S. Girls' Soccer Teams
Out & About
Eagles will be fine after close call in opener
High School Football Games of the Week
Is it Super Bowl or bust for the Eagles?
What's New in South Jersey?
From New Jersey to Nashville
More...