Life Center Academy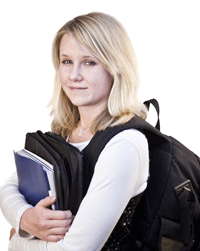 Life Center Academy is a ministry of the Fountain of Life Center. The school exists to provide students a quality education based on a biblical perspective in a Christian environment. Life Center Academy, established in 1975, sits on a beautiful 106-acre campus and includes a preschool, elementary school, and an upper school for a total of 371 students.
LCA offers College Preparatory classes, a daily Bible class, weekly chapel service, a senior mission trip, and service projects. The average class size is 25 students. Eighty-five percent of Life Center Academy graduates go on to four year colleges or universities, and 15% of grads attend two-year programs.
The goal of LCA is to allow each student to build a personal relationship with God while helping the student to reach his or her maximum potential and be prepared for adulthood after high school while being lead by God. According to the school's website, Life Center Academy believes that family is an essential component in training the student, not just teachers at school. In order for a student to be successful, they must have full support from their family and peers.
The school offers extracurricular activities like Yearbook, School Newspaper, Senior Service Club, Choir, Worship Team, Ensemble, Book Club, Science Club, Spanish Club and National Honor Society.
LCA's Renaissance Club hosted the Penn-Jersey Jostens Renaissance Collaborative on Friday, April 24. More than 100 students and teachers from 14 schools in New Jersey and Pennsylvania attended the event called "Under Construction: Building a Better School Spring Conference."
Sports at Life Center Academy include Soccer, Cross-Country, Cheerleading, Basketball, Baseball and Softball. The school has basketball and volleyball courts in a new gym facility as well as two outdoor soccer fields, an indoor soccer field, four basketball courts, a baseball field, a softball field, and a student strength and conditioning facility. Students at the school have gone on to participate in athletics at Rutgers University, Eastern University, Mars Hill College, Burlington County College, Valley Forge Christian College, University of Nebraska, University of Massachusetts, University of Colorado, Old Dominion University, La Salle University, Southern Connecticut, Valparaiso University and Evangel University. Several players from the boys basketball program are playing professionally in Spain, France, Italy and Africa.
Current players on the LCA softball team include Yoon Kim, Damaris Pantoja, Savannah Cosme, Jasmine Boyer, Jordyn Clarke, Annabell Gabsi, Ny-jah Bell, Kristina Michalski, Elizabeth Reyes, Celena Cotton, Kendall Trotman and Okaris Lopez.
The boys basketball team ended their season with a record of 18-9. Players included Dennis Tunstall, El Khana Hidalgo, Ibrahim Kayode, Malik Ellison, Maurice Williams, Nysier Brooks, Terquin Mott, Traci Carter and Yeshua Powe.
The girls basketball team also included many talented players such as Aliyah Jeune, Danielle Tunstall, Winnie Tyobee, Grace Simmons, Akiene Reed, Michelle Nocholls, Theresa Ekhelar, Azeezat Fatunbi and Aneesa Rippe.
Earlier this month, LCA shooting guard Malik Ellison committed to play basketball at St. John's University next season. Malik chose this school over South Carolina, Minnesota and Rutgers. He's the son of former NBA star Pervis Ellison.
Life Center Academy can be found on both Facebook at: https://www.facebook.com/pages/Life-Center-Academy/394248394012258 or Twitter at: https://twitter.com/LifeCenterAcdmy.
Are you a Life Center Academy alum? If so, check out http://www.lcanj.org/alumni-home to update your information and stay informed on alumni events.
Life Center Academy is located at 2045 Burlington-Columbus Road in Burlington. For more information about the school, visit lcanj.orgor call 609-499-2100.
© SouthJersey.com 2015. All rights reserved. This article or parts thereof may not be reprinted or reproduced by any other party without the express written consent of SouthJersey.com. For more information, please call 856-797-9910.
For more information about what's going on in our local schools and what today's students are up to, visit our South Jersey Schools page.
Article continues below
---
advertisement


---
Author:
Meghan Shott
Archives
---
Advertise with SouthJersey.com
Shawnee High School
Acting Natural
Middle Township High School
Audubon High School
Cumberland Regional High School
African American Heritage Museum
Apple Pie Hill
Attractions: N. Pemberton RR Station
Johnson's Corner Farm
Lumberton's Air Victory Museum
Lucy the Margate Elephant
Tuckerton Seaport & Baymen's Museum
Emlen Physick Estate
Cape May's Washington Street Mall
More...