Side Dish: June 2015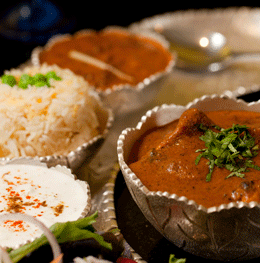 …From the pages of South Jersey Magazine…
Quick Bite: Chicken Pepper Chettinad
Indiya
Collingswood
Haddon Avenue's Indian eatery serves up this warm and slightly spicy curry loaded with cracked black pepper and aromatic fennel. It's served alongside delicately seasoned basmati rice and a lentil stew called dal makhani, all of which create a balanced plate bursting with flavor. No matter what you choose to order, be sure to grab some fresh-baked naan bread for dipping.
Key Ingredient: Radish
Spring is officially upon us: Farmers markets are open, home gardens are finally starting to bud, and plenty of produce is back in season. Like radishes; these tiny little bulbs can get overlooked in the veggie world, but they make a perfect, crispy addition to any salad or heavy plate. Looking to give the radish a second chance? Check out these dishes.
Pollo tacos with julienned radish Distrito, Moorestown
Takoyaki, or octopus dumplings with bonito flakes, radish, katsu sauce and kewpie mayonnaise Fuji, Haddonfield
Fried white radish patties Shangri-La, Cherry Hill
Lunch Under $15: Mullica Hill
It's hard not to feel comfortable in Mullica Hill; from the dozens of antique shops to the winery and neighborly feeling main drag; it all makes the town a great place to escape on a sunny day for a quick lunch. Check out a few of these spots when on the hunt for your next bite.
1. Panini
You can take your pick from a variety of meats, cheeses and toppings to custom-create your own panini, like our personal favorite: chicken breast, mozzarella and roasted peppers. It all comes on focaccia bread, or a bagel if you'd prefer. $7.09 at Village Bagels, 108 Swedesboro Road
2. Porcetta Stromboli
Pizza dough gets loaded up with thinly sliced pork made in-house with its au jus, combined with sharp provolone cheese, sautéed broccoli rabe and spinach, and is then rolled up into a stromboli and baked. $10.50 at Marino's of Mullica Hill, 157 Bridgeton Pike
3. Harvest Salad
Being in the heart of Gloucester County always leaves us wanting something green. Feel free to skip the pizza and cheesesteaks for this fresher offering, featuring crisp apple, dried cranberries, walnuts and blue cheese over a fresh spring mix. $10.95 at Naples Pizza, 2 S. Main St.
4. Cavatelli Pasta Spicy Sausage
Blueplate prepares all their pastas in-house, like their cavatelli. The pasta gets sautéed with andouille sausage, Parmesan cheese and a delightfully creamy tomato fondue sauce. $9.25 for a small at Blueplate, 47 S. Main St.
Fast Food
The Red Hen in Swedesboro has rolled out a new breakfast menu, featuring dishes like baked eggs and goat cheese, a burrito omelet and their own take on eggs Benedict.
Flying Fish Brewing Company in Somerdale has come out with a line of canned beers to coincide with their bottled product.
The famous New York City cheesecake bakery Junior's has announced that it will move from its flagship location in Brooklyn to Burlington Township. The bakery plans to open in July.
Collingswood's Sapori is expanding to include a 40-seat outdoor patio, pending planning board approval.
Burlington will soon be home to the area's newest brewery. Third State Brewing—founded by members of Barley Legal Homebrewers group, whose members have also created Village Idiot Brewing Company and Spellbound Brewing Company in Mount Holly—has already begun holding soft openings in their location.
The popular Philadelphia breakfast eatery Sabrina's Café has announced plans to open a new location at the former Welcome Market on Collingswood's Haddon Ave.
National personal pizza chain Pie Five Pizza Co. has signed a deal to open 24 new locations along the East Coast, with a location already in the works in Cherry Hill. Pie Five is a fast casual eatery that allows guests to customize their pizzas from cheese to toppings and crust varieties.
Extra Plate: Tacconelli's
Tacconelli's has been a family pizza institution in Greater Philadelphia for decades, but the legendary business became a South Jersey staple when Vince Tacconelli and his wife Doris set up shop in Maple Shade back in 2003 to be closer to their suburban home. Originally across from the Moorestown Mall, the Jersey outpost stuck to the basics: a handful of pizzas and salads and not much else.
Last year, Tacconelli's moved to a new location along Maple Shade's Main Street to better accommodate their always bustling crowd of loyal diners. The new space is almost double the size of their original (128 seats and two private dining rooms) with chic red walls, modern décor and plenty of seating. It's much more of a relaxing BYOB than pizza joint.
But pizza is still the star, and quite frankly, few can make a pie like Tacconelli's. There's the classic red, white and tomatoe pies, and a handful of specialty pizzas. The signature pie is a true standout—a garlicky number topped with squared slices of mozzarella, spinach, chopped tomatoes and cooked until crispy and crackling. It is a measuring stick for all other solid pizzas in the area.
The new digs also brought some new menu items, thanks to Vince's son who shares both his name and passion for cooking. The younger Tacconelli is a CIA New York graduate and has shown great flair in executing homemade pastas like gnocchi, cavatelli, and a monthly rotating ravioli special. You may even find tasty specials like fontina-stuffed meatballs to further whet your appetite.
The pasta is supremely fresh, as are the sauces (gorgonzola, pesto, Bolognese or blush tomato basil). There are really no bad combinations, but the cavatelli with pesto is particularly memorable, as the long, tubular pasta catches just the right amount of fresh, earthy sauce without being overpowering. The final touch of whole pine nuts adds a nice crunch, and a generous sprinkling of Parmesan provides just the right hit of salt.
What started as a traditional pizza joint has evolved with a gorgeous new space and some unforgettable menu additions that can please anyone from a true foodie to your pickiest little one. Tacconelli's has managed to create a family-friendly setting with an upscale vibe that sets the scene for a really stellar meal. It's a good thing they now have the extra space, they're certainly going to need it.
Published (and copyrighted) in South Jersey Magazine, Volume 12, Issue 3 (June, 2015).
For more info on South Jersey Magazine, click here.
To subscribe to South Jersey Magazine, click here.
To advertise in South Jersey Magazine, click here.
Article continues below
---
advertisement


---
Author:
edited by Erica Bauwens
Archives
---
A TALE OF THREE WEDDINGS
Timber Creek's Leary heads to Illinois
One of Us
The Weekender
Hometown Flavor
Hoop Dreams
Symon Says
Food & Drink: Raise a Glass
Off the Ice
Rewarding Work
Dig This
The Berlin Cemetery
A Southern Mansion
Fire on the Morro Castle
Pine Barrens Fire of 1936
More...