Pretty Little Activist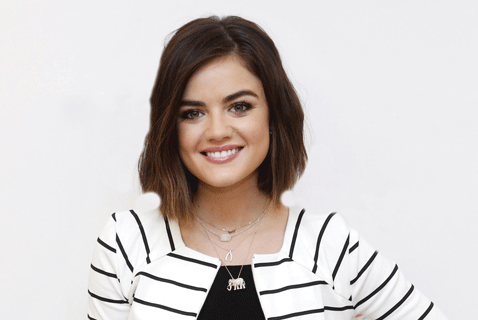 …From the pages of South Jersey Magazine…
Lucy Hale is more than just the star of ABC Family's hit Pretty Little Liars or a budding country music artist. The phenom amongst the teen set recently visited South Jersey to raise awareness of a cause close to her heart.
She's one of the stars of Pretty Little Liars, the ABC Family show about a foursome of high school students being tormented by an anonymous villain only known as 'A,' a show that has amassed a massive fan base both stateside and internationally since its premiere in 2010. She's a budding country music artist, having released her first album, Road Between, in June 2014. And she is one of the most-popular users on Instagram—the 41st-most followed user by last count—with a staggering 8 million followers.
But Lucy Hale isn't just another pretty little face.
Last month, Hale visited Haddon Heights Baptist Regional School to speak about meningococcal meningitis, as part of the "Boost the Volume" competition to raise awareness of the importance of teens getting fully vaccinated against the disease. While in South Jersey, Hale performed with the school's a cappella group and winners of the challenge, Vocal Forte, and met with meningitis survivor Jamie Schanbaum, who was diagnosed with meningitis at age 20.
Hale has been a vocal advocate of teens getting fully vaccinated against the deadly, yet preventable disease—according to the Centers for Disease Control and Prevention, about 78 percent of teens ages 13-17 get the first vaccine, but less than 30 percent get the recommended booster shot, or second dose.
The starlet sat down with South Jersey Magazine and sounded off on everything from her Pretty Little Liars' fame to why this cause is important to her to her budding country music career.
SOUTH JERSEY MAGAZINE: So tell me how you got involved with the Voices of Meningitis health initiative?
LUCY HALE: Well, a little back story on Voices of Meningitis: It's been around spreading awareness of the disease and [advocating for] prevention for about seven years. This year, they wanted to do something a little different, so that's where I and the "Boost the Volume" initiative came in, challenging high school [a cappella groups] to come up with a medley of songs to perform. The whole foundation was how to live your best life, but also to prevent this rare, deadly and preventable disease.
I love music and believe in the power of the music. But I'm also aware of the people who support me and the people we are trying to reach here are teens. And I really care about them, and I'm passionate about the cause. I was also shocked to learn the low statistics of teens who are getting the second [booster] vaccine.
SJM: Let's talk about Pretty Little Liars–did you ever expect it to be the smash hit that it is today?
LH: I knew right off the top after reading the first script and meeting the cast that my life was about to change in a very positive way. But I don't think that any of us really expected the international hit it was going to be. [Pretty Little Liars] is really big in the United States, but I just went to an event in New York and met so many people from so many different countries that love and watch the show.
SJM: Do you think part of the show's success is due to social media?
LH: I think the steady increase of social media really began when our show launched, so we have grown with things like Twitter and Instagram. I think our show is the most tweeted-about show ever, something crazy like that. Social media in general is such a great tool for self-promotion or getting the word out for things like this campaign. Not only just, 'Hey, watch Pretty Little Liars,' but spread the word about [a specific cause]… and you can really make a difference.
SJM: Did you know you were something like the 41st most-followed person on Instagram?
LH: [Laughs.] I didn't. I guess I should be careful about what I'm posting.
SJM: Any hints as to what will happen in Season 6 in Pretty Little Liars?
LH: When we left off in Season 5, the big 'A' reveal was this person named Charles. Charles is a new character; we don't know who he or she is. [In Season 6,] we delve more into that: Who is this person and where [did] they come from? Also for the first time in something like 120 episodes of the show, we do a significant time jump. We get to see where the girls are, where they live, what their jobs are, who they are married to. That was something we really haven't done before.
SJM: Let's talk about your country music career. Was that something you always wanted to do?
LH: Every little kid has a hobby growing up, and for me, music was always that. I grew up really appreciating it, taking voice lessons and performing. I know a lot of people were actually [surprised] when I came out with an album, but I actually started off in music, and then that led to all the acting. It's actually really been fun getting to juggle both of them at the same time. Right now, I'm experimenting with a second album and what I want to do with that.
SJM: Do you think being born in the South inspired your country music aspirations?
LH: Living in the South, it's kind of a given. Country music is just everywhere … but I really have always just appreciated it. I appreciate the stories, the whole background of country music, even as I got older, that's what I gravitated toward. I think people were a little thrown off when I released a country album, but it was just what felt genuine to me and I'm glad I was able to pursue that.
SJM: Who are your musical inspirations or idols?
LH: I was obsessed with Disney movies growing up. … [And as far as performers,] Martina McBride, Shania Twain, Rascal Flatts. I went through a Whitney Houston phase, then I was obsessed with Britney Spears. You can really draw [inspiration] from anywhere.
SJM: What are you hoping folks take away from this health initiative?
LH: I think it's just really important to ask for help in any situation, and it's OK to ask for help. With Voices of Meningitis, my main advice would be to go and talk to your nurse, go and talk to you doctor, your parents, your school nurse, whoever knows about this disease. It's really scary, really serious, it's rare but it could potentially take your life in 24 hours. Getting the second vaccine … At the end of the day, it's just one less thing to worry about.
Published (and copyrighted) in South Jersey Magazine, Volume 12, Issue 3 (June, 2015).
For more info on South Jersey Magazine, click here.
To subscribe to South Jersey Magazine, click here.
To advertise in South Jersey Magazine, click here.
Article continues below
---
advertisement


---
Author:
Rachel Morgan
Archives
---
Back and Better Than Ever
Around the Greens
Prime Performers 2018
Her Side of the Story
Difficult Days Ahead
Molding a Legacy
Driven by Desire
The Battle Over the Pinelands
Justin Time
A Tough Act to Follow
One of Us
Funding Our Future
Live from the White House
Hometown Flavor
A Legislative Legacy
More Articles