Doane Academy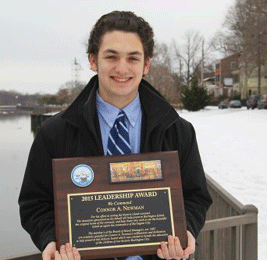 Since 1837, Doane Academy, formerly St. Mary's Hall – Doane Academy, has been committed to developing intelligent, capable young people within a school culture where students are known, loved, and strongly encouraged to realize their full potential. According to the school's website, this independent, Episcopal, day school offers a rigorous liberal arts curriculum that encourages the student's development of character, ethics, religion and maturity needed to move on after graduation.
St. Mary's Hall was originally founded as a girls' boarding school. Bishop Doane was intent on offering a first-class education equal to the college-preparatory schooling available then to young men. The Hall was an immediate success.
Doane Academy was added to the name of St. Mary's Hall when young men were first admitted in 1955, the year it became a co-ed country day school. This was to honor Bishop Doane and to acknowledge that the education of young men had historic roots in Burlington. Doane Academy was established in 1968 as a separate institution with a headmaster, faculty, etc.
The Board of Trustees of Doane Academy recently announced that they will have a new Head of School beginning July 1. George B. Sanderson brings to Doane twenty-two years of experience as a member of the faculty and administration at Princeton Day School.
Throughout the past 15 years, Doane Academy has been fortunate to have the "good counsel, the inspiration and the financial support of Henry and Eleanor Rowan, their family and the family foundation." Two years ago Mr. and Mrs. Rowan made a $5M gift to build a new main building in order to expand enrollment. The new building, called Rowan Hall, will have riverfront access and will connect to Odenheimer Hall and Scarborough Hall. Rowan Hall is scheduled to be completed in time for the start of the 2015-2016 school year.
Did you know that actress Judith Light was a 1966 graduate of St. Mary's Hall/Doane Academy? Light won a Tony award this month for her role in "The Assembled Parties," but is best known for playing Angela on the TV show, "Who's the Boss?" co-starring with Tony Danza.
Each Upper School class participates in a 3-4 day Outward Bound trip during the fall. This trip serves as an important bonding experience between students and faculty. Students stay in basic accommodations such as youth hostels, camping and primitive cabins. Students participate in activities including white water rafting, canoeing, kayaking, rock climbing, back packing and biking. This experience offers students and faculty the chance to get to know each other outside of the classroom, and encourages students to get out of their comfort zones and test their limits. The cost of the trip is included in tuition, since Doane believes that this trip is an integral part of a student's development.
Congratulations to Doane Academy senior Connor Newman (pictured) on receiving the 2015 Board of Island Managers Leadership Award in Burlington, given to an "individual who has demonstrated strong leadership within the community and in relation to the mission of the Board of Island Managers."
Doane Academy offers many activities and sports in which students can participate. The school publishes a literary magazine a few times each year. "Ivy Leaves," Doane's e-newsletter, features upcoming events, a message from the headmaster, news on recent happenings, and an alumni spotlight.
Congratulations to three student musicians at Doane. Leila Daly, Connor McHugh and Reggie Daly traveled to Southern Regional Middle School earlier this school year to audition to be a member of the Region III Middle School band. Leila, a seventh grader, competed with 70 other students on flute for one of only 20 seats and scored 19th. Connor, also in seventh grade, performed on trumpet and scored 14th out of 44 children. Sixth grader Reggie Daly received honorable mention for his "diligent practice and commitment to the audition process," according to Doane's website.
Formed in 2006, The Spartans' Sports Club (SSC) is a parent organization that provides active support for Doane Academy's athletic teams. According to the school's website, club members meet once a month and assist in activities such as the annual Athletic Banquet, Sweetheart Pancake Breakfast, and hosting Penn Jersey League events. The SSC also runs fundraising events to benefit Doane Academy's athletic teams.
Doane offers four popular summer programs. Camp Doane is offered for eight weeks to kindergarteners to sixth graders. Students in fifth grade and above can participate in various week-long camps in the Doane Leadership Program. Local program E.M.I.T.S. (Enriched Math In The Summer) will be administered at Doane and is available for grades 2-8. Finally the Pulse Premier Sports Camps will host a soccer camp at Doane in July for children ages 5-18. These programs are open to both current Doane students as well as children living in the Burlington area. For more information, visit http://www.doaneacademy.org/beyond-classroom/summer-programs.
Do you follow Doane on facebook yet? https://www.facebook.com/doaneacademy Doane Academy is located at 350 Riverbank in Burlington. For more information about the school, call 609-386-3500 or visit doaneacademy.org.
© SouthJersey.com 2015. All rights reserved. This article or parts thereof may not be reprinted or reproduced by any other party without the express written consent of SouthJersey.com. For more information, please call 856-797-9910.
For more information about what's going on in our local schools and what today's students are up to, visit our South Jersey Schools page.
Article continues below
---
advertisement


---
Author:
Meghan Shott
Archives
---
Advertise with SouthJersey.com
Shawnee High School
Acting Natural
Middle Township High School
Audubon High School
Cumberland Regional High School
African American Heritage Museum
Apple Pie Hill
Attractions: N. Pemberton RR Station
Johnson's Corner Farm
Lumberton's Air Victory Museum
Lucy the Margate Elephant
Tuckerton Seaport & Baymen's Museum
Emlen Physick Estate
Cape May's Washington Street Mall
More...