Scene: July, 2015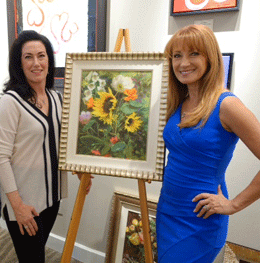 …From the pages of South Jersey Magazine…
Click here for this month's Scene photos.
Jane Seymour: Up Close and Personal at Ocean Galleries in Stone Harbor
Photo 1. Ocean Galleries owner Kim Miller, Jane Seymour and Stone Harbor mayor Suzanne M. Walters
Photo 2. Veronica Polohovich, Joann Wachmann and Seymour
Bancroft Golf Outing
Photo 3. Bancroft president and CEO Toni Pergolin (center) with Butterfly sponsor Waste Management's Brian Whilldin, Doug Hager, Dan Waida and Steve Urian
AnnieMac Home Mortgage's Habitat for Humanity Dedication Ceremony
Photo 4. AnnieMac Home Mortgage volunteers Anthony Melchiorre, Samantha Reilly, Scott Magee, Jack Pisani and Jeff Onofrio
Photo 5. Habitat family members Lonnie Baldwin and Princess Pakeel-Baldwin
STAT Medical Transport, Inc. and Kennedy EMS are Honored by Tour de Shore
Photo 6. STAT Tour de Shore medical director Tim Chalfont, Medical Transport executive director Ronald Forsyth, Tour de Shore founder Mark O'Connor, Kennedy Health president and CEO Joseph W. Devine and STAT Medical Transport board chairman Bruce Paparone
JDRF South Jersey Chapter 30th Anniversary Golf Classic
Photo 7. Board president Scott Kasper with Traci and Jonathan Wilk
Photo 8. Robin Berger, Chrissie Greatrex, Lara Schwager and Nanette Gerst
Downtown Haddonfield's First Service Appreciation Day
Photo 9. Haddonfield police officer with U.S. Army service men and women
New Jersey Association of School Business Officials (NJASBO) Distinguished Service Awards
Photo 10. NJASBO 2014-15 president Frank Ceurvels, Riverside School District business administrator and NJASBO Service Award winner Jodi Lennon, and NJASBO executive director John F. Donahue
Classic Cake of Cherry Hill and Kidsville News' sing-a-long with Meg Russell benefitting the Camden Children's Garden
Photo 11. Classic Cake owner Barry Kratchman with author and singer Meg Russell
Photo 12. Fox 29's Sue Serio with Mayakla Smith
PRSA New Jersey Pyramid Awards
Photo 13. Anne Klein Communications Group and two-time first place Pyramid Award winners' COO Mike Gross, president Chris Lukach and account executive Kathryn Conda
Moorestown Visiting Nurses & Hospice 20th Annual Benefit Golf Classic
Photo 14. Flyers Alumni Todd Fedoruk, Annemarie Van Der Velde of The Fountains at Cedar Parke, Golf Classic Chairman Lou Cristinziani of Main Line Medical, Murphy Van Der Veldt also of The Fountains at Cedar Parke, Jeff Defrehn of Moorestown VNA
Photo 15. DelVal Media Team of Jim Arsenault, Mike Lawless, Gerry Haggerty and Jim Clemmens
Photo 16. Moorestown Visiting Nurses & Hospice Golf Classic & Networking Party guests and sponsors Chris and Jamie Bratton of Rothamel Bratton, Janie De Leon-Male of Rothkoff Law Group, Kelly McCabe of TLC Home Care Services, Anne Crozier of Rothamel Bratton and Dan Mellore, Esq.
Published (and copyrighted) in South Jersey Magazine, Volume 12, Issue 4 (July, 2015).
For more info on South Jersey Magazine, click here.
To subscribe to South Jersey Magazine, click here.
To advertise in South Jersey Magazine, click here.
Article continues below
---
advertisement


---
Author:
Editorial Staff--South Jersey Magazine
Archives
---
Action & Reaction
The Showman
Going Stir Crazy
Holiday Calendar
Finding the Silver Lining
Full Steam Ahead
Trivia Night
Pass the Popcorn
Back and Better Than Ever
Her Side of the Story
Justin Time
A Tough Act to Follow
Hometown Flavor
Local Story
Symon Says
More Articles