Taliaferro All-Star Game Closes Season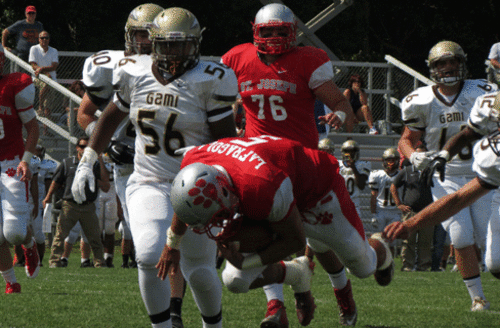 Taliaferro All-Star Game Concludes South Jersey Scholastic Season
It is the final event of the 2014-2015 scholastic sports season, so Wednesday's Adam Taliaferro Foundation All-Star Football Classic should attract a good crowd.
Kickoff is 7pm at Rowan University.
For those starving for football, it is an opportunity to see some of the South Jersey's top graduating seniors represent their teams one last time.
And for those who will miss football once the game concludes, there won't be that much of a lull. Teams will report to training camps sometime around Aug. 15. The first regular season game for most teams will be the weekend of Sept. 11-12.
The Taliaferro all-star game has become one of the area's signature events. The proceeds benefit the Adam Tailaferro Foundation, which helps those who have incurred life-altering spinal injuries. Even for those who can't attend the game, anybody interested in donating to the foundation should visit taliaferrofoundation.org.
The Blue Squad is coached by Vineland's Dan Russo. It consists of players from Burlington, Cumberland, Atlantic and Cape May Counties.
The White Squad is coached by Woodstown's John Adams and is comprised of players from Camden, Gloucester and Salem Counties.
While we ran the original rosters a few months ago, there have been changes made--players who had to pull out for one reason or another, and others who were added.
Here is the updated roster for both teams. Blue Squad
Tyler Welch, Absegami DB, 5-10, 165; Devon David, Atlantic City LB, 5-10, 180; Stefon Bowman, Bridgeton RB, 5-7, 165; Capadonna Miller, Bridgeton DB, 5-7, 165; George DiBiase, Buena DB, 5-8, 165; Ryan Daniels, Burlington City DB, 6-1, 175; John Ejifor, Burlington Township DL, 6-1, 290; Eddie Rueben, Burlington Township OL, 6-1, 280; Nate Pauls, Cedar Creek TE, 6-3, 225; Chris Lynch, Cedar Creek OL, 6-3, 275; Marc Woodard, Cherokee DB, 5-10, 165; Jesse Streb, Cherokee DB, 5-10, 165; Jason Combs, Cumberland LB, 6-1, 225; Bob Elia, Cumberland OL, 5-10, 235; Brennan Ryan, Delran LB, 6-0, 215; Angelo Barnca, Egg Harbor Twp. DL, 6-0, 215; Dylan Mento, Hammonton WR, 6-4, 185; James Chattin, Holy Cross OL, 6-3, 305; Rapheal Jackson, Holy Cross DL; 6-2, 305; Brandon Simmons, Holy Cross QB, 6-3, 180; Kevin Williams, Maple Shade WR, 6-1, 188; Joe Durso, Middle Township QB, 5-9, 170; Adrian Jacquet, Millville OL, 6-0, 250; Joe Greco, Northern Burlington DL, 6-0, 260; Kevin Stokes, Oakcrest TE, 6-2, 225; Doug Shallcross, Ocean City OL 5-10, 245; Malik Howard, Palmyra OL, 6-0, 250; Cody Wallace, Palmyra DE, 6-0, 205; Marquise Carstarphen, Palmyra RB, 5-7, 150; Angel White, Pemberton DE, 6-3, 185; Lamont Harris, St. Augustine RB, 5-8, 185; Mike Mulvihill, Seneca WR, 6-3, 185; Jake Parola, Shawnee RB, 5-11, 175; Christian Snowden, St. Joe DL 6-0, 210; C.J. LaFragola, St. Joe RB, 5-10, 180; Donovan Bennett, Vineland OL, 6-0, 225; Lamar Copeland, Vineland DL 6-0, 250. White Squad
Everett Minchew, Camden Catholic P/K, 6-0, 185; Khalil Williams, Camden QB, 5-11, 175; Khalil Trotman, Timber Creek QB, 6-1, 180; Dillon Hill, Woodstown DB, 5-5, 145; Kniquan Cephas, Pennsauken DB, 5-7, 150; Jarius Ransome, Williamstown LB, 6-0, 200; JaMir Washington, Camden WR, 6-2, 180; Matt Brown, Haddon Township DB, 5-10, 175; Jordan Wallace, Collingswood DB, 6-0, 170; Trone Williams, Cherry Hill West RB, 5-11, 190; Dan Petito, Gloucester Catholic DB, 5-10, 180; Jake Klaus, Haddonfield RB, 5-10, 170; Aaron Swann, Pennsauken RB, 5-9 180; Mike Coyle, Audubon DB, 5-10, 170; Sterling Shefield, Clearview DL, 6-2, 225; Kaheel Pettey, Lindenwold DB, 5-9, 185; Dominic Webster, Deptford DE, 6-1, 180; Logan Robbins, Pennsville LB; 6-0, 165; Roy Hansen, Bishop Eustace LB, 6-2, 190; Dalton Reim, Clearview LB, 5-10, 200; Kapone Brown, Woodbury LB 6-0, 180; Kyle Pierce, Haddon Heights DE, 6-3, 210; Brian Bohrer, Gloucester Catholic LB, 5-8, 215; Will Pope, Collingswood DL, 6-4, 260; J.T. Thompson, Sterling DL, 5-11, 285; Jake Kull, West Deptford OL, 6-1, 280; Tyler Castellini, Schalick OL, 6-0, 220; Ryan Wimmer, Cherry Hill West DL, 6-1, 240; Rashawn Williams, Salem OL, 6-1, 240; Kyle Scull, Gateway OL, 6-4, 280; Paul Flagg, Williamstown OL, 6-0, 250; Chris Kasavage, Winslow Township DE, 6-2, 195; Al Piccoli, Washington Township DL, 6-0, 235; Tony Peletsky, Sterling 6-2, 210; Jarred Sylvester, Clayton OL, 6-4, 290; Isiah Hardy, Timber Creek OL, 6-6, 340; Cinque Hill, Eastern WR, 6-1, 180; Deron Maxwell, Kingsway WR, 6-1, 180; Quentin Parnham, Glassboro WR 6-3, 190; Bryan Brennan, Overbrook TE, 5-10, 195.
Photo (Marc Narducci): St. Joe's Running Back C.J. LaFragola (#5, red shirt)
© SouthJersey.com 2015. All rights reserved. This article or parts thereof may not be reprinted or reproduced by any other party without the express written consent of SouthJersey.com. For more information, please call 856-797-9910.
For more Local Sports features, visit our South Jersey Sports page.
Article continues below
---
advertisement


---
Author:
Marc Narducci; photo by Marc Narducci
Archives
---
Eastern and Cinnaminson are top girls' and boys' seeds in South Jersey Soccer Coaches Tournament
Healthy People, Healthy Business
South Jersey highschool football games of the week
Best of Home and Garden
Back to School
Ready to Take Flight
Bishop Eustace's Danny O'Rourke a model of stability
Who's Who in Real Estate
Special Delivery
South Jersey Football Games of the Week
Eagles saved their season with win over Carolina
A Difficult Loss
Top Physicians 2021
Phillies wasted lights-out seasons from Bryce Harper and Zack Wheeler
Another strong season for Olympic American Girls' Soccer
More...