Fuji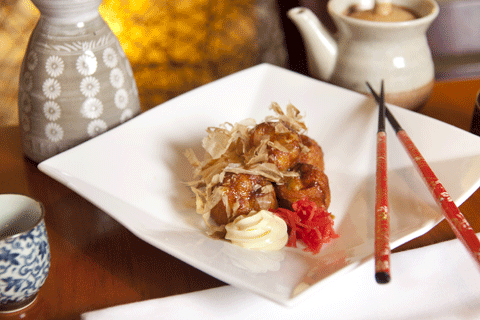 …A Dining Review from the pages of South Jersey Magazine…
Culinary Artistry: Fuji
116 Kings Hwy E.
Haddonfield
(856) 354-8200
Sushi has seen a bit of a rebirth in the last few years, steering away from rolls covered in spicy mayos with fried mystery meats and focusing instead on quality ingredients, master preparation and tradition. It's become a bit of a trend since our last trip to Fuji, Haddonfield's Japanese hot spot that continues to turn heads, more than five years ago.
Owner Masaharu Ito—who was born in Japan and came up in restaurants across Osaka before coming to the United States in the late '70s—and his restaurant have called Haddonfield's Kings Highway home since 2007, but Fuji itself has been a part of the South Jersey scene since 1979, long before sushi was as mainstream as it is today.
Almost 40 years of success don't come easy, but a clear attention to the product and preparation has made Ito a local celebrity chef, listed in the same breath as Hiroyuki Tanaka and Masaharu Morimoto for his skill with sushi, sashimi and nigiri and his ability to offer diners only the best of the best. Just glance at the rolls on Fuji's menu for proof: cuts of salmon and yellowtail sit without airs alongside chutoro and otoro, bluefin tuna belly that is internationally regarded as some of the best fish you'll ever eat.
But that's not to say that the rolls you've come to love aren't done right, either. A salmon nigiri roll, for example, featured some of the freshest and cleanest salmon I've ever tasted, just barely brushed with a hit of wasabi before being laid on a finger-sized portion of rice, both of which accented the slightly oily fish in all the right ways. A fresh scallop roll was bright and just slightly salty, and so soft that it practically melted in my mouth.
The only slight disappointment was a cooked octopus roll, which seemed fairly dry and chewy. But a dish of Boggs rolls, specialty maki sushi with fresh tuna, avocado, wasabi and a house-made spicy sauce, was a redeemer.
Hot appetizers were traditionally Japanese, but unlike anything you'll find anywhere else. Like the takoyaki, soft octopus dumplings served in katsu sauce and topped with sliced, pickled radish and crispy bonito flakes along with a squeeze of kewpie mayo. The dumplings themselves were soft and creamy with a slight chew from the chopped octopus, and the katsu exploded with sweet and tangy flavors, mellowed out by the mayo.
Katsu sauce was a bit overpowering in a starter of kakifry oysters, which were panko crusted, fried and also served with spicy mustard. The oysters themselves were big and meaty, but the katsu's acidic qualities really overpowered the natural flavors that make oysters so unforgettable.
A sizzling beef steak entrée is an exciting—if not slightly overwhelming—dish that arrives to the table uncooked with an accompanying sizzling hot stone, and dish of sauce. The sliced steak gets cooked up right at the table, with more than enough heat and fanfare, before being served with Japanese barbecue sauce with a side of rice and vegetables. It may not be the best way to keep things low-key during a romantic night out, but the meat itself was cooked exactly to the table's liking and tender.
Then came the miso black cod, which perfectly highlights the artistry of Fuji. A generous cut of white fish is marinated in a miso and yamamomo berry—a tropical red fruit similar to a sweet plum—sauce then pan-fried and served skin-on with white rice, purple potatoes and vegetables. The fish was flaky and tender, with just the right blend of salty and sweet, made better when combined with the potatoes and vegetables it neighbored.
Sushi may be one of the more popular menu choices today, but this Haddonfield staple continues to pay homage to the art of Japanese cuisine through an unforgettable menu. It's hard not to wax poetic when revisiting this artfully crafted menu. Fuji is one of the restaurants in the state that remains a heavy hitter with no sign of slowing down.
Published (and copyrighted) in South Jersey Magazine, Volume 12, Issue 4 (July, 2015).
For more info on South Jersey Magazine, click here.
To subscribe to South Jersey Magazine, click here.
To advertise in South Jersey Magazine, click here.
Article continues below
---
advertisement


---
View directory information for Fuji
Author:
Nancy Donovan; Photo by Alison Dunlap
Archives
---
Who's Who in Health Care
Crowd Pleaser
The Big Impact of Small Businesses
Feeling Festive
Mainland's Historic Football Season
A Rooting Interest
Eagles Continue to Fly High
Raising the Bar
Thanksgiving Football Continues
Hotstovers to honor All-SJ Baseball and new HOF inductees
South Jersey Football Games of the Week
The Phillies make the right move with Aaron Nola
Kingsway Field Hockey Finishes Strong
Should Castellanos return for a third season with the Phillies?
South Jersey Football Games of the Week
More...