Need a Ride?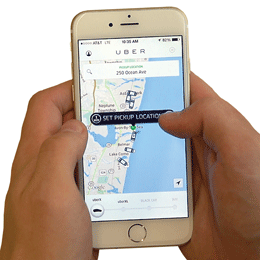 …From the pages of South Jersey Magazine…
Apps offering on-demand transportation are growing in popularity, but questions on their safety remain.
In the city, hailing a cab comes easy. Walk toward the curb, raise your hand and one whips up next to you, ready to take you to your destination. In the suburbs of South Jersey, however, catching a cab requires a phone call. Then you wait.
The tech heads in Silicon Valley knew there had to be a better way. Capitalizing on our reliance on smartphones, they created apps that put riders in instant contact with drivers in the area at the touch of a button. Commonly known as ridesharing apps, Uber and Lyft are the new frontier for getting from point A to point B.
After using Uber in Washington, D.C., Collingswood resident Catherine Girone says she never figured she'd need it in New Jersey, especially living so close to a PATCO station. But now, she's a convert.
"Now that I have the app, I find that Uber is extremely convenient, especially late at night on weekends when the PATCO schedule goes from every 15 minutes to hourly. I've Uber-ed home from Philadelphia quite a few late nights," she says.
The idea of having a safe and reliable ride home is one of the major contributing factors to Uber and Lyft's success. In New Jersey alone, Uber reports an average of 600,000 trips per month and 7,500 driver partners, which the company estimates could rise to 10,000 by the end of 2015 (specific South Jersey numbers could not be quantified).
"We see a rise in demand during the hours when bars close and on holiday weekends, and we're proud that it's a safe alternative to drunk driving, but people are using the app to get around for all sorts of reasons," says Josh Mohrer, general manager for Uber in the tri-state area.
But what exactly makes it better than calling a taxi? For one, it's easy to use.
Users looking for a ride open up the Uber or Lyft app and—based on their smartphone GPS location—view a map of nearby drivers-for-hire, complete with their photograph, vehicle type and rate for the desired trip. Once you pick your driver and accept the rate, the car will make its way to your location. Even payment is electronic—handy, considering how few people carry cash.
Cherry Hill's Dominique DiCriscio has used a ridesharing app only once and "the driver was super friendly and showed up right on time. I like that you can actually see the driver and license plate on the app," she says.
Mohrer says riders' credit cards are automatically charged at the end of the trip and receipts are emailed. "Pricing is competitive and usually cheaper than a cab," he says. "Also as a policy, there is no tipping on any Uber ride, everything is included in the fare. We wanted as frictionless an experience as possible."
"I prefer using Uber over a taxi because I know up front how much I am going to pay and I never have to take money out of my wallet," says Washington Township's Kim Draco.
Both Uber and Lyft seek to set themselves apart from traditional taxi service, especially in a human aspect.
According to Chelsea Wilson, Lyft public policy communications manager, it's not about the vehicles, but the people inside them. "Lyft is a people-powered movement driven by drivers and passengers," she says. "We're not looking to build a better taxi service, but rather we're combining technology and humanity to create an enjoyable, safe ride experience while also fundamentally changing the way that people get around."
While the majority of Uber and Lyft rides end on a happy note, there seem to be weekly reports of suspicious driver behavior across the country that beg the question, "Just who is behind the wheel?"
Reports range from assaults and rape, to harassment and drivers with criminal backgrounds. Close to home in Philadelphia, a woman told police she was raped by an UberX driver in February. According to reports, Uber was not made aware of the incident until 40 days later, in which time that driver continued to work for the app. The driver has since been deactivated and the incident is under investigation by the Philadelphia Police Department with Uber's full cooperation.
And a video surfaced in early June showing an encounter a female passenger had in Avalon over Memorial Day weekend where, upon arriving at the passenger's home, the Uber driver got into the back seat and began fondling himself. The passenger claims she could not get the doors open to escape. The driver did eventually let her out and has been charged with lewdness, false imprisonment and harassment. Uber fired the driver after seeing the video and said he was never licensed to operate his Uber vehicle in New Jersey.
Locally, Washington Township's Stephanie Lane has had both good and bad experiences with Uber, but it's the latter that she remembers vividly.
"I took Uber home from Philly with a friend. Once we dropped my friend off the driver became creepy after she was out of the car. He asked me if I wanted to smoke a cigarette to which I replied 'No.' He then told me he could pull over and no one would know.
"We got to my house, I got out of the car and he also got out of the car and again proceeded to ask me if I wanted to sit with him in the car and smoke. I quickly made sure he was paid and got into the house. He then sat outside for a good five minutes before he left," Lane recalls.
While DiCriscio's lone experience was nowhere near Lane's, she remains cautious given recent headlines. "I'm not sure I would ever use it alone," she says.
Uber added an in-app panic button for users in India which would send real-time driver, passenger and location information directly to the police. Mohrer says this is something the company is considering here in the U.S.
"Every Uber driver passes our stringent background check," he adds. "There are some places in the country where drivers are passing the police background check, but failing ours. Our goal is to have zero incidents of reports like these, but when you do a million and a half rides a day, unfortunately they happen."
Not knowing who is driving these vehicles—and if they are properly insured—is an issue for many in the commercial transportation business, such as taxi and chauffeured transportation companies. To understand the issues in question, one needs to understand the different types or levels of service provided by Uber and Lyft.
Uber's original service, UberBLACK, is similar to limousine or black car service. It costs more, but the cars are high-end and licensed and registered as commercial vehicles. These vehicles are insured for $1.5 million, as required by law.
Lyft and UberX are the lowest price options offered by the apps and the ones most similar to taxis. This level gives you a driver who will show up in their own personal vehicle to ferry you to your destination. UberX drivers are required to be 21 or older, have a car and personal auto insurance registered in their name, and undergo a background and driving record check going back seven years.
Some states and cities see these requirements as lacking and are cracking down, either by banning the services altogether or introducing legislation that will create more stringent regulations. Currently in Philadelphia, the Philadelphia Parking Authority, which regulates the taxi and limousine industry inside the city, is treating UberX as an illegal service and has been impounding vehicles caught operating there.
Twenty-two states have enacted legislation to close the insurance gap associated with ridesharing apps, formally known as transportation networking companies (TNCs), and New Jersey is hoping to join that list.
Hotly debated legislation proposed in Trenton would level the playing field between taxis and limousines and TNCs. This past March, the Assembly Transportation Committee approved a bill that would set minimum insurance levels for TNCs to adhere to, as well as require legitimate background checks, a licensing fee to be registered with the state and a decal placed on the vehicle.
UberX's insurance structure works like this: When the app isn't running, the driver is covered on his own policy. When the app is turned on awaiting a ride request, Uber offers contingent liability coverage if the driver's personal policy does not provide coverage. When a passenger is in the vehicle, Uber provides insurance at the commercial level: $1 million third party liability and $1 million under-insured/uninsured motorist.
Lyft's insurance is similarly structured, with the driver's personal insurance in effect until the app is turned on, at which time Lyft's contingent liability kicks in. When a ride is accepted until the ride had ended in the app, Lyft's primary liability insurance applies, with a $1 million per accident limit.
However, if your personal auto insurance provider finds out you're conducting commercial business in your vehicle, your policy will almost definitely be cancelled, and in the case of an accident, there is a major gap in insurance coverage that puts drivers and passengers at risk.
The limousine industry is one of the leading forces attempting to educate lawmakers and the public about the risks involved in using TNCs. According to Gary Buffo, president of the National Limousine Association (NLA), headquartered in Marlton, the lack of safety regulations for TNCs is of utmost concern.
"Our operational concerns are related to public, passenger, and driver safety, as these drivers have no formal training or safety standards in place," Buffo says, adding that professionally trained chauffeurs operating vehicles for properly licensed companies undergo rigorous vetting, including an FBI background check (which Uber does not use).
Taxis in New Jersey are regulated by the municipalities. Limousines on the other hand, are given statewide operating authority. Both industries pay for driver fingerprinting, background checks, vehicle inspections and clearly label cars as commercial vehicles, making it easier for the Motor Vehicle Commission to enforce the laws.
According to Barry Lefkowitz of the Lumberton-based Lefkowitz, Rudder & Associates—a government relations and business development consulting firm—the goal is not to drive TNCs out of New Jersey completely.
"We need to protect the public and the drivers," says Lefkowitz, who lobbies on behalf of the taxi industry. "We've never taken the position that we want [TNCs] out of New Jersey. We want a level playing field and for them to follow the rules like anyone else. TNCs don't want to have any expenses involved with operating here."
Bob Schiavo, owner of Albert's Limousine in Mount Laurel, says he fears for the public's safety. "The younger generation doesn't care about a vehicle having insurance. Consumers should know the facts, and it starts with insurance, drug screening, background checks and proper licensing. These are all things all limousine companies have to do and we don't fight it. We do it because it makes the industry and the public safer."
When asked about the proposed legislation, Uber's Mohrer says, "Uber is a new thing. There aren't yet laws to govern what we do. The proposed bill would add more insurance on top of the $1.5 million we provide and it's going to make it harder for people to become driver partners. We want regulation, but it's important for the laws on the books to be fair."
Published (and copyrighted) in South Jersey Magazine, Volume 12, Issue 4 (July, 2015).
For more info on South Jersey Magazine, click here.
To subscribe to South Jersey Magazine, click here.
To advertise in South Jersey Magazine, click here.
Article continues below
---
advertisement


---
Author:
Liz Hunter
Archives
---
A TALE OF THREE WEDDINGS
Timber Creek's Leary heads to Illinois
One of Us
The Weekender
Hometown Flavor
Hoop Dreams
Symon Says
Food & Drink: Raise a Glass
Off the Ice
Rewarding Work
Dig This
The Berlin Cemetery
A Southern Mansion
Fire on the Morro Castle
Pine Barrens Fire of 1936
More...