Lifting Spirits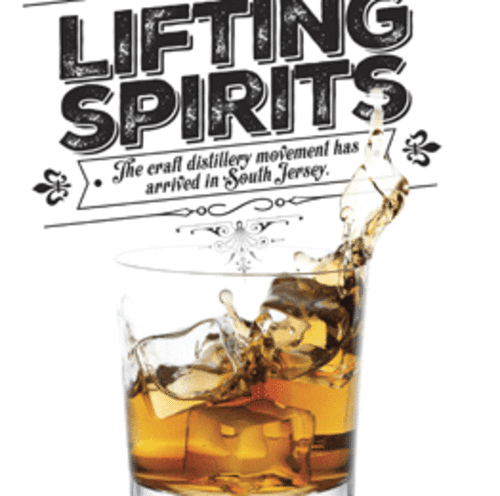 …From the pages of South Jersey Magazine…
The craft distillery movement has arrived in South Jersey.
First came wineries, with more than 40 popping up across New Jersey 17 of those in South Jersey alone—in only about a decade. Breweries followed suit, flooding onto Main Streets, business parks and vacant spaces from Cherry Hill to Cape May. So naturally, the next step was something a bit stronger.
South Jersey has become a hub for privately owned alcohol distribution, and liquor seems to be the next obvious step. With new legislation pushing the craft-distilled trend further forward, and a very thirsty audience ready to drink, it seems like everyone is taking a shot—pun intended—at their distillery dreams.
That's the spirit
The area seems to finally be recovering from the damage that Prohibition did to small-batch, family-owned and craft distributors. Eighty years and a handful of new laws later, and local artisans are finally getting their chance in the sun.
The trend for locally made liquor took off in 2013, when Gov. Chris Christie signed a new bill into law that would reduce the cost of a distillery license to $938, which would cover production of up to 20,000 gallons—or 640 barrels—of liquor annually. Before that it was a staggering $12,500, a 93 percent change that made it possible for more people to get the ball rolling.
"The change in law was what sparked it all," says Eric Tighe, one half of the two brothers behind Irish Hill Distillery, which is looking to open up shop soon in Runnemede. "We have a family Christmas party every year where my brother and I bring something good to drink with the family. At the time, in December 2013, the law just got knocked down and we started saying, 'The license is affordable; let's go for it.'"
It was that $12,500 that was keeping the state from reaching its full potential, as many of the pre-existing laws were already designed with the local business in mind.
"When I started thinking about starting a distillery five or six years ago it was a crazy idea," says James Yoakum, founder of Cooper River Distillers in Camden. "Once you dig into it, you see the laws vary from state to state. When I looked at the laws in [New] Jersey, I saw that they looked pretty good, because the distribution wasn't as controlled by the state, it was more controlled by the liquor producer."
Yoakum was the second legal distiller to open up shop in New Jersey since Prohibition, and although he had planned to make the move before the law changed, he says that the new prices opened up all new opportunities for him and others. "I started the process five years ago, and I knew they were working on something but I thought that it would take years and years. But the law actually changed really quickly, and it was nice because they didn't take away the things that made me like New Jersey," he says.
One of those things includes the right to distribute to liquor stores and restaurants across the state without a third party. The new law also gives distillers the opportunity to offer tastings and samples to the general public, as long as—like craft breweries—they give guests 21 and over a tour of their facility. "You couldn't do tastings, sell by the drink or by the bottle, and the new law allows all of that. Now you can come take a tour, have a drink while you're there and buy some bottles to take home with you. It wasn't a part of my original business plan because it was illegal," says Yoakum.
Making it happen
While breweries, wineries and distilleries all seem to have a similar foundation, distilleries still face one setback: experience. In New Jersey, home distilling is still illegal, so gaining the skills and experience to open with confidence is hard to come by. "That's a big reason why small distilleries lag behind beer and wine," explains Yoakum. "With beer and wine, you can go to the homebrew store and learn how to do it at home. With distilling, you're not allowed to do that. You either have to find someone with a distillery that will let you distill or jump in head first and learn on the fly, which is kind of what I did."
But that's not necessarily slowing people down.
"I was in law school back in 2012, and at the time distilling was a hobby of mine. I had been doing it for three years and pitched the idea to my roommate in college," says Lee Phillips, operations manager for Cape May Distillery, which distributes locally and is projecting a summer opening for tours and tastings. "There's never been a legal distillery in Cape May. We noticed they had the brewery and it was doing fantastic, so we went with that game plan. We wanted to be like that: the only fish in the pond."
Phillips prides himself on being a third-generation bootlegger, following in his grandfather and uncle's footsteps with his own home-grown product, working on his own two-and-a-half gallon still shipped over from Spain out of his Lower Township home. And he's not alone.
"It is illegal to distill at home, but it's everybody's best-kept secret," says Carol Kafkalas, the co-owner behind Lazy Eye Distillery in Richland, whose second distillery just opened in Wildwood. The family behind Lazy Eye has been distilling the Greek liquor raki for generations. "It goes back many generations. My husband and I are Greek, and our family distilled many years ago in Greece and in Western Pennsylvania. It kind of feels like Prohibition in some way: Every Italian household will make grappa, the Greeks make raki."
And while some are gaining experience through any means necessary, others are playing it safe and waiting for the stamp of approval before even distilling their first bottle.
"I visited 20 distilleries and just talked people's ears off," says Yoakum. "The first time I distilled was really my first time."
Hangovers and hang-ups
While people are excited for the new products hitting liquor shelves, it's that lack of real, tangible experience that is slowing down what could be South Jersey's next booming business. Specifically when it comes to finding investors—and funding—willing to take the risk.
"You can do all the research you want, but you still need a federal and state permit. But before you get all that you need all of your equipment, a building and you have to be ready to fire up your still before you can get your permits," explains Tighe. "That's a significant capital before you can produce a single drop."
"It took a year to find the money, finding private investors who could contribute. I went through a few false starts with people who thought they were going to be into it, but realized this wasn't the business for them," says Yoakum. "You don't get to taste your product for years, and from an investment perspective that's just bad business."
And while the new laws may make the dream of owning a distillery easier to access, the ordinances, licenses and inspection processes needed to get off the ground are a whole different animal. "It wasn't easy; it was very difficult," says Kafkalas, who—along with her husband—is a government contractor, which she credits to helping understand the process better. "When you're opening a distillery, you need to be very well versed in the areas [of construction and codes]. We spent so much time with New Jersey inspectors getting through the legalities; it's something new in New Jersey so everyone was slightly reluctant."
Phillips worked with a consultant to get through the licensing process, but he says that new, hopeful distillers might want to prepare for a long process. "Our federal license got here in six months. But these days, there's a year-long waitlist for a federal license. [And] you're waiting for about a year for the state license. As soon as they passed that law, a ton of people started applying."
The Tighe brothers say they are in the thick of legalities right now, still working their respective full-time jobs until the day comes when Irish Hill can officially open for business. "We're working on securing funding, and once that is done we have a location in mind. Then we have to get everything approved by the town," says Sean Tighe. "Once you get your permit you have to have your tasting area and scales all certified. You have to have security locked down and have certain areas of your space bonded, where you put your finished product. It's very detailed, and we just want to get going. We've been chomping at the bit for a few years. We're getting antsy."
Local talent
Investing may be slow, but that problem may be long gone if the public reception remains as supportive as it has. "People seriously can't wait," says Lee, of the tasting room's grand opening. "We have people stopping by every day; people keep asking when, when, when?"
"Every customer that walks through the door is different in what they're looking to get out of a tour, and when people get here they become very inquisitive," says Kafkalas. "We've made a lot of friends in the six months we've been open."
"The public response has been great," says Yoakum. "We have a lot of people that we consider regulars; they'll come in every Friday and say hi or go to different bars and order just our [products]."
Local products are seeping their way into liquors, from Cooper River's local grapes to the locally sourced honey for Cape May Distillery's honey liqueur. And distilleries all across the area seem interested in creating their own, unique brand of liquor. "Right off the bat, we're going to do a flavored moonshine, and a rum and spiced rum," says Tighe, of Irish Hill. "We want to get into whiskeys. My brother is a single malt whiskey nut so we want to get to distilling that."
Kafkalas says that residents have responded well to their raki recipe—which is the only American-made raki available in the country—and continue to produce their vodka, which was the first craft vodka produced in the state.
Soon enough, the South might not be the only place to turn to for real, quality whiskey. "I'm from Kentucky and at the end of the day when I'm going to have a drink, it's going to be bourbon," says Yoakum. "If we could be a really good, solid bourbon distillery that would be cool. We have all these different barrels aging and we don't know what they taste like until they're finished. We don't really know which product is going to stick. We have the rums out that are doing well and a couple years from now we could be known for our whiskeys and our brandies."
Even as you read this, local distillers are packing away barrels for years to come. So while the craft distillery movement in South Jersey is very much in motion, folks will have to wait a little while longer to get a true taste of what it will bring.
Published (and copyrighted) in South Jersey Magazine, Volume 12, Issue 4 (July, 2015).
For more info on South Jersey Magazine, click here.
To subscribe to South Jersey Magazine, click here.
To advertise in South Jersey Magazine, click here.
Article continues below
---
advertisement


---
Author:
Erica Bauwens
Archives
---
A TALE OF THREE WEDDINGS
Timber Creek's Leary heads to Illinois
One of Us
The Weekender
Hometown Flavor
Hoop Dreams
Symon Says
Food & Drink: Raise a Glass
Off the Ice
Rewarding Work
Dig This
The Berlin Cemetery
A Southern Mansion
Fire on the Morro Castle
Pine Barrens Fire of 1936
More...