Woodbury Junior-Senior High School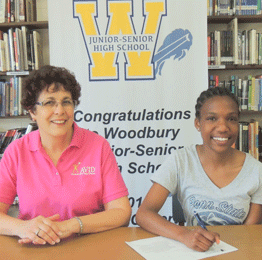 Woodbury Junior-Senior High School is a comprehensive, community, middle and high school that serves students in sixth through twelfth grades from Woodbury, Gloucester County. More than 70% of their students enroll in Honors or Advanced Placement classes.
The school has earned a place among the top public high schools in New Jersey and the country. Woodbury Junior-Senior earned a Silver Medal from U.S. News and World Report with a state ranking of #46. The school was one of only four in southern New Jersey to be ranked and the only high school in Gloucester County to be ranked.
More than $53,000 in local scholarships and awards were given to the following members of the Class of 2015 at Woodbury: Joshua Byarm, Serena Turco, Michael White, Ja'Mere Lynch, Jasmin Smith, Antonio Rodriguez, Tori Lugiano, Andrew Sennett, Joshlyn Christopher, Lisa Atkinson, Rachel Slusarczyk, Amber Loveday, Isaac White, Briana Abate, Sean Elliott, Marwin Dubon-Arroyo, DeAna Messado-Moten, David Atkinson, Kevin Tierney, Troy Shorts, Samer Isawa, Shalisa Aquino, Antonio Rodriguez, Selena Rodriguez, K'Yanna Wesley, Debra McDermott, Derron Clement, Tene Horace-King, Brian Miles, Sabrina Pantoja, Zeaenna Brackett, Brandon Christina, Justin Vera, Ah-Jahnae Grant, Casey Sharp, Ashlee Levins, Jaqueline Gamez, Alicia Vennell, Chris Pinto, Amanda Brown, Kapon Brown, Jalen Bundy, Jacob Lynch, Dylan Ellis and DeAna Messado-Moten.
Woodbury feels that a student's education does not end when the bell rings at the end of each day. According to their website, various activities and athletics at the Junior and at the Senior High strive to enhance what the student has learned in the classrooms with a practical, hands-on program that will expose the student to how the lessons learned in the classrooms can be used in the real world. Activities include Junior and Senior High Yearbook, White and Gold newspaper, National Honor Society, Theater Club, Robotics Team, WHS Choir, WHS Band and others.
The Robotics Team at Woodbury is a group of students interested in pursuing a career in engineering and technology. This team learns to design and build a robot. Robots from previous years included one modeled after the 2010 Camaro and one that was designed to retrieve and construct parts of an airplane.
The High School Band comprises several bands, including the Concert Band and the Marching Band. All members of the Marching Band are also members of the Concert Band. The other bands at the High School level are the Wind Ensemble and the Jazz Band. These bands include selected musicians from the Concert Band.
Staff members in the yearbook club learn to organize, plan, and lay out text and artwork for the high school yearbook. They also learn photography and Photoshop skills in meetings before and after school.
Woodbury High School is the oldest member of the Colonial Athletic Conference, which is composed of smaller schools. Woodbury's many athletic teams include Boys and Girls Soccer, Boys and Girls Tennis, Boys and Girls Indoor Track, Boys and Girls Swimming, Boys and Girls Cross Country, Boys and Girls Track and Field, Boys and Girls Basketball, Football, Wrestling, Golf, Baseball, Field Hockey, Cheerleading and Softball.
Many Woodbury athletes will be continuing to play their sport at the collegiate level. Jasmin Smith will be attending Penn State in Hazelton, PA. Andrew Sennett will be running on the cross country team at Cabrini College in Radnor, PA this fall.
Congratulations to the school's students of the month for the first part of the 2014-2015 school year: Peter Evangelisti, Rebecca Rossett, Jaquan Rouse-Staley, Briana Abate, Ania Holland, Angelai Hayes, Eli Zarcecki, Derron Clement, Bryan Moye, Angie Rodriguez, Phaedra Badawika, Sabrina Pantoja, Karina Kofman, Emylie Costroff, Hamilton Hock, Lisa Atkinson, Dominic Stites, Ashley Campbell, Connor Finnegan, Samer Isawa, Alysa Echevarria, Daniel O'Leary, Brittany Alicea and Ah-Jahnae Grant.
Woodbury Junior Senior High School is located at 25 North Broad Street in Woodbury. For more information about the school, call 856-853-0123 or visit woodburysch.com/hs.
Article continues below
---
advertisement


---
Author:
Meghan Shott
Archives
---
In Good Health
2017 Executives of the Year
Superior Sandwiches
Raise a Glass
Impressive New South Jersey BBall HOF class
The Promise of Public Transportation
Empowering the Next Generation
Singles: January 3
River Revitalization
Spreading Cheer
Singles: December 27
Winter Retreat
Are Holiday Parties Back in Favor?
Support System
Singles: December 20
More...