Holy Spirit High School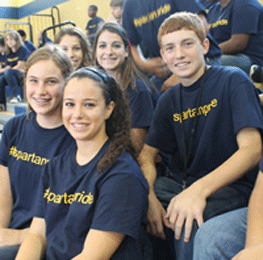 Holy Spirit High School has a rich tradition of providing quality Catholic Secondary School Education to the young people of Atlantic County. For more than eighty-five years, countless young men and women have been successfully called by Holy Spirit High School to develop their God-given talents and abilities.
According to the school's website, the academic program consists of core courses offered on five ability levels: advanced placement, honors, advanced, and college preparatory and a limited number of general level courses for the non-college bound student. Additional electives are offered in art, business, and music (chorus and instrumental). Holy Spirit also runs a Special Education program. Students attend eight periods a day with forty minute classes that meet every day. The school year is divided into two semesters. Mass is celebrated in the school chapel each morning before the school day begins. The Religion Department develops spiritual and liturgical programs for the students and staff as well as the development of service projects throughout the school community.
Holy Spirit boasts many extracurricular activities including Amnesty International, Band, Choir, Literary Magazine, Mock Trial, Music Honor Society, National Honor Society, School Play, School Newspaper, International Student Exchange, Ski Club, Spirit Earth, Student Government, Yearbook, Ministry Department and Spirit Ambassadors.
The Spartan Spirit newspaper published their last issue of the 2014-2015 school year in May. Their Editors were Natalie McDonald, Rebecca McLaughlin and Avram Enriquez. Writers were Madison Charlton, Matt Fabietti, Jack Marczyk, Ryan Newell, Dat Pham, Cara Salvati, Dennis Tuohy and Joey Votta.
Congratulations to the Top Ten students in academic standing at the school during the 2014-2015 school year: Rebecca McLaughlin, Julia Riordan, Patrick Shober, Jack Marczyk, Brooke Hallett, Brett Hanson, Madison Charlton, Audrey Wilson, Madeline Oleksiak and Avram Enriquez.
Athletics at the school include baseball, basketball, cheerleading, crew, cross country, field hockey, football, golf, soccer, softball, swimming, tennis, track & field, and wrestling.
Players this spring at Holy Spirit included Nick Cordivari, A.J. Russon, Chris Lefferts, Anthony Boselli, Matt Marczyk, Joe Jartley, Bill Kral, Bobby Spicer, Domenic Boselli, Jake Hankinson, Lexy Blanchet, Matt Rivera, Nola Charlton, Pat Spina, Ryan Hoke, Tommy Burns, Tyler Knox, Addisen Antonucci, Alessia DiFilippo, Alexa Steffens, Angie Argus, Annalise Celli, Carlee Harbright, Delaney Crawford, Giannay Givens, Jackie Perry, Kaila Gallgher, Kelly Phillips, Kelsie Salvati, Melanie Joseph, Mia Russo, Natalie McDonald, Nicole Peck, Paxton Antonucci, Rachel Migone, Shriya Saini, Sierra Armstrong and Sydney Tyburski.
Mark Nigalan, a 1991 Holy Spirit graduate, recently joined the school as the new coach of the boys' and girls' tennis teams. When he was in high school he was a top-ranked player in not only New Jersey but also the country. He is prepared to face the challenge of helping to improve both teams at a place he calls home, according to an article by Dave O'Sullivan in Glory Days magazine.
The Holy Spirit Class of 1975 will celebrate their 40th reunion on Saturday, October 17from 5-10pm at Ventura's Rooftop Bar and Grill in Margate. There will be hors d'oeuvres and a cash bar and attendees are invited to dress casually. To RSVP, call 623-760-7897 or n2newz@yahoo.com.
Have you checked out Holy Spirit High School's Facebook page yet? The school frequently updates the page with news and current events.
Holy Spirit High School is located at 500 S. New Road in Absecon. For more information about the school, visit holyspirithighschool.com © SouthJersey.com 2015. All rights reserved. This article or parts thereof may not be reprinted or reproduced by any other party without the express written consent of SouthJersey.com. For more information, please call 856-797-9910.

For more information about what's going on in our local schools and what today's students are up to, visit our South Jersey Schools page.

Article continues below

---
advertisement


---


Author: Meghan Shott


Archives
---
Advertise with SouthJersey.com
Shawnee High School
Acting Natural
Middle Township High School
Audubon High School
Cumberland Regional High School
African American Heritage Museum
Apple Pie Hill
Attractions: N. Pemberton RR Station
Johnson's Corner Farm
Lumberton's Air Victory Museum
Lucy the Margate Elephant
Tuckerton Seaport & Baymen's Museum
Emlen Physick Estate
Cape May's Washington Street Mall
More...