Haddon Township High School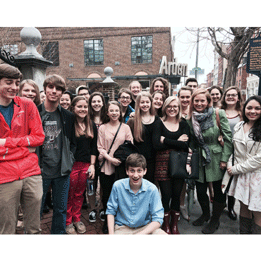 Haddon Township High School is a four-year comprehensive public high school in Haddon Township. The school was the 108th-ranked public high school in New Jersey out of 339 schools statewide, in
New Jersey Monthly
magazine's September 2014 story on the state's "Top Public High Schools." Offered to students are classes in Math, English, History, Physical Education and Health, and other areas.
The Haddon Township Science Department offers a variety of courses for students including Biology, Human Biology, Physiology, Chemistry, Advanced Chemistry Techniques and Physics. There are also AP courses available where students earn college course credit.
Foreign Language courses at the school include Latin, Spanish, French and German. Students taking the third and fourth year of a language have the opportunity to earn college course credit through Camden County College. Year 5 in a language, considered an AP course, is also possible when a student begins the language study at Rohrer Middle School.
According to the school's website, there are also vocational and art courses such as Auto Shop, Wood Shop, Graphics Design, Information Systems, Drafting and Architecture, Business, Arts and crafts, Home Economics, Cinema, Pottery, Culinary Arts, Studio art, Television productions and communications, and Creative writing. In addition to taking required courses, students have an opportunity to take some of these courses in which they have a particular interest.
The Haddon Township performing arts and music course offerings include Band, Chorus, Concert Choir, Guitar, music theory, MIDI electronic composition and Digital Audio.
This high school offers many clubs and organizations including Student Council, Bowling Club, Guitar Club, Math Club, Philosophy Club, Drama Club, Mock Trial, Environmental Club, Art Club, Spanish Club, The Anvil (yearbook), American Technological Honor Society, Future Business Leaders of America, National Honor Society, S.A.D.D. (Students Against Destructive Decisions), National Language Honor Society, National Art Honor Society, the Fellowship of Christian Athletes and others.
Each yeah HTHS performs a fall play and a spring musical. Last school year's productions included talented student actors Colin Jones, Haley Dietrich, Colin Marsh, Patrick Bray, Dina Folgia, Gretchen Newell, Tanner Roncace, Justin Taylor, Hailey Mozzachio, Matthew Doherty, Maggie Smart-McCabe, Anna Sorrentino, Hannah Fields, Katie Cona, Grace Turse, Sophia Loeber, Kayleigh Scott, Rose Vermette, Shyanne Leon, Brigid Richwine, Tori D'Amico, Carly Cecero, Hannah DeFrates, Tim Mallgrave, Paul Dezii, Adam Jobbins, Jacob Morrison, Chaos Burruel, Michael Phillips, Steven Trombetta, Matthew Parks, Darby Riley and Alyssa Angilletta.
Haddon Township High School is one of eleven member schools in the Colonial Conference, which is composed of small schools whose enrollments are between 750-800 students for grades 9-12. Sports offered at the school include Basketball, Baseball, Soccer, Softball, Golf, Hockey, Track-Field, Wrestling, Swimming, Tennis, Cross Country and Football.
Athletes this past spring season included Alex Crawford, Ben Aha, Christian Roche, Clayton Pfetcher, Dom Kratky, Frank Rabena, Hunter Eife, Jake Mulroy, Jon DiCamillo, Kieran Burns, Kurtis Straubmuller, Liam O'Brien, Matt Brown, Matt Kasilowski, Matt McGeehan, Mike Lovett, Sam Wollman, Troy Kondrla, Brianne Lynch, Nicole Wakeley, Joanna Pizzo, Kayla Blythe, Arielia Higareda, Bailey Kocher, Danielle Cutrera, Griffin Cihak, Alyssa Angiletta, Cecelia Dailey, Hailey DeRitis, Julianna Neel, Katey Griese, Jillian Caputo and Emma Acar. The school's crew club has a website that is updated regularly with photos and information on the group. This year's Learn to Row program was held July 6-10. A group of dedicated rowers turned out and the coaches look forward to seeing them back in the fall, according to their website. Haddon Township crew rowers helped at the program along with coaches Gregg Francis and Anthony Fittipaldi.
Haddon Township's Alumni Association updates their Facebook page regularly to inform members on current news and events. About four times a year, the association meets at a local restaurant to catch up and relax.
Haddon Township High School is located at 406 Memorial Avenue in Westmont. For more information, call 856-869-7750 or visit hths.haddontwpschools.com.
© SouthJersey.com 2015. All rights reserved. This article or parts thereof may not be reprinted or reproduced by any other party without the express written consent of SouthJersey.com. For more information, please call 856-797-9910.
For more information about what's going on in our local schools and what today's students are up to, visit our South Jersey Schools page.
Article continues below
---
advertisement


---
Author:
Meghan Shott
Archives
---
Advertise with SouthJersey.com
Shawnee High School
Acting Natural
Middle Township High School
Audubon High School
Cumberland Regional High School
African American Heritage Museum
Apple Pie Hill
Attractions: N. Pemberton RR Station
Johnson's Corner Farm
Lumberton's Air Victory Museum
Lucy the Margate Elephant
Tuckerton Seaport & Baymen's Museum
Emlen Physick Estate
Cape May's Washington Street Mall
More...