Pennsauken High School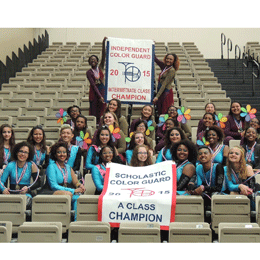 Pennsauken High School offers a complete range of courses to meet the academic needs of its students. The 2015-2016 school year gets underway on Thursday, September 4. According to the school's website, the curriculum is engineered to accommodate all students, from those with special needs to those who are academically gifted. Advanced placement, dual credit, and technical preparation courses facilitate their mission, "to provide exceptional educational opportunities that empower students to excel academically, emotionally, physically, and socially in a safe, nurturing environment."
The school's college-bound population benefits from many course offerings, including courses designated for academically gifted or advanced placement students. The curriculum also includes opportunities to study four different foreign languages and advanced programs for the science oriented students.
Spirit week will be held later this fall at Pennsauken. This week leading up to Homecoming will include dress-up days, community service and after school activities for the freshman, sophomore, junior and senior classes.
Pennsauken High School has numerous academic extracurricular activities available to students. These activities include the National Honor Society, an honor society for each foreign language and various science organizations. The co-curricular programs of the school give every student many opportunities to get involved. An expansive array of other activities including Future Teachers of America, Impact Club, Leo Club, Library Council, Psychology Club, Student Government, Student Newspaper, and others are available as well.
All of the music programs in the high school are legendary throughout the region. The Apache Marching Band, the "Touch of Class" Indoor Guard, the Pennsauken Jazz Ensemble, and the "Double Dozen" chorus all have many championships and accolades to their credit. You can keep track of the marching band's latest news and events on their website, http://pennsaukenmarchingband.webs.com/.
Pennsauken also offers many athletic organizations in which students may participate, including baseball, basketball, bowling, cheerleading, cross country, field hockey, football, lacrosse, soccer, softball, tennis, track, volleyball, winter track and wrestling. Check out the athletic department's website for current events and information: https://sites.google.com/a/pennsauken.net/sports/.
Congratulations to Pennsauken athletes of the week and/or month from the 2014-2015 school year: Amanda Bakley, Martin Booker, Jr., Brandin Bulicki, Michelle Bello, Kniquan Cephas, Jessica Bello, Joey Bulicki, Kiyana Roe, Briana Roberts, Jaylen Robinson, Marquan Jones, Aaron Swann, Carlos Portillo, Olivia Summerfield, Aaron Swann, Briana Roberts, Travanni McNair, Shayla Sweeney, Sudheer Sammons, Anthony Dadson, Radames Sierra, Jonathan Mairena, Tenille Stewart, Tanisha Johnson, David Dow, Jamiyah Rivas, Marquan Jones, Fabian Melendez, Anthony Dadson, Siani Tripp, Olivia Jamison, Mike McFeeley, Mickayla Jordan, Joshua Paulos, Arielis Reyes, Brandon Harley, Brianna Bryan, Ryan Wemegah, Indigo Pascall and Marquis Williams.
Pennsauken graduate Greg Mark was inducted into the South Jersey Football Hall of Fame this past June. Greg played under legendary Pennsauken coach Vince McAneney and went on to play football at the University of Miami. He was drafted by the New York Giants and also played for the Eagles, Dolphins, Browns and Raiders, according to a Bill Evans article for nj.com.
Are you a graduate of Pennsauken High School? Keep up with the latest alumni news on their website: http://pennsaukenalumni.org/.
Pennsauken High School is located at 800 Hylton Road in Pennsauken. For more information on the school, call 856-662-8500 or visit pennsaukenhs.wordpress.com.
© SouthJersey.com 2015. All rights reserved. This article or parts thereof may not be reprinted or reproduced by any other party without the express written consent of SouthJersey.com. For more information, please call 856-797-9910.
For more information about what's going on in our local schools and what today's students are up to, visit our South Jersey Schools page.
Article continues below
---
advertisement


---
Author:
Meghan Shott
Archives
---
In Good Health
2017 Executives of the Year
Superior Sandwiches
Raise a Glass
Impressive New South Jersey BBall HOF class
The Promise of Public Transportation
Empowering the Next Generation
Singles: January 3
River Revitalization
Spreading Cheer
Singles: December 27
Winter Retreat
Are Holiday Parties Back in Favor?
Support System
Singles: December 20
More...